Meet The Archetypical Santorum Voter, Marilyn Overbeek
Voters like Marilyn Overbeek are more focused on abortion than anything else, don't expect candidates to fix the economy, and just want a good Christian in office. "The other ones are kind of wishy-washy."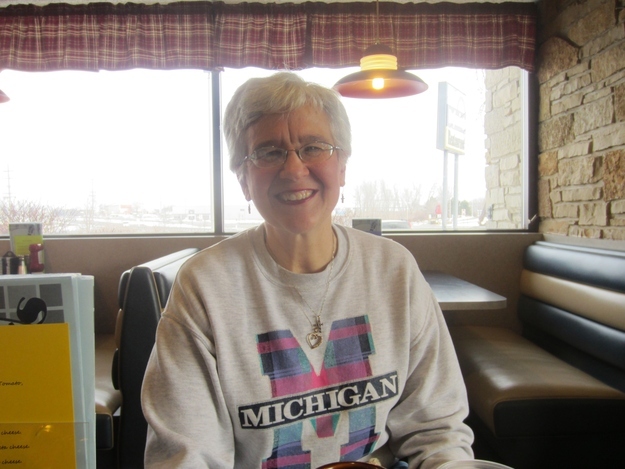 KENTWOOD, Michigan -- Republican voters gathered at the New Beginnings Restaurant this morning to meet Rick Santorum, who stopped in to shake hands in the run-up to tonight's primary. Among them was Marilyn Overbeek, a woman from Alto, Michigan who exemplifies all the traits of the typical Santorum supporter: Christian values, excitement, and an aversion to white-collar snobbishness.
Overbeek arrived 25 minutes early for Santorum's appearance, toting a baby named Eli who she's babysitting as a favor for someone in her church and wearing a Michigan sweatshirt, a cross, and cross earrings. She found out about this campaign stop from a robocall her husband picked up last night.
Overbeek has been supporting Santorum for a few months, she says, and thinks "the other ones are kind of wishy-washy."
"Romney's kind of iffy with the abortion issue -- he thought that women should have the right to choose," Overbeek said. She described Romney as a "highfalutin guy. He can be kind of snobbish."
Santorum "stands up for what's right," she said.
Like many Michigan families, the Overbeeks have fallen on hard times lately. She lost two jobs over the last several years -- one of which, a job at a bank, she'd held for 25 years. One of her three sons is in Florida now because "they don't have a lot of jobs around here." (One of her sons, Bob Overbeek, once ran for Congress in Michigan's 3rd district. The other recently got married; he met his wife online, but "I wish it was a Christian website," Overbeek said.)
Despite her family's trials, her focus this election isn't on economic issues -- Santorum's stances on social issues are what are driving her to vote for him. Her husband is also a Santorum fan.
The family at the next table, Greg and Beth Miller of Grand Rapids, joined the conversation to add that they weren't letting economic issues influence their voting either -- even though Greg recently lost his construction job.
"I'm not going to pick a candidate based on who's going to get me a job," Greg said. "I like Santorum's values."
Before leaving to go vote, Overbeek managed to snap a photo of Santorum, who stayed in the restaurant for about five minutes.
"With God's permission, he'll be the candidate," Overbeek said.