Meet Maurice Bonamigo, Fake U.S. Senator
An Egyptian newspaper ran an interview with a "Republican U.S. Senator" who heartily supported the security services' bloody crackdown in Cairo. By "Republican U.S. Senator" they meant "hairstylist in Palm Beach."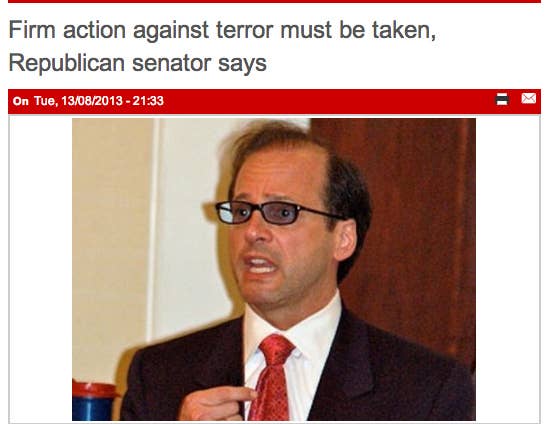 WASHINGTON — An Egyptian newspaper published an interview on Thursday with a man presented as a Republican U.S. senator who is in reality not in Congress at all, but instead a hairstylist from Palm Beach who now runs a political consulting firm.
The Egypt Independent's piece with the headline "Firm action against terror must be taken, Republican senator says," features one Maurice Bonamigo, who is identified as the senator in question. In the interview, Bonamigo comes out strongly in favor of the Egyptian military's violence against civilians, saying, "Peaceful means are important, but in Egypt these days, where terrorist groups carry out acts of violence, firm action must be taken."
But Bonamigo is not a senator, or a member of Congress at all. He is listed as a cast member in Gay Republicans, a documentary from 2004 about gay people supporting George W. Bush, and is identified as a hairdresser based in Palm Beach, Florida.
Bonamigo also runs a political consulting firm, Maurice Bonamigo & Associates, with associates in Egypt, the Congo, and Nigeria. The company has an address in Chicago.
In the "Who We Are" section of the website, Bonamigo claims to be a "successful entrepreneur, who has interacted with every layer of society that comprises the United States of America."
The blurb continues:
His consistent mentoring of the underprivileged, the uneducated and the less fortunate has led to his well earned respect and success. He is a passionate political public speaker actively participating in numerous campaigns throughout the United States and abroad. His support to the President Bush was noticeable as his voice is clear and his thoughts, persuasive. Bonamigo and Associates knows what it takes to win political campaigns. Running for office requires dedication, knowhow and support from a well qualified team. From image, to public speaking to raising funds, his firm will work side by side with you and ensure that all odds are on your side.Among his peers, Maurice is a strong advocate of conservative ideals and does not allow time for trivial issues. Not surprisingly, the Washington power elite as well as many states around the country stand behind Maurice Bonamigo as a true leader and a friend.
Bonamigo appears to have a keen interest in Egypt; this is not the first time he's weighed in on Egyptian politics in the Egyptian press. His website lists a number of TV and newspaper interviews from recent weeks. He's also been weighing in on his Twitter feed:
A clip of Bonamigo doling out campaign advice to an event called the Poli Conference can be seen here.
Reached by phone, Bonamigo denied having participated in the interview.
"I did not issue a interview with that newspaper," he said. "All the interviews I've done have been posted on my website."
"I don't know what happened, I don't know who did that," Bonamigo said.
Asked why he was giving so many interviews to the Egyptian press, Bonamigo said, "Why not? I'm a political consultant. I've had an office over there since Hosni Mubarak was in office."
Bonamigo wouldn't say who his Egyptian clients are, saying "I don't divulge my clients to the media."
He denied having claimed to be a U.S. senator.
"Never," he said. "Why would I claim something stupid like that if I'm not a U.S. senator? That would be totally asinine."
The Egypt Independent, meanwhile, also ran another fake scoop today that claimed Russian President Vladimir Putin was planning joint military exercises with Egypt. It has since been taken down.