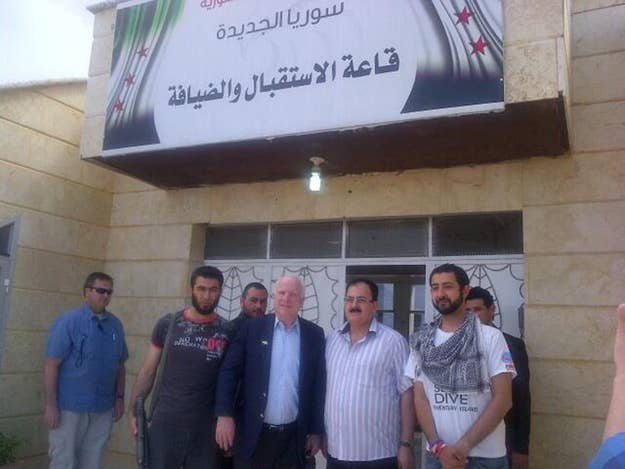 WASHINGTON — Senator John McCain's office is pushing back against reports that while visiting Syria this week he posed in a photo with rebels who kidnapped 11 Lebanese Shi'ite pilgrims.
The photo, released by McCain's office, shows McCain with a group of rebels. Among them are two men identified in the Lebanese press as Mohamed Nour and Abu Ibrahim, two of the kidnappers of the group from Lebanon.
A McCain spokesman said that no one who met with McCain identified themselves by either of those names.
"In coordination with the Syrian Emergency Task Force, Senator John McCain traveled to and from Syria with General Salim Idris, the chief of staff of the Supreme Military Council of the Syrian opposition, to meet with two senior Free Syrian Army commanders," said McCain spokesman Brian Rogers on Wednesday in an email to BuzzFeed. "None of the individuals the senator planned to meet with was named Mohamad Nour or Abu Ibrahim. A number of other Syrian commanders joined the meeting, but none of them identified himself as Mohamad Nour or Abu Ibrahim."
"As the Syrian Emergency Task Force has said: 'Senator McCain did not go to Syria to meet with anyone named Mohamad Nour or Abu Ibrahim. Two members of our organization were present in the meeting, and no one called himself by either name.'"
Rogers said that if the man in the photo turns out to actually be Mohamed Nour, that is "regrettable."
"A number of the Syrians who greeted Senator McCain upon his arrival in Syria asked to take pictures with him, and as always, the Senator complied," Rogers said. "If the individual photographed with Senator McCain is in fact Mohamed Nour, that is regrettable. But it would be ludicrous to suggest that the senator in any way condones the kidnapping of Lebanese Shia pilgrims or has any communication with those responsible. Senator McCain condemns such heinous actions in the strongest possible terms," Rogers said.
Rogers also suggested that the story had been slanted by pro-Assad forces: "It's not surprising that the pro-Hezbollah forces supporting the Assad regime who originally promoted this distortion would seek to smear anything and anyone supporting the Syrian opposition."
Note: The headline has been clarified to reflect that there are conflicting claims over whether the men are kidnappers.