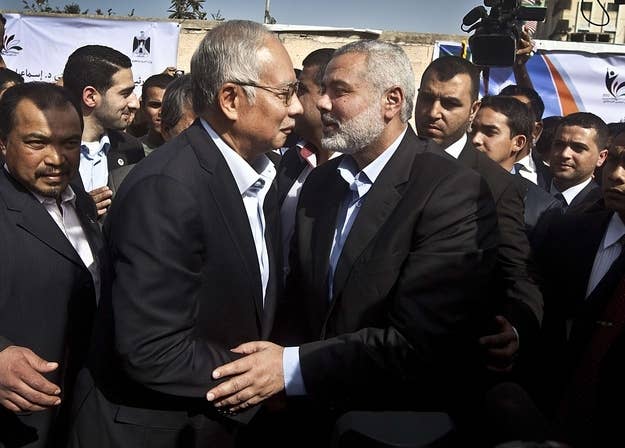 The main lobbying firm connected to the Malaysian government's push to place paid propaganda in the American press denied Tuesday that it had organized the scheme.
In a conference call with BuzzFeed on Tuesday, APCO Worldwide spokesman Adam Williams and Deputy Managing Director B. Jay Cooper said that APCO, the company listed in Joshua Trevino's FARA documents, was not involved in any effort to get writers to write stories favorable to the Malaysian government outside of an initial project to create a site called MalaysiaMatters.com.
According to APCO, the company had two separate contracts with Malaysian entities: the first was with what Cooper called "a group of Malaysian business executives," and that phase — 2008-2009 — was when APCO engaged conservative online media consultant David All and his company, the David All Group, to hire two bloggers, Joshua Trevino and Jerome Armstrong, and start a blog about U.S.-Malaysia relations called MalaysiaMatters.com. That blog was part of a network of sites boosting the Malaysian regime and attacking its domestic enemies. APCO's direct client at that point was FBC Media and not Malaysia itself, the executives said.
FBC — short for "Fact Based Communications" — declared bankruptcy in London in 2011 after its role in allegedly producing covert propaganda documentaries for Malaysia and other governments, and distributing them to the BBC, CNBC and other mainstream news outlets was revealed by a blogger focused on Malaysia.
"We did not work for the government then," Cooper said. "We worked for FBC, which was funded by a group of Malaysian businessmen."
That contract, which does not appear in Department of Justice filings under the Foreign Agent Registration Act but instead under the Lobbying Disclosure Act, ended in 2009, Cooper and Williams said. The second phase came after a period "where we weren't doing any work with Malaysia," Cooper said.
"A few months later [after ending the relationship with FBC], we were contacted by the Malaysian government," Cooper said. At that point, APCO went to work directly for the Malaysian government, he said. APCO also no longer had any influence over David All despite at that point partially owning his company, its representatives said.
As for David All's failure to register his own FARA documents or be listed on APCO's documents, Cooper said, "If it's a separate business we do not register for them. As I understand it, they're supposed to register on their own."
APCO invested in David All Group as a result of their work on the initial contract with FBC.
"If we hire you to do a blog post and you're an independent contractor, we'll file for you," Cooper said. "But if it's a separate entity or business, it's on them to register."
The David All Group closed in October 2012, All told BuzzFeed on Monday.
"The David All Group was owned in part by APCO Worldwide and [Malaysia] was their client, so I just worked with APCO," All said on Monday. All said he was looking into what his filing responsibilities are. "I'm sort of gathering more information and looking into this a little bit more. My goal is not to hide anything. It was not a covert operation."
David All Group's involvement with the MalaysiaMatters blog and Trevino ended when APCO left its first contract. Later, David All Group worked for APCO in Malaysia on digital strategy, All said.
Cooper said that he had learned of Trevino hiring other bloggers to be his subcontractors by reading BuzzFeed's story last week.
"We never hired them to hire other people," Cooper said of All, Trevino, and Armstrong.
"We never paid a journalist to write anything," Cooper said.
"The work David All did was as a subcontractor to us," Cooper said. "We created the website and we hired the guys who wrote the content."
Asked if APCO's later work directly for the Malaysian government involved any public relations or informational effort, Cooper said, "I guess it depends on how you define PR."
"When we worked for the government directly, I would assume that part of our job was to interest reporters in writing stories," Cooper said.
Asked if APCO had set up other websites similar to MalaysiaMatters for other countries that were its clients, Cooper said, "We've had a lot of clients over the years, I can't remember every one. It's not an unusual thing to do for someone."
"We are very precise and careful in following the rules of filing in this country," Cooper said. "If anything, we've been accused of over-registering. We never pay journalists to write stories."