Lindsey Graham's Unique Way Of Handling A Voter's Racist Comments
Graham condemns him — and then beats him in pool.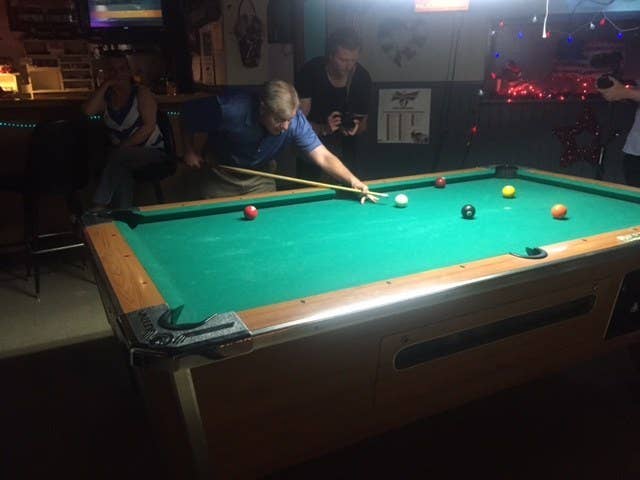 TAMA, Iowa — Lindsey Graham was in the full swing of his pitch to a group of potential voters gathered at a VFW hall in this small town an hour outside Des Moines on Saturday when, while he was talking about his relatively liberal stance on immigration, there came an unwelcome interruption.
"Towel heads," grumbled a man sitting at the bar, sporting a denim shirt with the arms cut off. "Sand n*****s."
Graham did what every candidate must in the age of smartphones and opposition trackers following a candidate anywhere he or she goes.
"I totally dissociate myself from this guy," Graham said. "What I would say is that what he said is not who I am. I'm not running to be president to please this guy." He then moved on and continued on taking questions from the other attendees.
At this early stage, running for president can be a weird thing — especially in these tiny, intimate gatherings where people are able to to speak their minds. In an earlier era, maybe before a woman once notoriously insisted to John McCain that Barack Obama was an Arab, Graham could probably have gotten away with ignoring the man; today, he had to act.
But Graham is also a long-shot candidate without much to lose, and his response ended up being different from the kind of tight-lipped, efficient shutdown one could imagine coming from someone for whom the stakes are higher. A few minutes after the exchange, Graham concluded his spiel to the 15 or so people assembled in the dark, low-ceilinged room by drawing a comparison between his own hardscrabble upbringing in a bar in small town South Carolina and people like the man who had issued the slurs.

"I'm tired of telling people things they want to hear that I don't believe. I changed a long time ago as a politician. I was scared to death of going into a room to be disagreed with. I don't feel that way anymore. I feel free. I feel able to tell you exactly what I believe and why I believe it," Graham said.
"Put me on your list of people to consider, talk to a neighbor, and if you can support me, bring somebody to the caucus — that's the only way I'm going to make it, is to have people like you buy into what I'm trying to do," he said. "I grew up in a place just like this. This guy at the bar, I grew up with people just like him."
Graham then took it a step further: The event had been billed as "Politics and Pool," and he wanted to play pool with someone.
There was silence.
Finally, a couple guys suggested the very man who had offered the slurs — the one Graham himself had called out, twice. The man agreed to play, Graham shook his hand, and the men played pool. Graham won.

On the way out, BuzzFeed News asked Graham why he had played pool with the man.
"Because he was the only one that would play," Graham said. "And I wanted to beat him. I was going to beat him if it's the last thing I did in Iowa."