Kerry Ramps Up Rhetoric Ahead Of Next Middle East Trip
Setting a very high bar for his next peace process mission.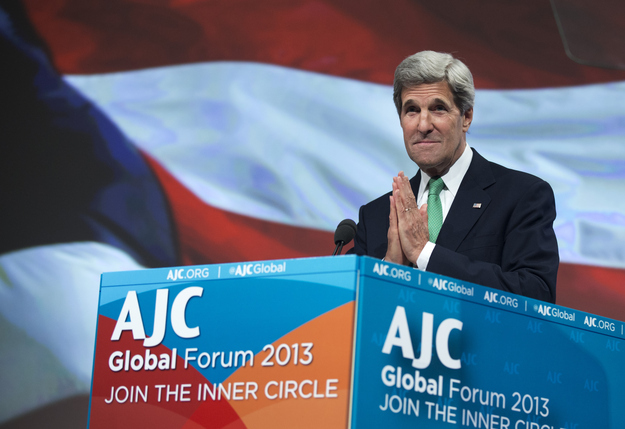 WASHINGTON — Secretary of State John Kerry continued to escalate his rhetorical push for peace between Israel and the Palestinians during a speech to the American Jewish Committee on Monday, his first in front of a major Jewish group as secretary.
"We are running out of time," Kerry said. "If we do not succeed now, and I know I'm raising those stakes, we may not get another chance."
"What happens in the coming days will dictate what happens in coming decades," Kerry said. Kerry was in Jordan, Oman, and Israel last month and is returning for another Middle East trip next week.
Kerry called for both Israel and the Palestinians to "summon the courage" to restart the moribund peace process, which has not been active for over four years. Kerry has made it his special mission to breathe life into this process and has said recently that there is a one- to two-year window after which further progress won't be possible. Kerry's enthusiasm has been met with some skepticism in Israel, where Haaretz described him as a "naive and ham-handed diplomat who has been acting like a bull in the china shop of the Israeli-Palestinian conflict."
On Monday, Kerry warned against one-staters on both sides, saying, "A realistic one-state solution does not exist for either side."
"We all know cynicism has never solved anything," Kerry said. "It has never given birth to a state and it won't."
"What happens if the Palestinian economy implodes? If the Palestinian Authority fails?" he asked. "Are we prepared to live with an nonstop conflict?"
And Kerry reminded the audience of the Palestinians' success at the United Nations last year, when the body voted to upgrade their status to non-member observer state. He warned that the next time the Palestinians go to the UN, they'll probably garner even more support than last time, implying that Israel is isolated on the world stage.
The U.S. has Israel's back, Kerry said, but "wouldn't we be stronger if we had more company?"