John Kerry: Missing Americans Can't Be Part Of Iran Nuclear Deal
"We don't want them to become the hostages or pawns of a process," says the secretary of state.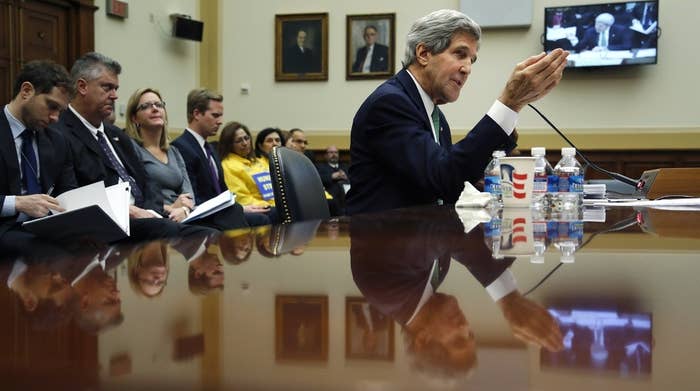 WASHINGTON — Secretary of State John Kerry argued against including a provision in the Iranian nuclear deal for the Americans detained or missing in Iran on Tuesday, arguing that this kind of linkage would be a disadvantage to their situation.
Rep. Chris Smith, a New Jersey Republican, asked during a House Foreign Affairs Committee hearing on Iran negotiations whether it was true that the case of Saeed Abedini, an American pastor imprisoned in Iran, was raised with the Iranians during negotiations, as well as Amir Hekmati and Robert Levinson.
"The answer is that is not true," Kerry said. "I personally raised the issue with Foreign Minister [Javad] Zarif when I first met him, the very first time. And we have not linked it directly to the nuclear issue because we believe that prejudices them, and also prejudices the negotiations — we don't want them to become the hostages or pawns of a process that then gets played against something they want with respect to the nuclear program. Nor do you, I think. We want them returned because they're American citizens, because they have to be accountable to us for them, and they deserve to be returned on a fundamental humanitarian basis."
"I'm not at liberty to go into what is happening on it, and that is the difficulty of some of these situations many times because there are backchannels and other kinds of efforts we are engaged in," Kerry said. "But we have never stopped trying to secure their release or raising that issue with our representative nations that represent us in Tehran, the Swiss, Swedish and others. It is a constant process."
"There is an opportunity that's huge that still exists but we're not going to link them to the nuclear because it prejudices them," Kerry said, telling Smith that he would tell him more about the situation in a classified setting.
Smith said Abedini's imprisonment and alleged torture raise "even more questions" about the Iranians' credibility in nuclear negotiations.
Deputy national security adviser Ben Rhodes said on CNN last month that the issue of the Americans in Iran had been raised with the Iranians during the negotiations.
"We raised two issues with the Iranians in our discussions with them," Rhodes said. "One is the nuclear program; the other is Americans detained in Iran."
"President Obama raised it with President Rouhani when they spoke," Rhodes said. "We raised it at a working level on the margins of the P5+1 talks. That includes this pastor. It also includes other Americans. For instance, we've been concerned about, of course, the whereabouts of Bob Levinson, who's been missing for a long time."
On November 26th, the White House made a formal appeal to Iran for the return of Levinson, who went missing in Iran in 2007.
"We respectfully ask the government of the Islamic Republic of Iran to assist us in securing Mr. Levinson's health, welfare, and safe return," a White House statement said.