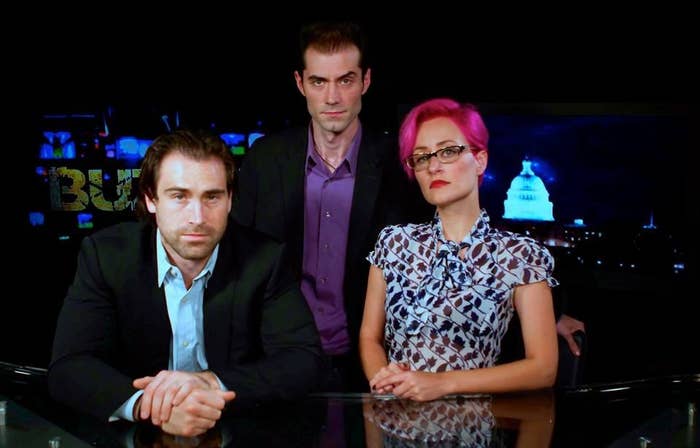 WASHINGTON — The sons of former pro wrestler and Minnesota governor Jesse Ventura and filmmaker Oliver Stone will be getting a show to replace Abby Martin's at Russian government-backed RT America, sources said.
Tyrel Ventura and Sean Stone, who have been hosting a show called "Buzzsaw" on TheLip.tv, will begin the new show on March 23, a source with direct knowledge of the situation said.
Abby Martin, who hosted the show "Breaking the Set" and made headlines last year for bucking RT's editorial line by criticizing Russia's invasion of Crimea on-air, announced that she was leaving RT last month. A spokesperson for RT said at the time that it had been Martin's decision to leave.
Martin, who had in the past been involved with the 9/11 truth movement, frequently showcased other conspiracy theories on her show. RT's move to give Ventura and Stone a show indicates that they are not planning to move in a different direction. A video posted on their show Buzzsaw's Facebook page just last week, for example, features a "rogue Egyptologist" who claims the pyramids were not built when scientists think they were.
Stone said in 2012 that former Iranian president Mahmoud Ahmadinejad was "misunderstood" in his comments about Israel.
Stone's father, Oliver Stone, has taken a pro-Kremlin stance during the Ukraine conflict, describing the movement to replace former president Viktor Yanukovych as a "coup." Stone is making a fictionalized movie version of Edward Snowden's story.
A spokesperson for RT said "it's a new show" in response to BuzzFeed's inquiry.
In a press release sent out after BuzzFeed News published this story, RT America announced that the show's title will be "Watching the Hawks" and it will also be co-hosted by Tabetha Wallace, who co-hosted Stone and Ventura's former show.