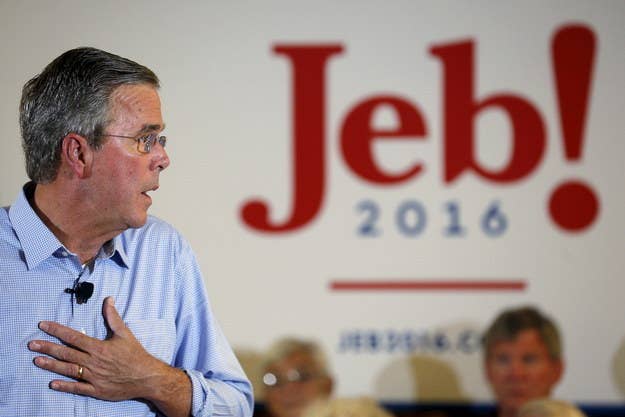 LACONIA, New Hampshire — Republican presidential candidate Jeb Bush said that the Kentucky clerk who is refusing to issue same-sex marriage licenses is "sworn to uphold the law" and that gay couples seeking marriage licenses should be allowed to get them.
"She is sworn to uphold the law," Bush told reporters after a town hall here. The clerk, Kim Davis, has been found in contempt of court and jailed after her office stopped issuing marriage licenses. Davis has said that her Christian faith prevents her from signing same-sex marriage licenses.
Bush said that a balance must be struck between Davis' religious liberty and the right of couples to get married.
"It seems to me that there ought to be common ground, there ought to be a big enough space for her to act on her conscience, and for now that the law is the law of the land, for a gay couple to be married in whatever jurisdiction that is," Bush said. "I'm a little confused about why that can't be done."
"It's being done all across the country and it's a sign of leadership to be able to make that climate," Bush said.
Bush said that "we shouldn't be pushing people out of the public square if they have deeply held views, nor should we discriminate against people, particularly after this court ruling as it relates to sexual orientation, so I think there ought to be a way to figure this out."
Bush suggested a compromise in which someone else in the office could issue the licenses, allowing Davis to avoid issuing them but for the couples who want them to still obtain them. "There are ways that other places are looking at it, which is to say you don't have to exercise this responsibility, we'll have someone else in the office do it, so that you can maintain your religious conscience, which I think is appropriate, but people have the right to get a certificate of marriage."
Situations like these "ought to be resolved at the local level," he said.
Davis has also barred her deputies from issuing marriage licenses; five of the six have testified that they would issue the licenses. Davis said through her lawyers that she would not allow them to issue the licenses, however, if she is released from prison.
Other Republican candidates have weighed in on the Davis case, with some offering full-throated defenses of Davis — Mike Huckabee is even holding a rally in her honor next week in Kentucky — and others, like Lindsey Graham and Carly Fiorina, saying that she should do her job regardless of her religious beliefs.