Iraqi Opposition Leader Hires Washington Lobbyist
The Sunni deputy prime minister tries to keep Apaches from al-Maliki as sectarian violence worsens and elections approach. Updated with comments from Sam Patten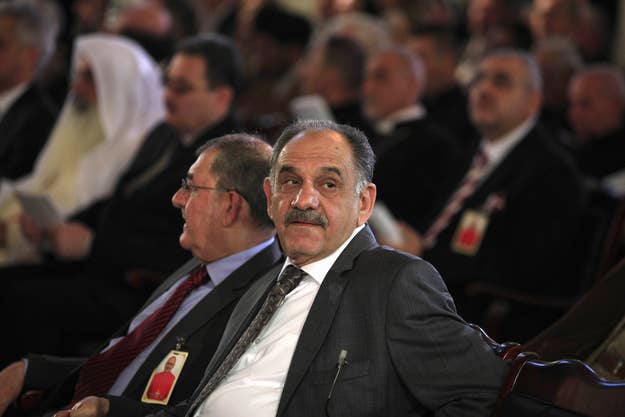 Updated 1/28, 10:01 a.m.
WASHINGTON — A top Sunni Iraqi politician has enlisted an American lobbyist as he campaigns to convince the United States not to sell attack helicopters to Iraq's Shiite-led government three months before Iraq's next parliamentary elections.
With his country descending deeper into sectarian violence, Iraqi deputy prime minister Saleh al-Mutlaq, the second highest-ranking Sunni politician in Iraq, hired independent consultant Sam Patten for "political consulting services related to the client's electoral program in the Republic of Iraq," according to documents filed with the Department of Justice under the Foreign Agent Registration Act on January 18. According to the contract, Patten intends to work for Mutlaq until May (after the parliamentary elections at the end of April) at a rate of $20,000 per month. Patten previously worked for former Georgian prime minister Bidzina Ivanishvili. The contract shows that Patten will be working not just for Mutlaq himself but for the al-Arabiya Movement, a political coalition led by Mutlaq that will be running candidates in the elections in April. The contract allows for a "win bonus" of $100,000 if "expectations are exceeded" at the end of the contract.
"Registrant advocates both in the United States and abroad, on behalf of the client, whose Iraqi constituents desire U.S. and international support for advancing democracy and the democratic process among all Iraqis, regardless of race, religion, or sect," the FARA filing reads.
Patten helped organize Mutlaq's recent visit to Washington, where he gave media interviews, speeches, and met with lawmakers.
Mutlaq is a leading critic of the Shiite-led government of Iraqi Prime Minister Nouri al-Maliki, whom Mutlaq has said is making the situation in Anbar province, where al-Qaeda militants have taken over the city of Fallujah, worse by marginalizing Sunnis. On his trip to Washington, Mutlaq argued in interviews and in a Wall Street Journal that the answer lay not in the US selling Apache attack helicopters to the Iraqi army, as the Senate is primed to do, but in empowering Sunnis in Iraqi politics and in the army.
"The policies of the Shiite-dominated government have left Sunnis feeling at best like second-class citizens and, more often, not like citizens at all," Mutlaq wrote in the Wall Street Journal this month. "Al Qaeda and Iran's Revolutionary Guard Corps have deliberately turned Anbar into a war zone. Yet I fail to see how the U.S.'s arming of the Iraqi army with more sophisticated weapons will resolve this complicated situation. Instead, the Sunni tribes of Anbar must be given a reason to stand against foreign terrorists, as they were in advance of the U.S. military 'surge' of 2007."
"We can start by fixing those parts of our constitution that make Sunnis feel marginalized, such as the preamble itself, which reads as an indictment against Sunnis for crimes of the past," Mutlaq wrote. "The government also must create a stable environment ahead of the parliamentary election in April."
Mutlaq met with Senator John McCain and House Foreign Affairs Committee chairman Ed Royce during his Washington visit. He told the Daily Beast that he was asking the Obama administration for election monitors for the parliamentary elections in April.
Reached by email, Patten said he had filed under FARA out of an "abundance of caution" and that his work for Mutlaq is primarily as a political advisor in the upcoming elections:
Thanks for your interest. I filed with FARA on behalf of Dr. Mutlaq in an abundance of caution, ie to ensure full compliance with the law, rather than because the principal nature of my work for Dr. Mutlaq is lobbying.

In April there are scheduled elections in Iraq, and Dr. Mutlaq retained me as a political advisor for his party. From now until the election, I am based in the region helping his party oragnize for these elections. This includes work on message development, strategy and other aspects commonly associated with political consulting. Because I accompanied Dr. Mutlaq on a recent visit to Washington and because I contacted U.S. Government officials and media on his behalf, and because I am a US citizen, I filed with FARA so these activities would be duly covered under the registration guidelines.

The relationship between the U.S. Government and Iraq is obviously complex. One of the reasons behind America's 2003 invasion and subsequent occupation of Iraq was to foster democratic practices. I ran the political shop for one of the US party institutes in Iraq in the run-up to that first election in 2004-5, and personally feel committed to doing what I can to see we do not turn a blind-eye to back-sliding on Iraq's emerging democratic practices. This was also part of Dr. Mutlaq's message in Washington, as a piece by Eli Lake in The Daily Beast that ran on 1/14 made clear. Sunnis have had something of a raw deal in Iraq since 2003, and there is the hope that they will have every opportunity to have their voices heard in the process, and legitimately push back against the marginalization they have experienced over the past decade.

Because Iraq's coming election will be competitive, there are other entities which would like to take what advantage they can of the relatively unique transparency we have in our system. In writing whatever story you end up doing, I hope and trust you are cognizant of this and appreciate your efforts to represent the facts in their actual context. From my perspective, quite frankly, the less coverage the better. Neither I, nor the fact that Dr. Mutlaq has an American advisor, is the real story here (the Embassy of Iraq had a rather generous contract with the Podesta Group last I checked, though their employees tend to stick to the more comfortable climes of K Street and, if I understand correctly, fall more into the usual definition of 'lobbyist.') Dr. Mutlaq opposed the U.S. occupation (unlike the class of current Iraqi political figures who benefitted from it), but believes in democratic practices, which is why he hired me as a consultant.