Iran's New President Tells U.S. To Mind Its Business In The Middle East
Amid signs of rapprochement between the U.S. and Iran, Hassan Rouhani tows a tough line in his first speech to the U.N. General Assembly.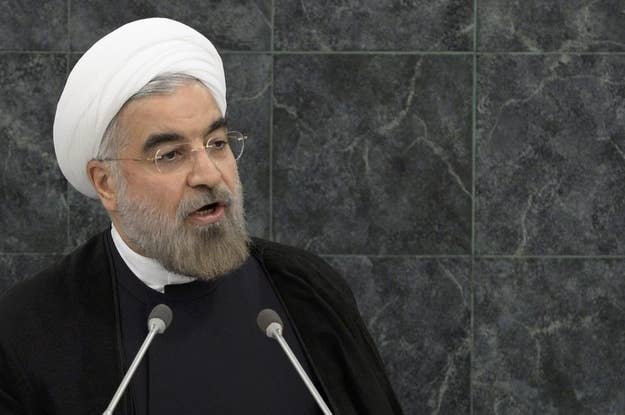 UNITED NATIONS — The new Iranian president Hassan Rouhani's first speech to the United Nations General Assembly was undoubtedly a downshift in tone from the extreme rhetoric that characterized the yearly addresses Mahmoud Ahmadinejad would give the summit. But Rouhani's speech was not quite as conciliatory as those hoping for a rapprochement might have hoped.
Rouhani did signal a willingness to engage immediately in nuclear talks on a "time-bound" and "results-oriented" basis. And he declared that "peace is within reach" and that "nuclear weapon and other weapons of mass destruction have no place in Iran's security and defense doctrine." There was no Holocaust denying or denying of Israel's right to exist, though Rouhani did condemn "structural violence" against Palestinians. And he described how he had "listened carefully" to President Obama's speech earlier in the day.
But much of Rouhani's address came off as a message to the U.S. to mind its own business in the Middle East and allow Iran to maintain and develop its role as a regional player — with all of the negative consequences that entails.
"In this context, the strategic violence, which is manifested in the efforts to deprive
regional players from their natural domain of action, containment policies, regime change from outside, and the efforts towards redrawing of political borders and frontiers, is extremely dangerous and provocative," Rouhani said.
He directed thinly veiled criticism at the U.S. for threatening the use of force in Syria: "I should underline that the illegitimate and ineffective threat to use or the actual use of force will only lead to further exacerbation of violence and crisis in the region." Rouhani, who said that there is "no military solution in Syria," appeared to be requesting a role in forming a solution to Syria at Geneva II talks, which the U.S. has so far not been willing to allow Iran to attend.
Rouhani deplored how "some regional and international actors helped to militarize the [Syria] situation through infusion of arms and intelligence into the country and active support of extremist groups" — while failing to mention Iran's backing and arming of the Assad regime.
And Rouhani couldn't resist a dig at "warmongering pressure groups," a likely veiled reference to pro-Israel groups in the U.S. like AIPAC.
"I listened carefully to the statement made by President Obama today at the
General Assembly," Rouhani said. "Commensurate with the political will of the leadership in the United States and hoping that they will refrain from following the short-sighted interest of warmongering pressure groups, we can arrive at a framework to manage our differences."
The speech also comes after the Iranians refused to have Rouhani meet President Obama at a lunch on Tuesday, with U.S. officials saying they had heard that it would be too complicated. However, Iranian Foreign Minister Javad Zarif will meet Secretary of State John Kerry on Thursday at a P5+1 meeting to be held in New York, representing the highest-level meeting between U.S. and Iranian officials since 1979.