Iranian Foreign Minister Strikes Defiant Tone After Failed Talks
Javad Zarif says Iran's goal in the talks is to develop a "serious" enrichment program and win removal of sanctions. BuzzFeed News' Rosie Gray reports from Vienna.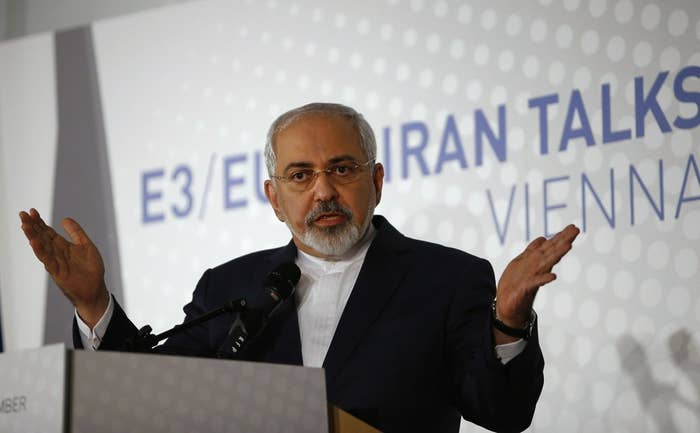 VIENNA — Iranian Foreign Minister Javad Zarif was defiant on Monday after world powers and Iran extended nuclear negotiations instead of reaching a final deal, insisting that Iran would preserve its right to uranium enrichment and that it had been flexible and reasonable in the talks.
Speaking to the media in Vienna hours after talks wrapped up on what was supposed to have been the deadline, Zarif said that Iran had no interest in prolonging the talks and struck a note of exasperation with the idea that it must negotiate over its nuclear program in the first place, insisting that it is a "non-issue" and that Iran "has no strategic interest in nuclear weapons."
"A non-issue has become a crisis of international proportions," Zarif said. "Iran has increased the number of its centrifuges and at the same time sanctions have been imposed on Iran, so nobody can claim victory for what has happened in the last 10 years because of that zero-sum approach."
Asked whether Iran's Supreme Leader Ayotallah Ali Khamenei was giving the negotiating team his full backing in the talks, Zarif said, "My delegation has shown extreme flexibility and reasonableness. It's not that our hands are tied. Of course all of us have national security considerations, have considerations about our rights, our dignity, our respect, which is not for negotiation."
Zarif was blunt about Iran's goal in the talks.
"We believe that the right of Iran to have a peaceful nuclear program including enrichment is enshrined in the NPT [Non-Proliferation Treaty] which does not require anybody's recognition," he said. "The right is there. What is important is for Iran to be able to implement that right, to exercise that right without the threat of sanctions and pressures which in our view are illegal, but which unfortunately have been imposed on the Iranian people for the past many years."
"So the object of this discussion is to have an Iranian enrichment program and at the same time remove international restrictions and pressures," he said. "I'm confident that any final deal will have a serious and not a token Iranian enrichment program coupled with removal of sanctions. This is the objective that we're working on and this is the objective we will achieve."
Zarif accused the biggest critics of Iran's program of being non-proliferation violators themselves in what seemed to be a thinly veiled criticism of Israel, which is a vociferous skeptic of the negotiations.
"We consider it in our interest to defuse and to defeat all these Iranophobic attempts to securitize the Iranian peaceful nuclear program," Zarif said. "We believe that this securitization process is intended to serve objectives that have nothing to do with non-proliferation, because probably the most serous violators of the international nonproliferation regime are the strongest voices against this agreement and the strongest voices that create fear and phobia in the international community against the Iranian nuclear program."
Zarif echoed Iranian president Hassan Rouhani, who claimed victory on national television on Monday, saying "the centrifuges are spinning and will never stop."
But Secretary of State John Kerry sounded like he thought his side was winning on the enrichment issue on Monday, telling reporters: "The nuclear program in Iran as we negotiate is frozen. The 20 percent enrichment has been reduced to zero. Inspectors are in the facilities. The centrifuges cannot be replaced except unless they break down. There's no change in the level of centrifuges. We would be fools to walk away from a situation where the breakout time has already been expanded rather than narrowed, and where the world is safer because this program is in place."