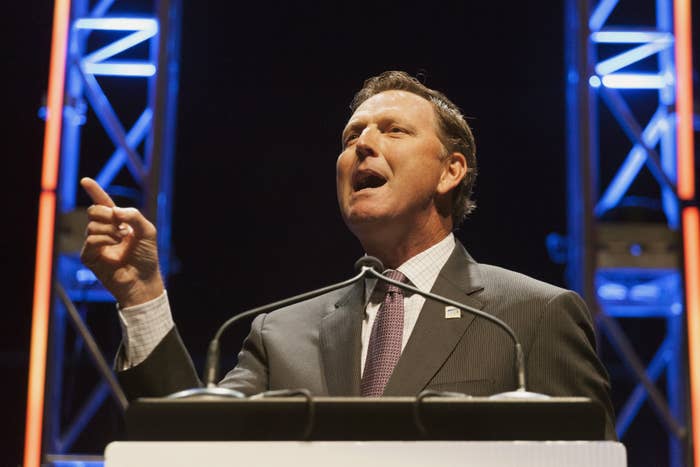 OTTUMWA, Iowa — Iowa evangelical powerbroker Bob Vander Plaats publicly hit back at Donald Trump on Tuesday after Trump attacked him on Twitter.
"Donald Trump and I got into a little bit of a spat today on Twitter," Vander Plaats told an audience while introducing Ted Cruz, who he has endorsed, at a campaign event here. Vander Plaats said he was bringing it up because of questions of "judgment and discernment."
"Why would the frontrunner of a presidential campaign be coming after Bob Vander Plaats in Iowa? Seriously, why would you do that?" said Vander Plaats, the CEO of the Family Leader.
Vander Plaats then slammed Trump on his past statements and record.
"When he said back in July, 'I've never asked God for forgiveness,' that's an issue," Vander Plaats said, also mentioning "when he said on that same stage 'I like veterans who weren't captured,' disparaging all prisoners of war."
Vander Plaats said his third son has severe disabilities and "it bothered me greatly, just a couple months ago, when Donald Trump was up on stage insulting and mocking people with disabilities." Trump appeared to mock a New York Times reporter with a physical disability in November.
Vander Plaats then riffed on Trump's book title The Art of the Deal, saying "Right, now Donald Trump is saying, Listen, the establishment is warming up to me. Why? Because I know how to deal."
"The sanctity of human life is not up for the art of the deal," Vander Plaats said. "God's design for marriage is not up for the art of the deal. A U.S. Supreme Court trying to make law is not up for our art of the deal."
Earlier, Trump had attacked Vander Plaats on Twitter:
Vander Plaats replied on Twitter, "You know that's not true. I gave you an introduction and opportunity and you charged the guy $100K. May work in NY not IA." And, "Still consider you a friend and you still can't have my endorsement. My friendship isn't phony."

"My friendship does not have conditions," Vander Plaats said in Ottumwa. "My friendship does not require an endorsement at the end of the friendship."
The race in Iowa has come down to a tight two-man contest between Trump and Cruz, with Trump recently pulling ahead in some polls. The two have increasingly fought publicly as voting approaches.
Vander Plaats told BuzzFeed News after the Ottumwa appearance that Trump's tweets "show he's desperate."
"People need to know what they're choosing here," Vander Plaats said. "Because Donald Trump's record is very muddy — as a matter of fact, it might even be very clear on being pro choice. Saying the courts have spoken, the marriage debate is over."
Vander Plaats said Trump had invited him and his family to stay at his hotels "a total of maybe four to six overnight stays, which cost him basically nothing, but he believes that constitutes loyalty, and that you're going to be a blind endorsement. He may be able to control Hillary Clinton like that, he's not controlling me like that."
Vander Plaats also said that the $100,000 speaking fee was to Trump, not to him. The Des Moines Register reported that Trump did charge a fee to appear at a January 2015 real estate conference in Iowa.
"That's how Donald Trump plays," Vander Plaats said. "He likes to make an accusation, but the fact is it's actually him who received a hundred grand. I talked to him significantly to say don't do that, don't accept money to come into Iowa, it's a bad first impression. He did it anyhow."
Asked if he was truly still friends with Trump, Vander Plaats said, "Yeah, I'll be a friend to him. And part of being a friend is speaking the truth to him."