In South Carolina, Wives Are Proxies
The wives of the Republican candidates fight their husbands' battles by proxy these last few days of campaigning. Especially at tonight's debate, where all the candidates vied for opportunities to talk about their marriages.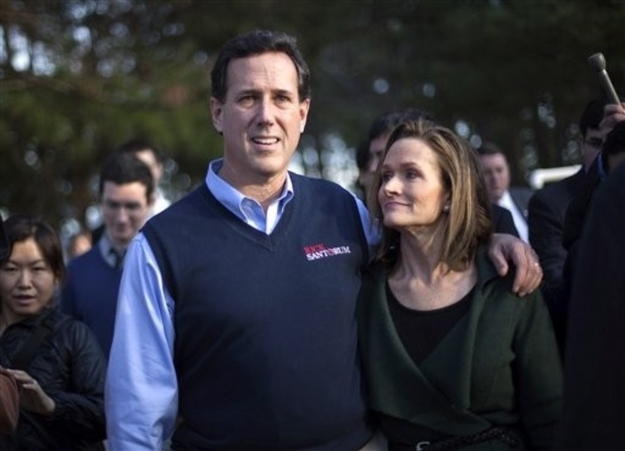 NORTH CHARLESTON, S.C. -- There are eight people involved in tonight's presidential debate -- the four Republican candidates, of course, and also their wives, who have been dragged into the conversation more and more in the last few days on the trail.
Setting the stage for all this was Newt's ex-wife Marianne Gingrich, whose tell-all interview with ABC, set to air tonight, prompted John King's first question to Gingrich at the debate -- which in turn prompted Gingrich to explode at King onstage, winning him the first part of the debate in many observers' eyes.
As a counterpoint, Mitt Romney has lately brandished his meet-cute story with wife Ann as an even sharper weapon in contrast with the Gingrich scandals. Mitt and Ann's all-American love story appeals to values voters here in South Carolina, where Gingrich is surging, and Romney made sure to mention his marriage to Ann right off the bat at tonight's debate.
Not to be outdone, Ron Paul jumped in on the act right away too: "I thank God that my wife of 54 years is with me tonight," he said, almost as an afterthought after remarks on corporatism in media.
The wives have also served as punching bags when they're not bargaining chips. Rick Santorum's wife Karen weathered a small scandal today and yesterday over a flyer distributed at the Personhood USA forum that cites a Vanity Fair report of Karen's relationship with a doctor who performed abortions. Santorum, whose large family and long marriage to his wife are selling points for him as a social conservative, brushed off the flyer as dirty politics: "it's ugly, it's cheap, it's tawdry," he said.
He had her on stage later that day, supporting him as he spoke to the Southern Republican Leadership Conference.