Hillary Clinton Honors Nelson Mandela At Human Rights Event
A "giant among us."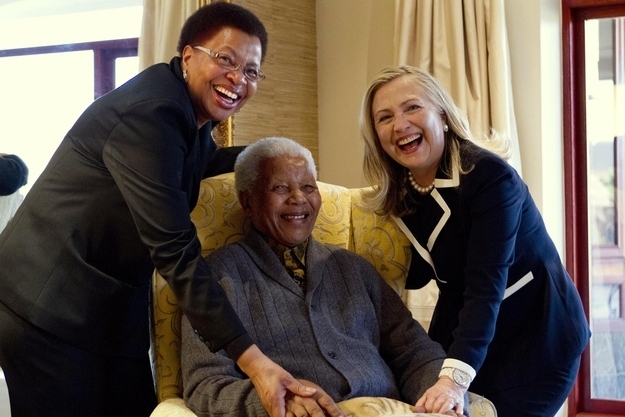 WASHINGTON — Former Secretary of State Hillary Clinton delivered a paean to the late South African President Nelson Mandela while accepting a human rights award from the Lantos Foundation on Friday.
Clinton lauded the South African human rights hero and former president as a "giant among us" in her remarks to a tightly packed audience in the Cannon Caucus Room on Capitol Hill (where attendees were given chocolates with an image of Clinton's face on them).
"I only hope that as we both mourn and celebrate the passing of this universally recognized and beloved figure that we remember he became that through an enormous amount of hard work on himself," Clinton, who was first lady during Mandela's presidency, said.
Clinton praised Mandela for acts such as inviting three of his prison guards to his presidential inauguration and said he "will be certainly remembered for the way he led, his dignity, his extraordinary understanding not just of how to bring democracy and freedom to his beloved South Africa, but of how important it was that he first brought freedom to himself."
Clinton was on the Hill on Friday to receive the annual Lantos Human Rights Prize, named for the late congressman and Holocaust survivor Tom Lantos, for her work as secretary of state in the areas of internet freedom and women's rights. Past recipients include blind Chinese activist Chen Guangcheng and Hotel Rwanda inspiration Paul Rusesabagina; both were in the audience on Friday.
Former Secretary of State Madeleine Albright introduced Clinton and praised her for her women's rights work.
"As I have always said, there's a special place in hell for women who don't help each other," Albright said.
The event featured multiple laudatory videos about Clinton from Lantos' daughters and one from Google Vice President Vinton G. Cerf, who credited Clinton with "creating the notion of digital diplomacy."