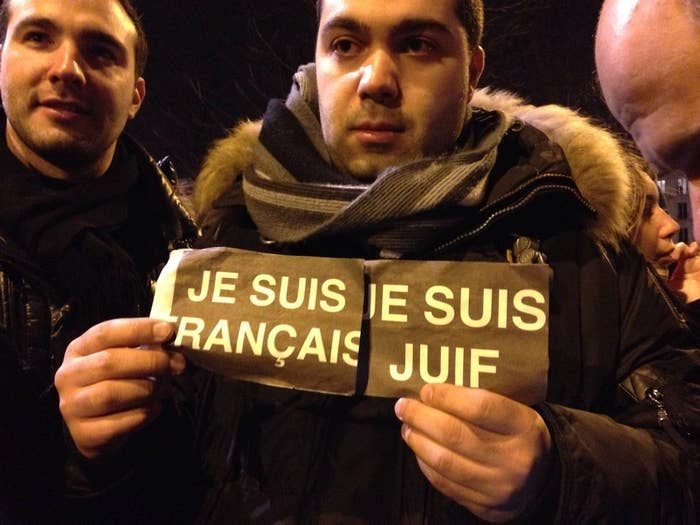 PARIS — Members of Paris' Jewish community turned out on Saturday to mourn the victims of the kosher grocery siege that killed four this week, their grief combined with anger at a state that they say is no longer protecting them.
The vigil, organized by Conseil Représentatif des Institutions Juives de France (Representative Council of Jewish Institutions in France, known as CRIF), France's largest Jewish organization, brought more than a thousand to the street outside the Hyper Cacher market in Porte de Vincennes where the siege unfolded on Friday. It was held after the conclusion of this week's Shabbat. As they gathered to mourn the four they lost as well as the victims of the terrorist attack on the offices of satirical magazine Charlie Hebdo that killed 12, the primary feeling among many attendees was one of outrage and fear. Many said they were considering leaving France for good, or knew others who were.
"It is very unsafe here," said David, a financier from neighboring Vincennes. No one interviewed for this story agreed to have their last names used.
Asked if he was thinking about leaving, David said he had considered moving to either the United States or Israel.
"As I'm Jewish, I'm always welcome to live there," he said. "It's very difficult to live in Israel, but if you think you can't live here, you have to do it."
Despite the security fears, David was sporting a blue and white kippah, which he said he doesn't normally do. "I do not wear the kippah," he said. "For me it's something that is very specific. It's like a prayer for those people [who died in the siege]." Another man, Eric, a city employee, had also made an exception and worn the kippah on Saturday, explaining that it was in memory of the victims.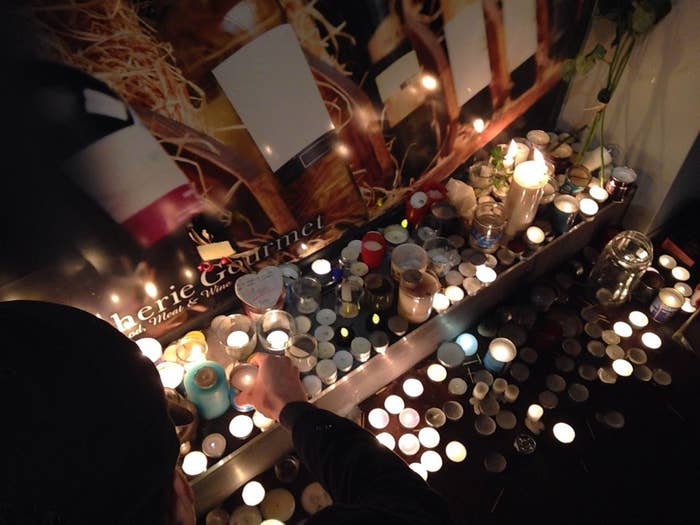 Elise, a project manager from Paris at the gathering with her friends and twin brothers Charles and Kevin, said she was considering the move as well, and that a friend of hers had already left this week. Kevin said he has a friend who is currently living in California and is now not planning to return. Karine B., an accountant, said she hadn't yet decided to move to Israel, but had already sent her son to study there. She said the Jewish Agency office's telephone line was always busy, and that "everyone is calling them finding out what they need to do to leave."
The Jewish Agency estimated in June that 5,000 French Jews would move to Israel in 2014, a large increase over past years, and Jewish Agency Chairman Natan Sharansky said last week that 50,000 inquired with the agency about how to make the move.
"If France doesn't want to lose its Jews, it has to wake up," Charles said. "We want to stay. We're all French, we want to stay."
Central to the collective musing about leaving France behind is the fact that many French Jews feel the state can't protect them. People are deeply shaken by what happened in the kosher market, in part because many have personal links to it. David said he has a friend who was there when the suspect entered the store. The friend, David said, managed to drop his things and run away. Kevin said his parents had finished their shopping and left just a few minutes before the hostage situation began.
During pro-Palestinian demonstrations that sometimes devolved into violence last summer, Charles said, "the police asked the community to protect itself because they don't have the means to protect us."
The community has faced a string of incidents this year, including young people in religious garb being assaulted and tased, and synagogues being attacked.
Karine B. said she was worried about her children's safety at school.
"There is not enough security in front of Jewish schools," she said. "There's only two cops in front of a school that's on the corner of a street, where there are two entrances and two armed cops in a school of 1,500 students. That's not enough."
Choking up, Karine said, "And I want to say, I love France. I love French values, I love this democracy, I love the liberty of expression, I was at school and proud to be at public school. My parents put me in public school to learn these values. But I didn't put my children into public schools."
Anger at the gathering at times turned towards some of the public officials gathered there. Prime Minister Manuel Valls, Interior Minister Bernard Cazeneuve, Justice Minister Christiane Taubira, the presidents of the French National Assembly and the Senate, and Paris Mayor Anne Hidalgo all attended.
Some in the crowd shouted at Cazeneuve, criticizing him for what they saw as lax security initiatives, and called for Taubira's resignation.
Others directed their anger more at society in general, and at a protest movement that some think is ignoring the four Jewish deaths and focusing solely on the slaughter at Charlie Hebdo.
"There are only Jews here," Charles said. "And that's the problem."
There were hopeful notes, too: Several times, the crowd spontaneously sang "La Marseillaise," France's national anthem, and there were many chants of "Charlie, juif, flic: je suis la République" (Charlie, Jewish, cop: I am the Republic).
As Karine, the accountant, was telling BuzzFeed News that she felt that the French didn't want to see the truth about what is happening to the Jewish community, a woman nearby stepped in.
"I'm not Jewish, but I'm here, I'm with you," she said. "And I have a lot of friends who are with you."