For Catholic School Suing Government Over Contraception Mandate, There Is No Compromise
President of Ave Maria University says that even the administration's recent olive branch to religious organizations isn't enough. Opposes covering any and all forms of birth control.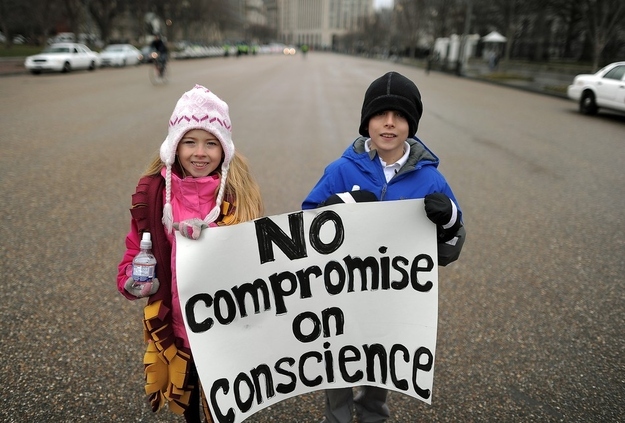 The president of Ave Maria University, a Catholic college in Florida, explained his decision to sue the federal government over its new contraception mandate in a conference call with reporters today, telling listeners that the school wouldn't be willing to compromise.
Joined by two representatives of the Becket Fund, the legal organization filing the suit on behalf of Ave Maria, president John Towey said his school aligns with the Catholic Church's strict precepts about birth control — namely, that no forms of it can be used.
When asked if the school could compromise on some forms of birth control being covered, but not others, Towey said "I'm afraid that any kind of compromise like that would still be violating the Catholic Church's teachings and we happen to be a university that complies with those teachings and proudly does so. So no, that kind of compromise wouldn't work."
"The kind of compromise that would work is a conscience clause, that exempts individuals and institutions like ours who find this mandate morally repugnant," Towey said. "I can't believe I'm having to choose between being a good citizen and a good Catholic. I think it's a false choice."
Becket Fund general counsel Kyle Duncan added that "The compromise was reached back in 1787 when we had the First Amendment of the constitution. So the whole idea of a compromise here is kind of strange."
Towey dismissed the administration's recent decision to exempt faith-based organizations from covering birth control themselves, instead putting the onus on the organizations' insurance companies, as inadequate.
"The White House thought they were putting an end to the debate with that announcement," he said. "All they did was start it up."
Ave Maria has 129 employees, a little less than half of whom are women, Towey said. He noted that the school's health plan is a family plan and that "the majority of our employees have a stake in this debate."
He predicted that the school's suit would inspire other groups to sue the government.
"I wouldn't be surprised if you hear of other small faith based organizations filing suit," he said.