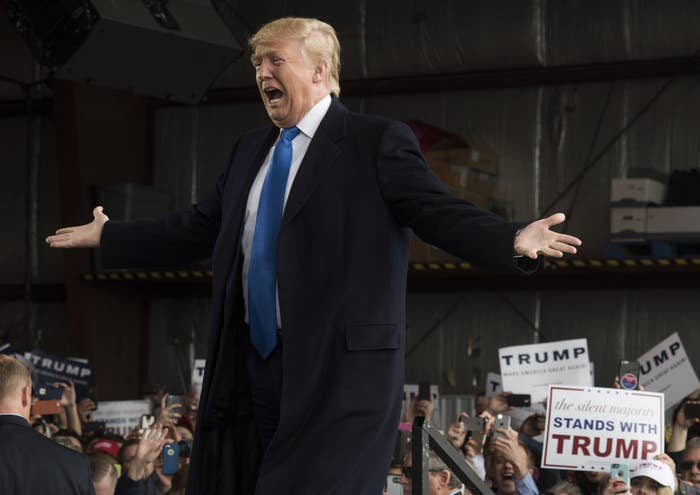 Breitbart senior editor-at-large Joel Pollak reached out to a former Donald Trump staffer about whether Trump needed a speechwriter, according to emails obtained by BuzzFeed News.
Pollak reached out to a former Trump staffer on Jan. 17 of this year and said: "I'm wondering if he needs a speechwriter. I know he speaks off the cuff, etc. But maybe someone to review talking points and so on."
BuzzFeed News obtained the emails on the condition that the former Trump staffer's name and email be removed.
Pollak confirmed to BuzzFeed News that he reached out about a speechwriting job.
"I reached out to several campaigns at the time — including Cruz, Perry, and Fiorina as well as Trump — because I considered returning to speechwriting," he told BuzzFeed News in an email. "I didn't end up changing careers, and I'm proud to work at Breitbart. Yet another shocking BuzzFeed reveal: Breitbart editor continues to work at Breitbart."
Breitbart has been engulfed by controversy after its reporter Michelle Fields was allegedly manhandled by Trump campaign manager Corey Lewandowski at a press conference in Florida last week. The Trump campaign denied the incident. While some at Breitbart have defended Fields, the site also published a story by Pollak that cast doubt on Fields' account, and instead suggested a member of Trump's security detail was responsible. Fields has filed a police report against Lewandowski and multiple videos and an audio account have been released this week.

In internal chats obtained by BuzzFeed News, Pollak ordered staffers to stop talking about the Fields situation publicly, saying that "you were given explicit instructions."
Breitbart has become notorious for its vociferously pro-Trump stance as the election has unfolded. Staffers told BuzzFeed News last year that they believed Trump had given money to the site in exchange for favorable coverage, a charge that the site's management denies.
The emails (the thread begins at the bottom):