Don't Expect The EU To Get Tough On Russia: EU Officials
"Today's Foreign Affairs Council was inconclusive to my mind at least," one EU leader told BuzzFeed.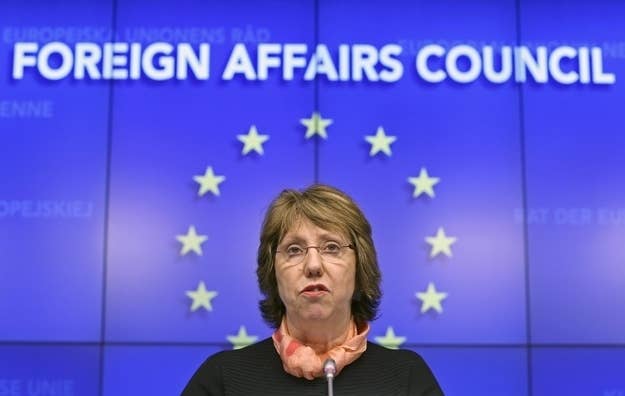 WASHINGTON — With the U.S. State Department now saying that sanctions against Russia are "likely," don't expect the European Union to take as tough a stance: People with knowledge of the EU's plans say the body, whose member states have deep economic interests in Russia, is not currently weighing the kind of tough moves the Americans are talking about.
According to sources with knowledge of EU discussions, one possibility being raised among EU foreign policymakers is visa bans for officials connected to Russia's military incursion in Ukraine's Crimea.
"I think what they're talking about are sanctions along the lines decided three weeks ago vis-a-vis the Ukrainian government," said an advisor to the right-of-center European People's Party. "I don't think they're talking about freezing accounts at this moment. I don't see a decision on that today."
"I think most of these [Russian] bank accounts are in the European Union, so it would have much more of a bite if the EU joined the U.S. on this," the advisor said.
The EU's Foreign Affairs Council met Monday to discuss the situation, but the conclusions from the meeting are vague on the topic of consequences: "In the absence of de-escalating steps by Russia, the EU shall decide about consequences for bilateral relations between the EU and Russia, for instance suspending bilateral talks with Russia on visa matters as well as on the New Agreement, and will consider further targeted measures. The Council decides to remain permanently seized, in order to be in a position to take rapidly all necessary measures."
Guy Verhofstadt, the former Belgian prime minister who is now the leader of the Group of the Alliance of Liberals and Democrats for Europe in the European Parliament, is calling for economic sanctions on the Russians in the event of an escalation.
"So far, Western Governments have been threatening suspending cooperation on preparations for June's G8 meeting to be hosted by Putin in Sochi and expanding the Magnitsky list of 'persona non grata' as well as asset freezes and trade sanctions," wrote Verhofstadt in an op-ed he plans to publish this week, shared with BuzzFeed by his office in advance of publication. "The regime in the Kremlin may show less inclination to consider the views of voters than western democracies but it is not deaf to economic pressure, especially given the slide in the exchange rate of the rouble against the dollar and the potential loss of foreign direct investment. This is where EU and US soft power can be as effective (and less dangerous) than the blunt use of force and sabre rattling that characterised the Cold War."
"It's not clear what will happen," said one leader of an EU member state. Heads of state and government of EU member states will convene for an emergency meeting on Thursday. "Today's Foreign Affairs Council was inconclusive to my mind at least," the leader said.
"Since the Russians are distributing RU passports wholesale in Crimea, as they did in Abkhazia in 2008, i.e. They are operating at [sic] state-run passport mill, (to, among others, Berkut as in the video below) I would stop issuing visas and reassess visa policy regarding a country that gives passports to anyone in a country they occupy," the leader said. "Such a policy would not hit poor Russians since they don't travel to the EU or the US."
The State Department ratcheted up its rhetoric on sanctions on Monday in a conference call with reporters. State Department spokeswoman Jen Psaki said, "At this point we're not just considering sanctions… It is likely that we will put those in place, and we are preparing that right now."
"We are far more forward on this than we were yesterday," Psaki said.
The Obama administration is now openly threatening tough economic measures against Russia. "I think we're not going to get into any more details about what's being considered, but you are absolutely right about the vulnerability of Russian banks," a senior administration official told reporters on Sunday in response to a question about whether the administration will consider Iran-style sanctions. "We're looking at all of the options." Secretary of State John Kerry threatened "asset freezes, visa bans. There could be certainly disruption of any of the normal trade routine. There could be business drawback on investment in the country" on Meet the Press.
EU sanctions would arguably hit Russia harder than U.S. sanctions, since so much Russian money is held in European banks. Some U.S. officials have called on Europe to get more involved.
"It's unfortunate that the United States has made the strongest statement on this … Europeans should be worrying about which former independent satellite state will be next," Senator Chris Murphy, head of the subcommittee on European affairs in the Senate Foreign Relations Committee, told BuzzFeed on Saturday. Europe "needs to be much more exercised about what's happening," Murphy said.
But hitting Russia in the pocketbook would be disadvantageous for Europe economically as well.
"The basic issue is that it's easy to talk about economic sanctions when you don't really have an economic relationship with Russia, like the U.S.," said Alexander Kliment, director of Russia research for the Eurasia Group. "They [the EU] have a huge economic relationship with Russia and could inflict significant economic pain on Russia through sanctions."
"But they also, by virtue of that economic relationship with Russia, are much more vulnerable," Kliment said.
Kliment said Germany, with its dependence on Russia's vast gas supplies, would be a deciding factor.
"The prime mover on the EU side is Germany," he said. "And the Germans have been the ones who are trying to restrain some of the more extravagantly critical rhetoric that's coming from Washington. If things stay as they are, if there's not a marked escalation of Russian military incursion into Ukraine, I think the Germans probably try to keep any sanctions at a level that is a nudge rather than a push."
The United Kingdom is already showing an unwillingness to impose economic sanctions on the Russians, according to a document photographed outside of 10 Downing Street. The document indicates that the U.K. will not seek to restrict Russian banking activities in London, which has become a haven for Russian elites.
Psaki said on Monday that the State Department believes the EU is an effective partner in implementing consequences for Russia.
"I would point you to the coordinated strong statements coming from everyone from the G7 to NATO to comments made over the weekend by individual leaders, whether that's the French or [U.K.] Foreign Secretary Hague condemning the actions" of the Russians, Psaki said. "We work closely with them as we look to take steps, whether that's sanctions or whether that's economic assistance."
In the EU, "There are meetings every day, if not multiple meetings," Psaki said. "I'd point you to the day-by-day and not just look at the one that's been announced."
That's a different view than the one voiced by Assistant Secretary of State for European and Eurasian Affairs Victoria Nuland in February, when Ukraine was in the midst of anti-government protests.
In a secretly taped phone call, Nuland was heard telling U.S. Ambassador to Ukraine Geoff Pyatt: "And you know, fuck the EU."