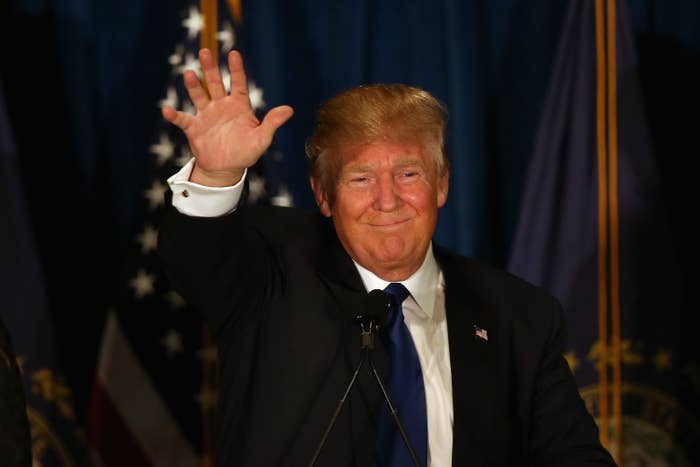 MANCHESTER, New Hampshire — Has a silent majority ever been so noisy?

Donald Trump's decisive win in New Hampshire on Tuesday night showed that the social and political forces driving his campaign were strong enough to defy conventional wisdom about how elections are won and lost. It validated Trump's media-heavy and ground game–light style of campaigning. And, in terms of the next few weeks of the race, it also in a way reset the Republican primary to where it was just before Iowa: a contest between Trump and Ted Cruz, who now have a primary state each and are both a significant threat to win South Carolina, while the establishment continues to fight among itself.
A boisterous crowd assembled at the Executive Court Banquet Facility here on Tuesday night hours early for Trump's event. Attendees clutched beers, mixed drinks bought from a cash bar, and yelled at the TVs in the venue as they showed Hillary Clinton's concession speech and Bernie Sanders' victory speech.
These are the people who have propelled Trump's bid, and they've proven themselves not to be soft supporters or a flash in the pan. Anger and disgust with the establishment, along with an often profound admiration for Trump personally, have put them in Trump's corner and kept them there — and it's the establishment that angers them above anything. Sanders' speech drew fewer boos from the crowd than Clinton's.
"I'm just tired of it all," said Frank Massiglia, who drove up from Massachusetts to attend the event. "I'm just tired of the fighting. No one can reach across the aisle anymore and things have to change." Massiglia was wearing a "Make America Great Again" hat that he had been having other attendees sign over the course of the night. Massiglia has voted for both Democrats and Republicans and was a "Mitt Romney guy."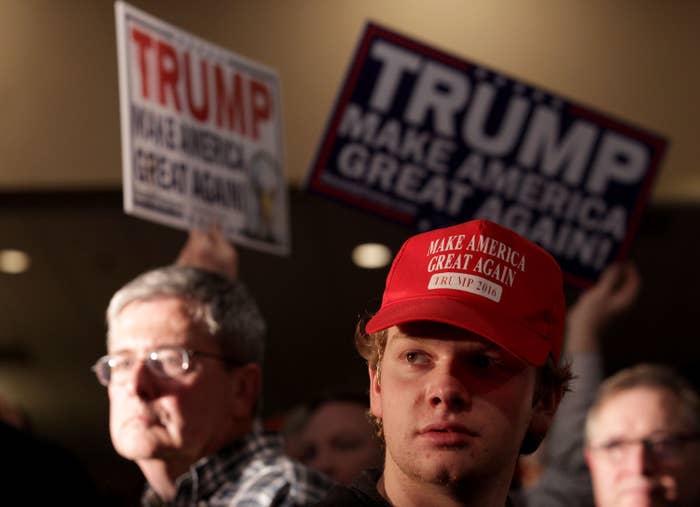 Brett West, of Connecticut, was here soaking it all in on the invitation of his friend Jim Murphy, of Brookline, New Hampshire. West has been a fan of Trump for decades, since reading The Art of the Deal, and even named his cat Trump in 1988.
"I had read The Art of the Deal and I just thought it was the greatest book ever, and I just thought he was the greatest guy," West said. "His entire campaign is in that book. Exactly what he's doing."
"Read the fucking book!" West told me.
Chris Villeneuve, of Keene, interjected to say the book had made a big impression on him, too.
"I read the book," Villeneuve said, "I said, 'This guy's gotta be full of shit, but I want to be him.'"
"I've always supported Trump," said Ron, 51, of Atkinson, New Hampshire, who didn't want to give his last name. "I've always been a big fan." The Clintons and the Bushes "had their time, you know? It's time for new leadership."
This kind of admiration has played a role in keeping a sense of momentum around Trump, fueled by his hardcore supporters and amplified by nonstop media coverage, despite the fact that his campaign has well-publicized organizational problems and didn't even contact many of the voters up for grabs in New Hampshire.
Trump came on to thunderous applause later on in the evening as the Beatles' "Revolution" played, surrounded by his family and senior staff.
Trump mostly just gave a condensed version of his usual stem-winder, but at the start of his speech, he made a note on process.
"Where's Corey?" Trump said, referring to his campaign manager, Corey Lewandowski. "Does Corey have a ground game or what?"
The Trump campaign's focus on national media and huge rallies and lag in the voter targeting and get-out-the-vote tactics used by other campaigns are what many have blamed for his loss in Iowa, despite him overtaking Cruz in the polls in the final days. And these aspects of his campaign are what caused doubt about his ability to deliver in New Hampshire.
Trump obliquely referred to the problems, saying, "We've learned a lot about ground game in the last week." (In an interview last week, he had said he didn't even know what a ground game was before Iowa.)
But in the end, in New Hampshire at least, this didn't matter. The establishment failed to consolidate around a single candidate post-New Hampshire, after its chosen favorite, Marco Rubio, placed a dismal fifth after faceplanting in the debate on Saturday. And the primary calendar is about to hit several states where Trump could perform very well.
But one obstacle still stands in Trump's way: Ted Cruz, who is also polling well in South Carolina and whose campaign is aiming for a strong showing in the so-called SEC primary on March 1, which will include several religious, conservative Southern states favorable to Cruz. Cruz had a better-than-expected result in New Hampshire, where his campaign contested the state to boost its national credentials, and thus is heading into South Carolina relatively untarnished.
In a sense, the race will now reset to a two-man struggle for dominance between Trump and Cruz.