DNC Won't Promise Cash In Wisconsin Recall
Chair Debbie Wasserman Schultz will host a fundraiser for Milwaukee mayor Tom Barrett. "We are confident that they will be here for us," says a Democratic Party spokesman.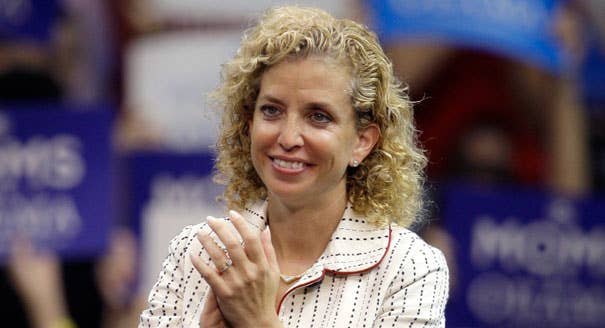 Following a report that the Democratic Party of Wisconsin is "furious" with the Democratic National Committee for not pouring more money into the Scott Walker recall effort, DNC chairwoman Debbie Wasserman Schultz will visit Wisconsin this month to campaign with Walker's challenger — but there's still no indication that the Wisconsinites can expect more help than that.
"Enjoyed our conversation, @Barrett4WI," Wasserman Schultz tweeted today. "Looking forward to my trip this month to raise money & recruit vols to win back the governor's seat."
"We are confident that they will be here for us," said Wisconsin Democratic Party spokesman Graeme Zielinski when asked if the visit meant more monetary support from the DNC.
"The chair spoke to Mayor Barrett today and pledged the DNC's support for his successful election," said DNC spokeswoman Melanie Roussell. Roussell said that Wasserman Schultz will host a fundraiser for Barrett, though a date and location have not been chosen.
"The DNC will use both its substantial network of activists and supporters as well as extensive online resources to develop the ground game" in Wisconsin, Roussell said. She declined to comment on whether or not the committee would make any financial investments in the race, but said "the DNC is fully committed to helping Mayor Barrett win the election."
The Wisconsin Democrats gave an interview to the Washington Post yesterday expressing their displeasure with the DNC for not going all-in on their effort to recall Governor Scott Walker.
"Scott Walker has the full support and backing of the Republican Party and all its tentacles. We are not getting similar support," a Democratic source told Greg Sargent.
Zielinski clarified to BuzzFeed, "We have asked and will continue to ask any and all of our friends to help us compete in this totally winnable election where, even after $30 million spent without opposition, Walker is merely tied with our candidate."
The Washington Post interview was seen as a sign of disunity by the Republican side.
"There is clearly a strong division between Wisconsin unions and the Democrat establishment here in Wisconsin, which does not bode well for their grassroots organization heading into the final weeks of this recall," said Wisconsin Republican Party spokesman Ben Sparks.