Dennis Rodman Spokesman: Other Players' Attitudes Caused CNN Meltdown In North Korea
The former NBA star feared the other players "were going to leave" North Korea ahead of the interview, Rodman's spokesman said.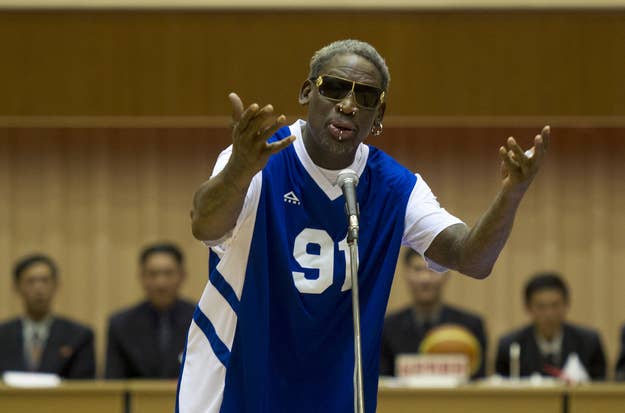 WASHINGTON — A spokesperson for Dennis Rodman says that the former NBA star's incoherent meltdown on CNN this week was the result of deteriorating relations with the other basketball players on the trip.
"A lot of these comments and the mood there with some of the players really contributed to his lashing out at Cuomo," said Jules Feiler, a publicist for Rodman. "That's not an excuse, but there were disgruntled players and he saw this as sort of the end of his plans for basketball diplomacy."
"It's my understanding that he was fearing that guys were going to leave and it was happening before his interview with Chris Cuomo," Feiler said, referring to the CNN anchor who conducted the interview. "They knew what they were there for, but once they got there they were feeling like the mood wasn't quite what they expected."
The wife of Cliff Robinson, one of the former NBA players on the trip led by Rodman, has called the trip a "train wreck," and player Charles Smith told the Associated Press that he regrets participating in the trip and that "I feel a lot of remorse for the guys because we are doing something positive, but it's a lot bigger than us."
Rodman is in North Korea with several former NBA players for an exhibition game against the North Korean team that took place this week. Rodman has visited North Korea several times and refers to Kim Jong-un as a "friend."
Rodman appeared on CNN on Tuesday and lashed out when anchor Chris Cuomo asked if he would use his special access to Kim Jong Un to ask for the release of Kenneth Bae, an American imprisoned in North Korea. Rodman seemed to blame Bae for the situation, saying "The one thing about politics, Kenneth Bae did one thing. If you understand — if you understand what Kenneth Bae did. Do you understand what he did? In this country?"
Rodman has since apologized through Feiler, saying that he had been drinking.
Feiler said he did not know when the team would leave North Korea.
"They're going to be headed home at some point," he said. He said the team was "decompressing" and that "they're not doing anything really."
Feiler said the players' travel had been paid for but would not say whether or not they are receiving payment on top of that. He would not specify who is paying for the trip but said that it was not the North Korean government. Irish betting house Paddy Power, which had previously been a sponsor, pulled out after Rodman's last trip to North Korea.
Rodman, Feiler said, "feels really bad about what he did and what he said" on CNN, "and he certainly didn't want to make the situation worse." But "right now we're not going to speak about his getting involved" in helping Bae.