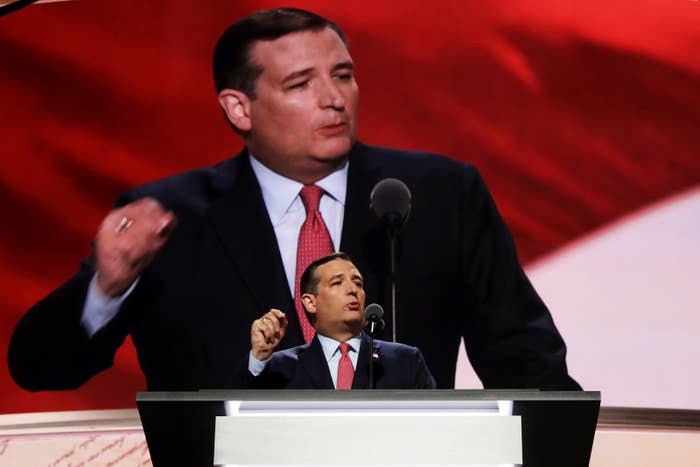 CLEVELAND — Ted Cruz did not endorse Donald Trump in his much-anticipated speech to the Republican National Convention on Wednesday, instead urging Republicans to vote their conscience — to anguished reactions from Trump supporters in the room.
Cruz's speech stole the show on what was intended to be a big night for the vice presidential nominee, Mike Pence — and it led to waves of fallout as the night went on, with Cruz being accosted by a state party chair and turned away from a powerful donor's box in the arena.
"And to those listening, please, don't stay home in November," the prepared text of Cruz's speech read. "Stand, and speak, and vote your conscience, vote for candidates up and down the ticket who you trust to defend our freedom and to be faithful to the Constitution."
Cruz only mentioned Trump by name once in his speech, saying at the beginning, "I congratulate Donald Trump on winning the nomination last night."

On Wednesday, Cruz's campaign manager, Jeff Roe, declined to tell reporters whether Cruz was going to endorse Trump, instead saying Trump was likely to be "pleased." (On Wednesday night Trump entered the arena during the last minutes of Cruz's speech.) Trump campaign chair Paul Manafort told the AP Cruz would "suggest" that he was endorsing Trump.
But in fact Cruz made his decision clear to Trump two days ago, according to senior Cruz adviser Jason Johnson.
"He told Trump directly, two days ago, no endorsement," Johnson told BuzzFeed News. Johnson said the two had a phone call while Cruz was in Washington, DC. "Trump called Cruz. They spoke on phone." Asked how Trump took the news, Johnson said, "Not going there." And Cruz stuck to his prepared text, which was released by the RNC under embargo well ahead of his speech. Former Cruz spokesman Rick Tyler told BuzzFeed News that the Trump campaign had approved the text of the speech.
(Trump tweeted later in the night that he had seen the speech two hours beforehand: "Wow, Ted Cruz got booed off the stage, didn't honor the pledge! I saw his speech two hours early but let him speak anyway. No big deal!")

Cruz did encourage Republicans to go out and vote in November, but his words fell far short of a real endorsement of Trump, and he specifically told his audience to vote their conscience and emphasized voting for down-ballot candidates. And the response from the crowd on Wednesday night was clear. Cruz's wife, Heidi, left the arena floor during the speech amid the reaction.
As Cruz reached the section of his speech near the end that made it clear he was not endorsing Trump, the crowd erupted into chants and boos. Some delegates chanted at Cruz, "Endorse Trump." He joked that the New York delegation was enthusiastic, but continued on as the yelling and booing kept up.
And afterward, there was more drama. According to someone who witnessed the scene, Washington State Republican Party Chair Susan Hutchison went "bananas" on Cruz outside the elevators near the bottom level suites in the arena after Cruz's speech, calling him a traitor. According to the source, "security kind of stepped in. Cruz folks dragged him and Heidi into an elevator and security kind of pushed her the other way. Wasn't like anyone got arrested, it was just really dramatic."
Hutchison confirmed the incident to BuzzFeed News, saying she called Cruz a "traitor to the party."
"I just told him I thought his speech was inexcusable, and I was so disappointed in him," Hutchison said. Hutchison said she didn't recall Cruz's response. "I was angry, everybody was angry. You heard everybody booing him. We were astounded at what he did." Hutchison said she did not think security got involved.
Also after the speech, Cruz was turned away from megadonor Sheldon Adelson's suite in the arena, according to a source with knowledge of the situation. Adelson announced earlier this year he would back Trump, and his adviser Andy Abboud tweeted a photo of the Adelsons with Trump on Wednesday at the convention. Abboud did not immediately respond to a request for comment.
Asked about the incident, Johnson described it as "pretty boring" and said, "I don't know if it was his suite or not. We walked to the suite and were told it was full. Looked pretty full to me but who knows."
After dropping out of the race in May, Cruz did not endorse Trump, and for a long time emphasized the conservative principles that he wanted to see the nominee embody. Cruz's endorsement would be a significant one for Trump, who has failed to unify the party after becoming the presumptive nominee in May following a bitter primary battle. Earlier on Wednesday, Cruz spoke to his delegates in Cleveland, telling them something similar. "There's a lot of talk about unity," Cruz said. "I want to see unity and the way to see unity is for us to unite behind shared principles, us to unite in defense of liberty, and for us to empower the grassroots."
Following his event, an RNC official told Yahoo News that Cruz was likely to run for president again in 2020 — even if Trump is president.
Even up until the hours before Cruz's speech, Republicans were urging him to back Trump: RNC spokesman Sean Spicer told him to "do the right thing," and talk radio host Laura Ingraham sent a shot across the bow to Cruz and other holdouts in her speech to the convention, saying, "You must honor your pledge to support Donald Trump. Now."