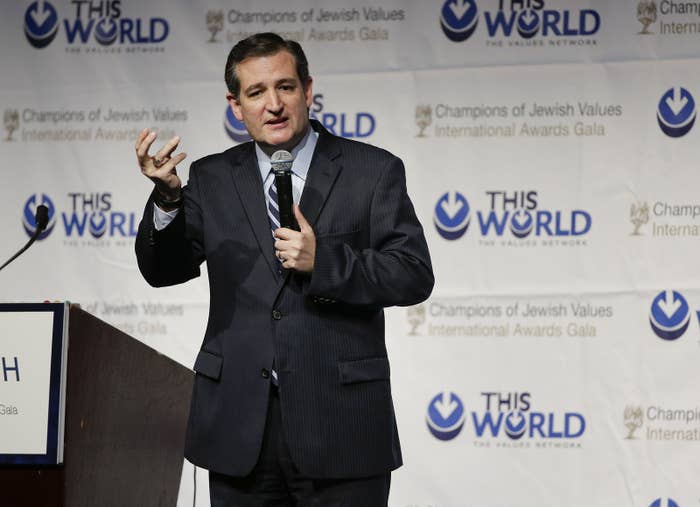 NEW YORK — Republican presidential candidate Sen. Ted Cruz received a warm reception from mega-donor casino magnate Sheldon Adelson at a gala on Thursday, the latest development in the so-called "Adelson primary."
Speaking at a dinner for The World Values Network, Rabbi Shmuley Boteach's Adelson-funded organization, Cruz gave a speech focused on Israel and the Iran deal that included lots of red meat for the mostly Jewish Republican crowd: He called for the next president to move the U.S. embassy to Jerusalem, for example, and slammed the Obama administration for the flight ban to Israel during the Gaza war last summer. He also condemned the potential Iran deal that may be signed next month, calling it "disastrous."
The dinner, which featured speeches by Newt Gingrich, Sen. Bob Menendez, Holocaust survivor and author Elie Wiesel, and others, took place in a large ballroom at the New York Marriott Marquis in Times Square. It began with renditions of the American and Israeli national anthems, followed by a speech by Boteach, as well as an introductory video about him.
In his speech, Cruz also targeted the Boycott, Divestment, Sanctions (BDS) movement, which the Adelsons have recently taken a more serious interest in combating. Specifically, Cruz called for the federal government to cut off funding to any universities that boycott Israel.
"In 2017, we need a president who will stand up directly and confront the BDS movement," Cruz said, to applause. "BDS is premised on a lie and it is anti-Semitism plain and simple. And we need a president of the United States who will stand up and say if a university in this country boycotts the nation of Israel than that university will forfeit federal taxpayer dollars."
Though Cruz has criticized BDS in the past, now is an especially good time for a candidate seeking Adelson's support to do so, since the Adelsons are about to make their concern over BDS a larger part of their overall political giving; Boteach told BuzzFeed News recently that he is helping them build an organization that would combat BDS on campus under the working title "Campus Maccabees."
The Texas senator received a standing ovation after his speech — including from Adelson, who cannot walk distances without a scooter and uses a cane to manage short distances and to stand. Cruz also posed for pictures with Adelson and Boteach before the dinner. Adelson's wife Miriam is said to be a big fan of Cruz's, though she wasn't in attendance on Thursday. The conventional wisdom has been that Adelson favors Florida Sen. Marco Rubio — Rubio has been featured several times on the cover of the Adelson-owned Israeli newspaper Israel Hayom and associates have told reporters that Adelson is leaning in his direction — but Adelson remains uncommitted to any candidate so far.
New Jersey Gov. Chris Christie, who arrived after the pictures were over and the gala had begun, was the other potential presidential contender who spoke at the gala. Christie, too, hit all of the Adelson-approved notes on Israel, and accused Obama of only caring about "the two L's" — his legacy and his presidential library. "We are willingly ceding leadership of the world," he said. The reaction to Christie's speech was muted, compared to the energetic reception Cruz received. Adelson didn't stand to applaud Christie, though the two were photographed speaking before Christie's speech.