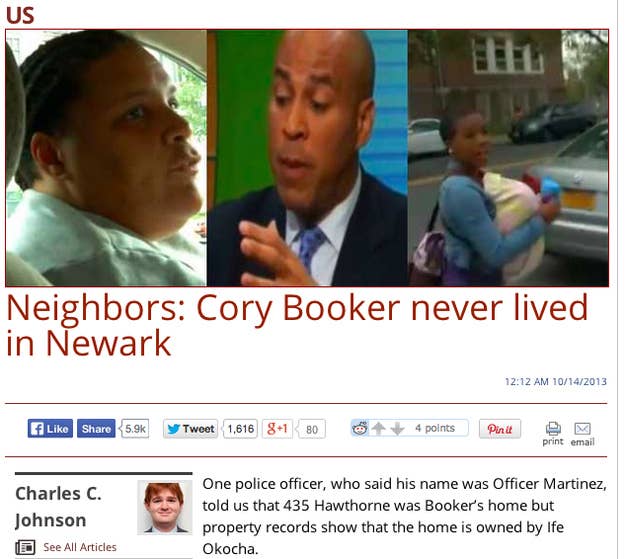 WASHINGTON — The writer who published an explosive story claiming that Sen. Cory Booker does not live in Newark worked for a PAC that spent nearly $200,000 against Booker in the New Jersey Senate race, BuzzFeed has learned.
Charles C. Johnson, a freelance libertarian journalist, conducted opposition research on Booker for a PAC called American Commitment earlier this year. He also wrote reported pieces about the New Jersey Senate race for the Daily Caller in 2013.
"Charles is a research guy that we've hired to do research for us," said Phil Kerpen, president of American Commitment. "He's terrific at it."
"We've never paid anyone to write a story per se," Kerpen said. "Charles has done research for us; he did some of the background work on some of the Booker stuff."
Kerpen said that he had not instructed Johnson to publish his research in the Daily Caller.
"When we asked him to do research work, he did research and provided it to us," Kerpen said. "If he used it for some other purpose or in a reportorial capacity, that's not what I was paying for."
Kerpen said he "didn't know how specific it's appropriate to get" about the details of Johnson's work for American Commitment, but said Johnson had looked into Booker's business and financial connections, dug up things Booker had written, and other "standard research activities." Johnson, Kerpen said, has done other research for American Commitment in the past as well. Kerpen said he was unaware of how much American Commitment had paid Johnson.
"We anticipate using him again in the future," Kerpen said.
On Oct. 14, Johnson published a story quoting Booker's neighbors and two community activists saying that the then-mayor did not actually reside in Newark. The story caused a furor in the New Jersey race, with Booker's campaign calling it a "desperate stunt." Booker's office provided BuzzFeed with rental checks and other evidence of Booker's residency dating back years.
Johnson also published a story on Oct. 13 that questioned Booker's account of rescuing a Newark resident from a burning building. The article cited the same community activists — Donna Jackson and Cassandra Dock, two regulars at city hall meetings and known critics of Booker's administration — who appeared quoted in Johnson's other Daily Caller piece.
Johnson pitched other outlets covering the race on stories, including BuzzFeed.
"Can you call me?" Johnson emailed BuzzFeed on Oct. 10. "I have video from interviewing lots of people in Newark yesterday that said 1) the fire story is fake 2) that Booker doesn't even live in New Jersey."
In a statement to BuzzFeed, Johnson said he was not in Kerpen's employ at the time that the Booker pieces were published in the Daily Caller.
You are misinformed. I wasn't working for Phil Kerpen when I wrote the articles about Cory Booker for The Daily Caller.

Mr. Kerpen paid me for other Booker work -- which as far as I know wasn't published -- months before I traveled to Newark. Mr. Kerpen never paid for my travel to Newark. I paid out of my own pocket to go to Newark. Kerpen has never had any editorial involvement in any of my journalistic work at any point.

I always call it like I see it, something I recommend BuzzFeed do in the future, especially as it investigates Cory Booker, a potential vice presidential (or even presidential) candidate. It's too bad that you guys have decided to invest more time investigating me than Cory Booker. I even offered to help you and your crew a while back. There's a lot more to cover there.

The Cory Booker video I did captured the attention of everyone in the final days of the campaign because I did what no journalist would — I went deep into the Newark ghetto to ask tough questions on camera of Mayor Booker's alleged neighbors who maintain that Booker does not live in Newark.

I'm also proud of all the work I do and I am very skeptical of all politicians of all parties as my recent work on Republicans Marco Rubio of Florida and Dan Sullivan of Alaska shows.

I don't work for the Daily Caller but I do have a freelance agreement with them. I'm an independent writer. The research I have done for others has never ended up in the pages of the Caller.
Johnson is also the reporter who first wrote about Syria analyst Elizabeth O'Bagy's undisclosed ties to Syrian rebels when she wrote a much-cited op-ed for the Wall Street Journal.
Daily Caller editor-in-chief Tucker Carlson declined to comment.