Congressional Aide Says He Received Death Threats From Russian Email Address
The email was sent to one of the top Russia experts on the Hill after the U.S. imposed sanctions on a host of Russian officials and businessmen. Opposition leader Alexei Navalny also threatened.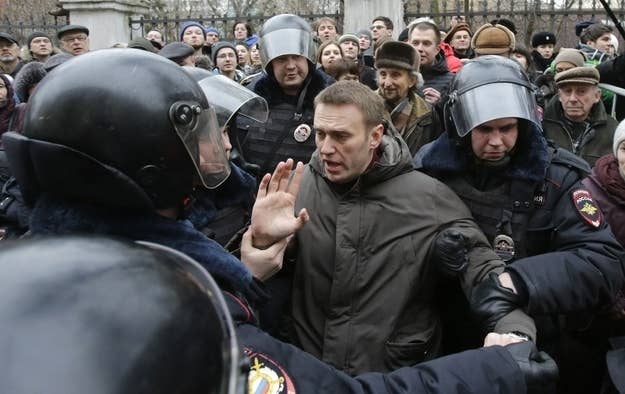 WASHINGTON — A top policy advisor to the Helsinki Commission has reported death threats sent to him and to Russian opposition activist Alexei Navalny by a Russian email address to the Capitol Police, BuzzFeed has learned.
Kyle Parker, the senior policy advisor for Russia at the Helsinki Commission, received threatening emails in Russian from a mail.ru email address saying "sorry I cannot personally execute you Anglo-Saxon geek… now whore, prepare the vaseline," among other threats.
BuzzFeed obtained a copy of one of the emails, including Parker's communications with Capitol Police about them and his exchange with a Russian Embassy official about the threats. The name of the Russian Embassy official has been redacted. The email cited in this exchange also contains threats against Alexei Navalny, the Russian dissident activist.
Parker mentions in the email to Capitol Police that lobbyists for Patton Boggs, who represent Russian oil tycoon Gennady Timchenko, one of the Russians added to the Treasury sanctions list this week, came to see him in 2011 after Navalny testified in front of the Helsinki Commission. The lobbyists sought to find out more information about Navalny's appearance in front of the Commission and wanted to know whether Timchenko might be added to the Magnitsky List and whether the Commission might target his oil conglomerate Gunvor. Patton Boggs did not immediately respond to a request for comment.
The email begins:
From: Parker, Kyle (Helsinki)
&gtSent: Friday, March 21, 2014 1:32 PM
> To: 'threats@uscp.go'
> Cc:
> Subject: death threats from Russia
>
> Agent Blasi, nice speaking with you. On second glance, the email below is even viler than I though and--by far--the most threatening of those I received yesterday as the United States imposed stinging sanctions on Russia. –Kyle
>
> PS I've made a rough translation in brackets.
>
>
> From: Lost Soul [mailto:lost_souls@mail.ru]
> Sent: Thursday, March 20, 2014 7:32 AM
> To: Parker, Kyle (Helsinki)
> Subject: Сгори в аду сука [Burn in hell]
>
> Ну что сука американская, готовь свою изнеженную жопу теперь тебя точно выебут. За одно и крысу по кличке леша, ты же все понимаешь в твоем случае лучше сказать правду, всю правду о ваших корыстных намерениях... жаль что не могу лично казнить тебя выродка англосакского... давай бля готовь вазелин ахахаха
>
> [Well, well, American bitch, get your cosseted ass ready for a fucking. And we'll do the same to that rat called Lyosha, you well know in your case it's better to tell the truth, the whole truth about your selfish intentions… sorry I cannot personally execute you Anglo-Saxon geek… now whore, prepare the vaseline hahahah]
Parker then writes: "The Lyosha mentioned in this email is Alexei Navalny, Russia's leading opposition figure. He testified before the Commission in 2010 and I've corresponded with him by email occasionally since then. He's currently under house arrest in Moscow and will likely be in a real jail soon." Lyosha is a diminutive form of Alexey. Navalny, currently under house arrest, had exposed many of the people targeted by U.S. sanctions last week. He speculates that the writer of the threatening email may have gotten his email address from a batch of unconfirmed emails from Navalny's account that have been leaked online.
Later in the email, Parker notes that "Lobbyists representing Gennady Timchenko (sanctioned by the president yesterday) came around asking about Navalny's appearance before the Commission." He then includes an email he sent to Commission staff following his meeting with the lobbyists.

> From: Parker, Kyle (Helsinki)
> Sent: Thursday, August 04, 2011 6:34 PM
> To: Everyone
> Subject: we have their attention, let them worry...
>
> Patton Boggs lobbyists (Nicholas Allard, Joe Brand, and Larry Harris – who I believe also represents the PRC) stopped by yesterday, ostensibly, to discuss our work on corruption/corporate raiding in Russia. It turns out the real reason for the meeting was that Gennady Timchenko's Gunvor retained them to look into Alexey Navalny's brief mention of Timchenko at our November briefing, "Beyond Corporate Raiding: A Discussion of Advanced Fraud Schemes in the Russian Market." They said they weren't looking to sue Navalny, but wanted to find out if Gunvor was of interest to the Commission or if Timchenko could possibly be a target of the Magnitsky sanctions. I reminded them that Timchenko is widely considered to be Putin's bagman in Europe and should grow a thicker skin instead of suing (The Economist, Nemtsov, maybe others) those who write things he doesn't like. I further emphasized that we are not remotely interested in being remotely helpful to anyone who is remotely associated with anyone who is remotely associated with Gennady Timchenko.
Parker then includes an email from an official "who's accredited to Russia's embassy in Washington and watches Congress closely," to whom he had shown the threatening email.

> From: [redacted]<[redacted]@gmail.com>
> Date: March 21, 2014 at 0:24:31 EDT
> To: "Parker, Kyle (Helsinki)"
> Subject: Re: Сгори в аду сука
> You know Kyle, I don't share this guy view)
> We have to be gentlemen despite anything. Though I would agree, Navalny is done. And one more thing -I really doubt you will see Russia again, at least as long as Vladimir stays in Kremlin.
> Look at what our civil society is doing. You can take credit)
> http://www.newsru.com/russia/20mar2014/obamaneprojdet.html
A spokesperson for the Capitol Police did not immediately return a request for comment.
Parker declined to comment but confirmed that the emails were real.