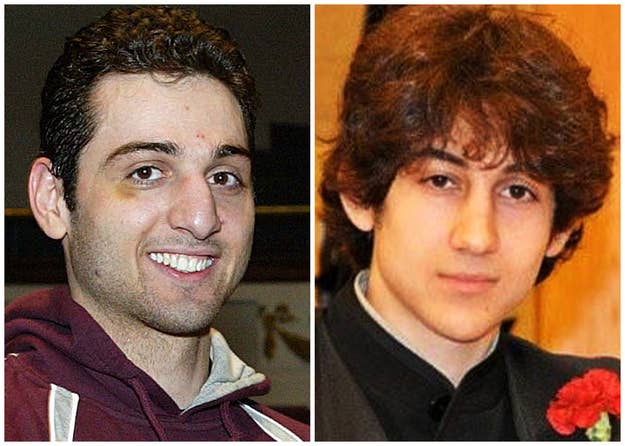 BOSTON — The Chechen ethnicity of the suspected Boston bombers has sparked increased interest in one of the smallest and least well-known immigrant groups in the United States — a group that is one branch of a young and disorganized diaspora that, unlike many other immigrant communities in the United States, has no real network for recent arrivals.
Dzokhar and Tamerlan Tsarnaev, who arrived with their family in 2002 or 2003, were one of a handful of Chechens in the Boston area, though the size of the group there still makes it one of the larger communities of Chechens in the United States. People familiar with Chechen immigrants in Boston and in the wider United States say that the disparate communities are barely linked, with no representative organizations, and that the Tsarnaevs, neither of whom had much to do with Chechnya itself, would also have had little contact with other Chechens in the U.S.
There are thought to be only a few hundred ethnic Chechen immigrants in this country. According to Glen Howard, president of the Jamestown Foundation, a Washington, D.C., think tank that focuses on the Caucasus, the first wave of immigrants came in the 1920s, followed by another wave during the war with Russia in the mid-1990s that killed 200,000 Chechens. Howard estimated the number of Chechens in the United States at 200. He said there are small communities in California and New Jersey, as well as in Boston.
"The largest concentration is in the Boston area," Howard said. Boston includes some of the most notable Chechen-Americans, including Dr. Khassan Baiev, the doctor who wrote the best-selling book about his experiences in the Chechen war of the 1990s. Baiev lives in Needham. He didn't return requests for comment on Saturday because he is currently in Chechnya treating children, according to Alsan Doukaev, a Prague-based Radio Free Europe journalist from Chechnya who knows Baiev.
"The Chechen diaspora is a very recent product," Doukaev said. Chechens only began to move out of their region in large numbers during the war with Russia.
"Almost everyone bears the scars of this conflict," Doukaev said. "I wouldn't stay they stick together, but they don't lose touch with their homeland. It's not an organized diaspora in any way. They don't coordinate their actions or their moves or anything like that."
Chechens are one of the smaller ethnic groups in Russia anyway, and they have mainly emigrated to elsewhere in Europe, Central Asia, or other parts of Russia, not to the United States.
Fatima Tlisova, a Voice of America journalist from Russia who has covered Chechnya and Chechens extensively and lived in Watertown, Massachusetts, for a number of years, said that she knew of a smattering of Chechens in California and Florida, as well as "five or six families in Boston."
"The Boston Chechen community wasn't very much connected with each other," Tlisova said. "They know about each other, they are all familiar with each other, but I don't think they are very close."
"They care for themselves mostly, and are isolated from the society, not only from the other Chechens," Tlisova said.
Tlisova said that the other Boston Chechens she knew didn't particularly care for the Tsarnaev family.
"When I was in Boston I'd heard of the Tsarnaevs," Tlisova said. "I left Boston in 2010. Before that the other Chechens said that this family didn't care about religion, the father was a drunk man, all this stuff."
"So the other Chechens did not like this particular family very much, I don't know why," she said.
Estimates of the number of Chechens in Boston vary. While Tlisova pegged the number at five or six families, Almut Rochowanski, a founder of the Chechnya Advocacy Network, said she knew of four. Unlike Howard, she doesn't believe Boston's Chechen population is larger than any of the others.
"Although Chechens don't live in compact ethnic 'communities' anywhere in the U.S., the largest concentration is certainly not in Boston," Rochowanski said. "I hear L.A. — enough of them to make up a decent wedding party."
Rochowanski said it's difficult for her organization to pin down exactly how many Chechens live in the country. There are no official statistics available.
"We have been trying to get a total number for many years, we really can't," she said. "We extrapolate from the ones we know, and the people they know, and sometimes we come across individual Chechens who are not in touch with any other Chechens here."
The Chechen diaspora once had a social networking site of its own, Amina.com, which functioned as a way for far-flung Chechens to communicate with each other as well as with those still in Chechnya. Amina was founded by a Chechen immigrant to the United States named Albert Digaev.
But Amina is no longer online, having undergone a period of controversy in 2004 and 2005 and monitoring from the Chechen government over accusations that girls who had compromising photos posted on the site committed suicide out of shame.
The Tsarnaev brothers participated in American life as seemingly normal, assimilated citizens, and the younger one was well-liked by his friends and classmates. But despite living in the accepting community of Cambridge, the brothers — or at least the older brother Tamerlan — seem to have become more alienated as time went on.
Though relatively little is still known about how the brothers became radicalized, by most accounts, Tamerlan Tsarnaev had trouble fitting in in America in the first place, once remarking to a photographer taking his portrait at the boxing gym that he didn't have any American friends.
The rest of the family also seems to have become more distant from mainstream American culture in the last few years, as Tamerlan became more interested in Islam, even allegedly pressuring his American wife to convert and to cover herself (the wife, Katherine Russell, was spotted on Saturday entering the Tsarnaevs' house, wearing a leopard headscarf and accompanied by her 3-year-old daughter with Tamerlan and an unidentified woman). The suspects' mother, Zubeidat Tsarnaeva, who lived at the small brown house on Norfolk Street too, also became more withdrawn as well as attracted to anti-American conspiracy theories, according to the account of Alyssa Lindley Kilzer, who went to her for facials after Zubeidat was let go from a spa in Belmont. The father, Anzor, returned to Russia before Zubeidat; they now live in Dagestan. Tamerlan and his uncle Ruslan Tsarni reportedly had a falling-out in their relationship over Tamerlan's increasingly strict views about Islam.
According to Alexander, a Russian MIT student who has lived next door to the Tsarnaevs for a few years and spoke with BuzzFeed from his stoop on Saturday, the only family member he saw in all that time was Tamerlan. Alexander also met Russell and the baby once, though Russell said nothing. Tamerlan spoke for her, he said.
Here in Boston, there's no cultural center for the Chechens, and according to Rochowanski, the families here aren't particularly close. Echoing Tlisova, she said they didn't have much contact with the Tsarnaevs.
"One of the families knew them but not very closely," Rochowanski said. "No one was very connected with the Tsarnaevs."
The Chechens she knows in America, Rochowanski said, are keeping a low profile for the time being. Few are willing to speak to the media.
"They're in shock, disbelief, and also some denial," Rochowanski said.