Carson And Trump — The Actual Republican Frontrunners — Fade Into The Background In Colorado
The night was all about the establishment and less about the two men leading the field. But will it hurt them? It's pretty unlikely.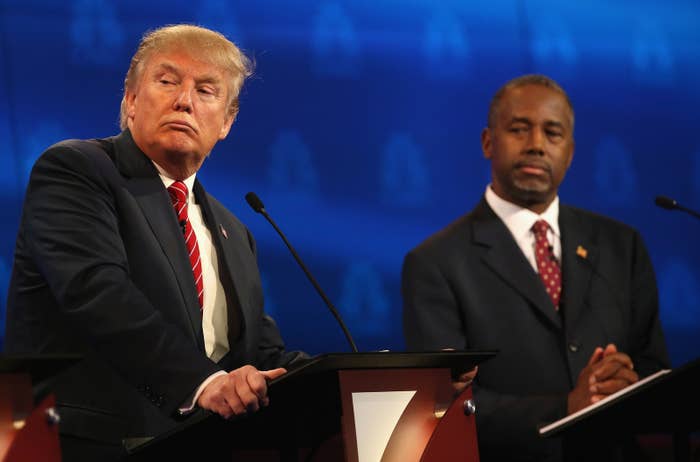 BOULDER, Colorado — The first two Republican primary debates of the 2016 cycle were a showcase for outsider candidates. But in the third debate on Wednesday, the outsiders who are dominating the race — Donald Trump and Ben Carson — were basically a non-factor.
Unusually for this election cycle, the central narrative of the debate belonged to the establishment candidates, with the most significant showdown occurring between Marco Rubio and Jeb Bush in a moment that has many observers wondering whether Bush is long for this presidential race.
This was particularly surprising in the case of Trump, whose commanding presence in the first two debates — particularly in the first — faded here. Trump didn't speak for long stretches of time, and his speaking time clocked in at 9 minutes and 26 seconds, putting him in fourth in that metric. In the past two debates, he got a larger share of the speaking time. When he spoke, he mostly repeated now-familiar talking points. And while Trump did have a big showy attack moment like the ones that spiced up the first two debates, it was against John Kasich, who doesn't represent a real threat to Trump's supremacy.
Like Trump, Carson disappeared for long stretches of time while establishment candidates duked it out. Unlike Trump, Carson's reputation doesn't rest on brashness, and voters like his quiet demeanor, so a performance like this might have very little bearing on his overall trajectory — and in fact, it's not much different from his performances on the previous two debate stages. Still, it's striking to see a candidate who has become such a force in the election, polling right behind Trump, be so reticent on the stage. Carson was among the lowest in terms of speaking time, clocking in third to last at just 7 minutes and two seconds.
Carly Fiorina, another outsider who's been successful in the past few months (though with a much different audience), also failed to make a big impact, unlike the strong performance in last month's debate at the Reagan Library in Southern California, which helped juice her standing in the polls. She was solid and poised, but in a debate where every candidate was grasping for a big moment, she didn't have one.
Both Trump and Carson flubbed some facts, something that could be a headache for more conventional candidates but will likely slide off here. Carson misstated the number of federal agencies and sub-agencies (he said 645; the Federal Register says 438). He also claimed to have had no involvement with Mannatech, a company that makes nutritional supplements that has been accused of making false claims about curing autism and cancer. "I didn't have an involvement with them. That is total propaganda," Carson said. "I did a couple of speeches for them; I do speeches for other people. They were paid speeches. It is absolutely absurd to say that I had any kind of a relationship with them." Carson appeared in a promotional videos for the company and has given several paid speeches for them.
As for Trump, he claimed that he had never been critical of Facebook founder Mark Zuckerberg for seeking to increase the number of H1B1 visas. Yet Trump made this exact criticism (and also called Marco Rubio Zuckerberg's "personal senator") on his own website.
It's too early to tell whether the frontrunners' debate performances will affect them, and the safe bet is that they won't — yet. In this cycle, it could take much more than this to slow the darlings of the anti-establishment wave sweeping the Republican Party.
Carson's campaign manager Barry Bennett disputed the idea that his candidate faded into the background at all.
"Look at the social media scores," Bennett told BuzzFeed News after the debate. "One on Twitter, one on Facebook, one on Sentiment. He was off the charts."
Bennett said "most people would give their right hand" for the amount of Twitter and Facebook followers Carson gained during the debate.
The strategy, he said, had been to "show personality" and "see if you can get the audience to react to your personality and laugh," and he said Carson had succeeded, citing a moment when the audience booed the CNBC moderators when they pressed him on his involvement with Mannatech.
Asked by reporters after the debate if there's anything he wished had gone differently, Carson acknowledged, "Well, you always wish you had more time." He said his strategy now was to "just keep talking."
Trump brooked no argument of a possible fade, telling reporters, "No fade, no fade. That's for sure."