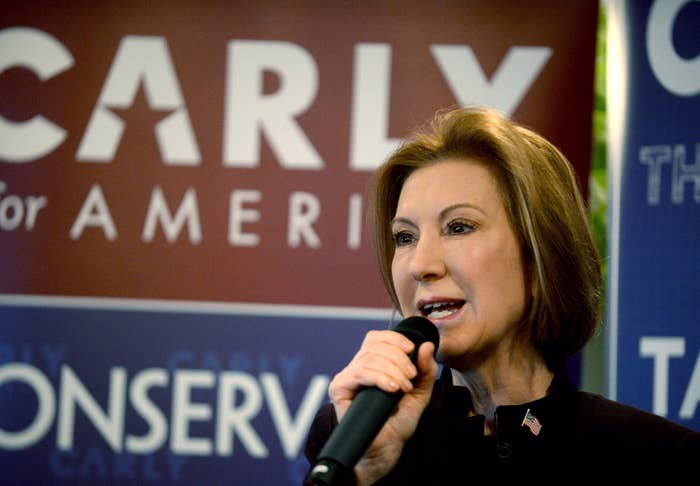 MIAMI — Carly Fiorina, who dropped out of the Republican presidential race after New Hampshire, endorsed Ted Cruz on Wednesday morning.
Cruz teased the endorsement onstage at a rally at Miami Dade College, saying he was going to introduce a "major business leader" and "serious thinker" who had been a critic of the "absolute disaster that is Hillary Clinton."
Fiorina then took the stage to endorse Cruz, saying she "checked the box" for Cruz when voting last week in Virginia, which voted on Super Tuesday.
"The only one who can beat Donald Trump is Ted Cruz," Fiorina said.
Fiorina appeared to reject the idea of a contested convention, saying, "The only way to beat Donald Trump is to beat him at the ballot box."
The surprise endorsement from a well-liked figure in the party signals increasing Republican acceptance of Cruz as the alternative to Trump. And rolling out the endorsement in Miami — Marco Rubio's hometown — ahead of a Florida primary that is make-or-break for Rubio appears to be a shot across the bow at the rival campaign.
The endorsement did not leak out beforehand, though aides signaled to reporters at the rally that something was coming. As Fiorina was taking the stage, Cruz campaign manager Jeff Roe walked past several reporters and asked, "Did you know?" Cruz senior adviser Jason Johnson told reporters that the process of arranging the endorsement had taken no more than a week.
While still a candidate, Fiorina hadn't always been positive on Cruz; she didn't dismiss the birther attacks on him in January, saying she found it "odd" that he didn't renounce his Canadian citizenship until 2014.
Speaking to reporters after the Miami rally, Cruz said "Carly's being with us today is just one more manifestation of what we have been seeing playing out over the last several weeks, which is Republicans uniting, coming together behind our campaign as the one campaign that has demonstrated that it can and has repeatedly beaten Donald Trump."
Asked if Rubio should drop out, Cruz said "That's a decision every candidate is gonna have to make. At this point both Marco Rubio and John Kasich are gonna have to look at the race and assess their prospects."