Brown And Warren Tear Through The Oppo Book
In their second debate, the Senate candidates attack each other on all of the non-policy issues. David Gregory fanned the flames.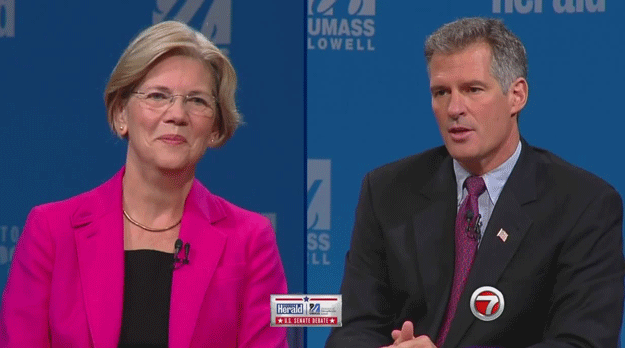 LOWELL, Mass. — The second Massachusetts Senate debate, rife as it was with zingers, attacks, and gritted teeth, offers a glimpse of the two campaigns' shared strategy for the final month: consistent mudslinging.
Light on the issues, the debate focused mostly on each candidate's background and on the tabloid-friendly issues that have become hallmarks of the campaign: whether or not Elizabeth Warren is really Native American; Scott Brown claiming he has meetings with "kings and queens"; what kind of clients each of them represented as a lawyer.
The moderator, NBC's David Gregory, began the debate with a question about Warren's heritage and followed by pressing Brown on "kings and queens," and frequently cut off the candidates.
"I think Gregory did too little discussion of public policy," Massachusetts Congressman Barney Frank said afterwards.
And the crowd was unusually enthusiastic for a debate; despite Gregory's admonishments, they cheered, booed, and heckled throughout.
It all seemed to rile up the candidates, not that they needed much riling up. The distaste between the candidates is palpable, from Brown's "I'm not a student in your classroom" to Warren's barely containing a laugh while the Senator answered a question about Supreme Court justices.
Both candidates made mistakes. Asked which Republicans in the Senate she could work with, Warren answered with Richard Lugar, who is retiring; Brown retorted, "He's not going to be there."
Brown, for his part, couldn't immediately come up with his favorite Supreme Court justice, and then named Antonin Scalia — the most conservative member of the court. The answer threw a wrench in Brown's continuing effort to distance himself from conservatives, and he didn't make it better when he rattled off three other seemingly random justices — Anthony Kennedy, John Roberts, and Sonia Sotomayor. Warren's campaign manager Mindy Myers later released a statement calling it a "moment that will speak volumes to the people of Massachusetts."
The Massachusetts race remains tight; right now, Warren is up by six points in a recent Boston Globe poll, and by two points in a WBUR poll. According to the Boston Globe poll, 18 percent of voters are undecided still — and the race is a scramble to win them over.
Warren's task is to make voters think of Brown as a Mitch McConnell acolyte and hardcore partisan; Brown's is to make voters see Warren as elitist and a liar.
At the end, the candidates fielded questions about the Red Sox (Warren advocated for giving manager Bobby Valentine another chance, while Brown didn't come down on one side or the other) and about each other. What could they say they admired about each other?
"He has a lovely family," Warren said of Brown.
"She's a very hardworking and accomplished professor," Brown said. "I'm gonna do everything in my power to make sure that she continues to do that."