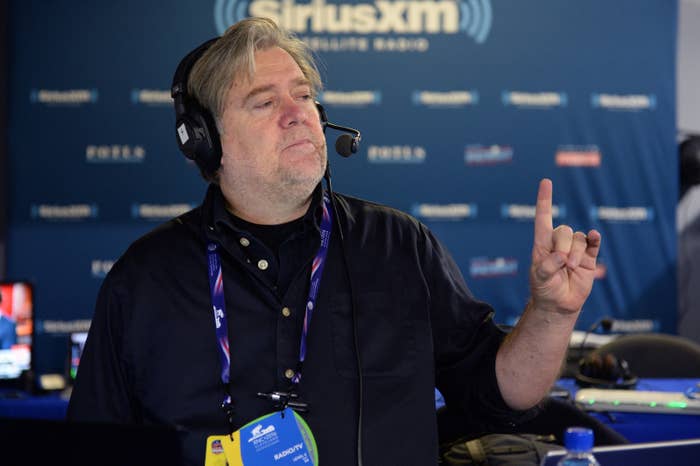 WASHINGTON — Near Capitol Hill, staffers for Breitbart News, the right-wing news site run by Trump campaign CEO Steve Bannon, work out of a $2.35 million townhouse frequently referred to as "the embassy."
It's not a secret in Washington, but that home is owned by a foreigner: Moustafa El-Gindy, a man with a colorful history in Egyptian business and in politics as an anti-Muslim Brotherhood campaigner who has not shied away from publicity.
How exactly Breitbart began renting from the home's Egyptian owner is unclear, but he owns the property, according to the D.C. Office of Tax and Revenue records. According to records, the recordation date for the property was Sept. 16, 2009. The facts of the house's ownership attracted notice in 2014 when an anti-Breitbart blog posted about it.
Over the years in Egypt, El-Gindy has tried to institute the traditional jalabiya as national dress; was among a delegation visiting Gaza and meeting with Ismail Haniyeh, head of Hamas' political wing; and attempted to trigger a Ministry of Culture investigation into a book about the sexual life of the prophet Muhammad. Last year, El-Gindy opposed a natural gas deal with Israel, saying he was against "normalization" with Israel. El-Gindy, a member of parliament, has gone through several political iterations.
And for Breitbart, the relationship appears to be more than just a simple landlord-renter agreement; the site has repeatedly written about El-Gindy without disclosing the relationship, often referring to him as a "senior Egyptian statesman." One former Breitbart staffer told BuzzFeed News that El-Gindy does stay in the house sometimes.
Other than on Breitbart, El-Gindy hasn't appeared much in the US media. He gave an interview to Foreign Policy in the early days of the 2011 revolution that toppled dictator Hosni Mubarak in which he said his vision for Egypt after the revolution was to be more like Turkey and talked about relations with Israel: "The reality is that for the last 30 years there was no real peace with Israel. There was peace between Mubarak and them, but there was no peace between the nation of Egypt and the Israelis." He appears to have been visiting D.C. around the time of that interview, according to a New Yorker piece.
El-Gindy has discussed the situation in Egyptian media over the last few days — after a Guardian story drew attention to his ownership of the home — saying that he rented out the house because of tourism slowing in Egypt and that he has no connection to Trump. In one interview, El-Gindy blamed the story on Qatar and the Muslim Brotherhood. "I am just a landlord," he told another reporter.

El-Gindy, who got his start in the tourism industry, first appeared on the Egyptian political scene in 2005, and was elected as an independent member of parliament. That year, the Muslim Brotherhood won 20% of the seats in parliament.
"People were looking for alternatives to the authoritarian regime of Mubarak and to the Muslim Brotherhood, he appears as one of those alternatives," Hudson Institute senior fellow and Egypt expert Samuel Tadros, who tweeted on Monday night that he was "not at all surprised" about El-Gindy's involvement with Breitbart, said of this period.
El-Gindy won a seat in parliament in 2005 as an independent and later joined the liberal El Wafd party, serving until 2010. In 2010, El-Gindy led an aid convoy of MPs to Gaza, where they were to meet with Hamas leader Ismail Haniyeh, according to reports. In 2010, El-Gindy lost his seat in parliament in elections just a few months before the revolution began in 2011. During this time he left Egypt for the United States, according to Tadros. Upon returning to Egypt, El-Gindy joined a socialist party and backed the 2011 revolution. After winning re-election in the next round of elections, El-Gindy joined the anti-Muslim Brotherhood National Salvation Front. In the most recent elections, El-Gindy ran as part of the For the Love of Egypt list backed by Egypt's authoritarian president Abdel Fattah el-Sisi, who came to power in a military coup in 2013.
El-Gindy has also been involved with the Pan-African Parliament and has served as the second vice-president in its Bureau representing North Africa.
"He's a typical Egyptian politician," Tadros said. "Outside of being against the Muslim Brotherhood there's not an ideological bone in the guy."
Breitbart editor in chief Alex Marlow did not immediately respond to a request for comment; neither did Bannon.
A message sent to El-Gindy's Facebook page was not immediately returned.