Boston Bombing Is A Glimpse Of Kabul And Baghdad
Reports point to two Chechen men as suspects. [Updated April 19, 6:51 a.m.]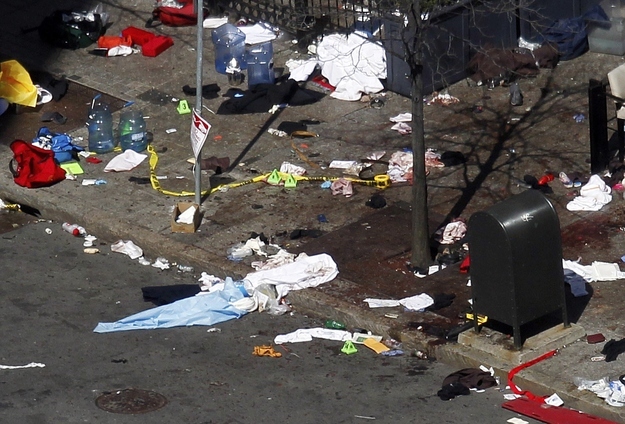 WASHINGTON — The nature of the Boston Marathon bombing provides a glimpse at American law enforcement's worst fears in the post-9/11 world: That the kind of low-grade, low-tech, and murderous attacks that have become sadly routine in more troubled parts of the globe will start to appear here.
Bombing attacks carried out in public, crowded places and using improvised explosive devices have become a regular feature of news out of Kabul and Baghdad. But it's been more than a decade since a successful terrorist attack on the scale of yesterday's Boston bombing was carried out in the United States. And while the Boston attack doesn't yet seem to have the same clear political message of the attacks on abortion clinics in recent years or the left-wing terrorism carried out in the 1960 and 1970s, it bears an uncomfortable technical resemblance to the pattern of terror in far-flung, war-torn parts of the world.
The bombs used in the attack were packed with bits of metal, like nails and ball bearings meant to act as shrapnel, and built inside pressure cookers — the same type of bomb used in the Mumbai subway bombing of 2006 and referenced in a Department of Homeland Security memo from 2004. "A technique commonly taught in Afghan terrorist training camps is the use/conversion of pressure cookers into IEDs," the DHS memo states about pressure cooker bombs. It cites other instances of use of the pressure cooker, including in Nepal and Algeria.
Another DHS memo from 2010 notes that the pressure cooker method was used in 2010 in an attack in Pakistan in which the bombs were set off by remote control, and in the 2010 car bombing attempt in Times Square.
"Because they are less common in the United States, the presence of a pressure cooker in an unusual location such as a building lobby or busy street corner should be treated as suspicious," the memo notes. (The pressure cookers involved in the Boston attack were placed in bags and put in trash cans).
Doctors compared the wounds inflicted on the Boston victims to those found on victims of bombings in war zones. "The best experience we have with this has been with the improvised explosive devices in Afghanistan and Iraq," a doctor at Grady Hospital in Atlanta told NBC News.
"This kind of deplorable violence is all too familiar to my fellow Afghans," Afghan ambassador to the U.S. Ahmad Eklil Hakimi said on Tuesday.
J.M. Berger, a security expert and proprietor of the popular @intelwire Twitter account, noted in an interview that IEDs are not actually new to these shores: They've been in use at least since a 1920 anarchist attack on Wall Street.
"There were reports of ball bearings and nails, screws, etc., which are included in IEDs to create shrapnel that will maim and disfigure people," Berger said. "This is relatively common in IEDs and pipe bombs and the like, so it doesn't point us in any particular direction."
Reports by the Associated Press and NBC news pointed to two Chechen men as suspects, and Chechen militants have used terrorist tactics against Russia after brutal wars for control of the region.
Meanwhile, the atmosphere of tension has led to increased security measures around the country: A terminal at LaGuardia Airport was evacuated on Tuesday because of a suspicious package, and so was the Rayburn House Office Building cafeteria on Capitol Hill in Washington. The incidents prompted Atlantic writer Jeffrey Goldberg to compare the situation to Israel: "America has now definitively entered the Era of the Suspicious Package," Goldberg wrote on Twitter. "Ask an Israeli what this means for daily life."
"The thirst for a quick and easy explanation leads everyone astray," Juliette Kayyem, former Homeland Security adviser to Massachusetts Governor Deval Patrick, wrote in a Boston Globe column on Tuesday. "Foreign terrorists are much less organized than they used to be, so the apparent lack of sophistication of the incendiary devices doesn't necessarily point to a domestic attacker. But the explosions happened during a particularly local celebration, suggesting a fair amount of preplanning, and the devices were targeted at areas with high volumes of people."
The Boston bombing has the potential to create a sense of fear familiar in "war-torn contexts," said Adam Lankford, a criminal justice professor at the University of Alabama and author of a book on the psychology of mass killers and suicide bombers.
"Part of the point of IEDs is you don't need to be a professional to construct them. Anybody with access to the internet and murderous intent can get a book from the library on what the Unabomber did, get the Anarchist Cookbook, go on YouTube," he said.
"If these things start to happen regularly, that sense of fear will be pervasive in America much like it is in some cities abroad," Lankford said.