WASHINGTON — Republican presidential candidate and retired neurosurgeon Ben Carson has proved to be a prolific fundraiser, pulling in $20 million in the third quarter this year.
To accomplish this, Carson has relied on tactics that elicit lots of small dollar donations from grassroots supporters, like direct mail and telephone calls. But now, people who are receiving the calls are starting to complain about the frequency with which they're getting them and the difficulty of getting off the list.
Conservative blogger John Ekdahl tweeted on Monday that he had received three calls over the course of the day.
"No message, ever," Ekdahl told BuzzFeed News in an email. "Often refuse to say who they represent. I've been hung up on and told not to call back. They call frequently. I've had days with five phone calls. Since Oct. 15, I've received 47 calls from them."
Ekdahl said he "finally spoke to someone this evening, and was told to: A) Call back a different number by myself to ask to be removed. B) It would take up to 30 days for the calls to stop." He said he had never donated to Carson or given his name, phone number, or email address to the campaign.
Ekdahl provided a list of five numbers that have been the source of the calls to his phone. Looking up the numbers on an 800-number lookup site shows that others have been trying to figure out how to make the calls from these numbers stop.
"I decided to call the number.. it is for Ben Carson America... If it is a presidential campaign call wouldn't you leave a message? but the good thing it did give you the option to have your number taken off their call list..." one commenter wrote in a thread for one of the numbers on Oct. 15.
"i tried to have them remove my number but did not work," another person wrote on the same thread on Monday. "So i blocked that number. they never fail to call almost daily. there was a call today. they have even called just before nine p.m. tyoo [sic] bad that if these calls are for Ben, he should know they are being very very annoying."
"calls every day never leaves a message. Very annoying," wrote someone else on a thread for another one of the numbers.
"Called again!!!! Hung up on this nuisance, again!!!" wrote "Annoyed in VA" on the same thread.
Some of the calls are calls from a human telemarketer and some are robocalls of Carson's voice.
One person who received a robocall posted a rough transcription of the message he got, which includes a sentence at the end telling the recipient they have to call a different number to stop getting the calls: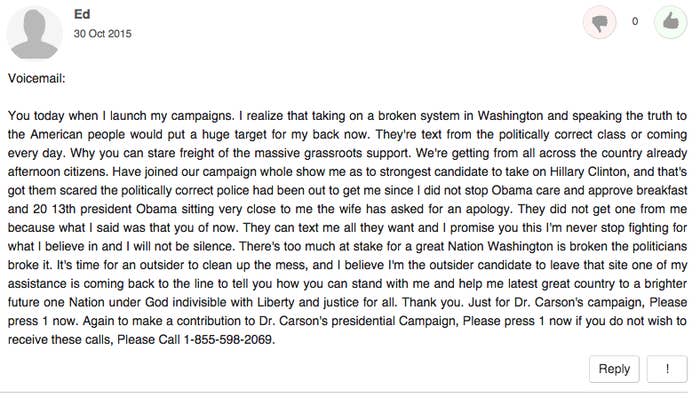 Other complaints about the phone calls have appeared on Twitter.
Andy Brunelle, a Department of Agriculture Forest Service employee in Boise, Idaho, tweeted on Oct. 13 about the juxtaposition of getting the Carson calls while watching that night's Democratic debate: "Two Ben Carson phone calls since the #DemDebate started. Hope they enjoyed listening when I put the phone in front of the television." Reached by phone, Brunelle said he'd received phone calls despite the fact that he's "much more of a Democrat by tradition and conviction."

"They had been calling fairly regularly but most of the time I didn't have time to talk to them or just put them off until later," Brunelle said. "Sometime after that debate I told them I really wasn't interested in the Carson campaign and since then they've left me alone." Brunelle said he had donated to a couple Republican campaigns in the past, but hadn't had any previous interaction with the Carson campaign. He estimated he'd received one or more phone calls a week leading up to the debate, adding up to half a dozen total.
It's not unusual for a campaign to deploy robocalls and telemarketing tactics. But Carson appears to be using these tactics very aggressively and in an increasing volume over the past couple months. Campaign finance records filed with the Federal Election Commission show that Carson's campaign has spent $1,994,764 on fundraising phone calls with a vendor called InfoCision over the course of the campaign. The spending on phone calls increased recently; the campaign spent $444,167 on InfoCision in July, $245,854 in August, and a whopping $722,290 in September.
Politico has noted that InfoCision's founders also founded a direct marketing institute at the University of Akron whose board includes Mike Murray, a fundraising adviser to Carson.
A spokesperson for the Carson campaign did not immediately return a request for comment. A spokesperson for InfoCision did not immediately return a request for comment.