Ben Carson's Book Tour Looks A Lot Like A Campaign Tour
Carson signs books and answers campaign questions. Outside, super PAC staffers hand out swag. Is there even a difference?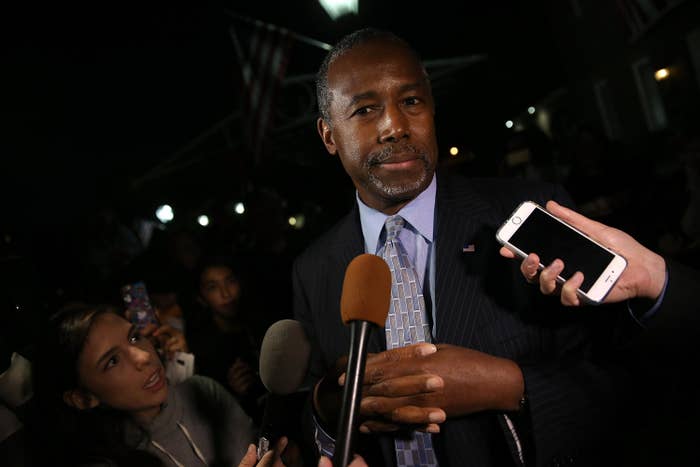 SPRINGFIELD, Missouri — The biggest example so far in this election of the increasingly meaningless nature of Federal Election Commission regulations may well be Ben Carson's book tour.

The Republican doctor, who is leading in Iowa, announced last week that he was putting his campaign on hold to promote his new book. But on four different book tour stops in Oklahoma and Missouri, it was evident that, while perhaps not technically running afoul of campaign finance laws, Carson's book tour is essentially a slightly different iteration of his campaign.
Inside his book tour stops, Carson answers campaign-related questions from reporters. Outside, one of the main super PACs supporting his campaign signs people up to volunteer and hands out stickers and pamphlets. A large bus, the same kind that candidates use on the trail, sits outside Carson's events, bearing a huge photo of Carson as well as the book title, A More Perfect Union.
The tour — like the campaign — is at least in part a showcase for Carson's celebrity status, with a side of politics thrown in.
While Carson has been accused of possibly already having broken campaign finance law while promoting his book — the problem being that the campaign, and not the publisher, should be paying for what are essentially campaign events — the super PAC can operate freely outside his events without there being a problem because it is technically independent from the campaign.
"It's a different cycle this time," said Tina Goff, the midwest director for the 2016 Committee, one of the main pro-Carson super PACs. "It seems like the super PACs are stepping up and doing more of the grassroots."
At two stops in Oklahoma this week, a bus for the 2016 Committee sat in the parking lots with a table outside displaying volunteer sign-up sheets, bumper stickers, and other paraphernalia. At two stops in Missouri later, the bus wasn't there — one 2016 Committee staffer explained that the bus would remain in Oklahoma and wouldn't continue to Iowa because the Carson campaign has offices there and they didn't want to be mistaken for the campaign — but 2016 Committee staff and volunteers were handing out materials anyway out of the back of a car.
Goff said the PAC heard about the tour along with everyone else when it was publicly announced, but acknowledged she had spoken with the company handling logistics for the tour to tell them that that they were going to be out in the parking lots of Carson's events.
The events follow a similar pattern.
Several staffers from the publisher have joined Carson on the tour, in shirts emblazoned with the name of his new book. They run Carson's events with ruthless efficiency, herding attendees through the line at a fast clip. Attendees are told to keep their copies of the book open to the title page and are not allowed to linger around to speak with Carson. Even so, when 2,000 people show up it takes a while to get through them all, and sometimes he doesn't. When that happens, the people who didn't get their books signed are given a decorative plate with Carson's signature.
After signing books for a while, Carson pauses to talk to the reporters gathered. Despite these not being campaign events, Carson has no qualms about discussing campaign matters. Over the course of two days, Carson answered questions about Donald Trump, Iowa polling, Benghazi, Joe Biden, and other topics that are relevant to his campaign, and not the book.
Asked about this blending of campaign and book tour in a press availability in Joplin, Missouri, Carson said, "I'm here to sign books and I'm being courteous and answering your questions."
The day before, he had insisted there was nothing odd about taking a break from his increasingly successful presidential campaign to sign books.
"When I wrote this book I committed to doing [the tour], and I never break my commitments," Carson said.
In fact, it's not readily apparent how much interest Carson really has in his presidential campaign per se in the first place — despite his enormous success in the polls.
Asked in Tulsa, Oklahoma, about how he was preparing for next week's Republican primary debate in Colorado while on his book tour this week, Carson responded, "Being myself. And listening."
"I listen to people everywhere I go, and that prepares you," he continued. "I'm not a politician, so I'm not going to have a bunch of canned answers and prepared statements and stuff like that. I will answer the questions as they come truthfully."
So he's not doing formal debate prep, like other candidates?
"We're not going to be doing that," Carson said. "But you know, I do listen to people, I do have people and I do have advisors, but I'm me, and I think everybody has come to understand that, and they're not going to change me into something else."
What Carson is is a bona fide celebrity, and he's been that, particularly in red state America, since well before he ever announced a run for president. He has an intense, committed fandom; many of the people turning up at his book signings brought several of his books and waited in line for hours for the brief opportunity for a signature and photo. Many of them speak of him in fervent tones and are intimately familiar with his writings.
"I've read all of his books and I started praying for him to have a future in politics way back then," said Karen Henderson, 72, who attended his event at a Christian bookstore in Edmond, Oklahoma, where the crowd size was estimated at 1200. "If we followed him, we could do this and get back on track the way it was intended to be by our forefathers."
Juanita Pappe Sutterfield, also 72, who came to his event in Tulsa, said she admired how he was "honest, humble, soft-spoken but strong, very strong, and Christian," and how he "walks his talk." She said she buys copies of Carson's books and lends them out to her friends, and that she's read three of his books and ordered the children's version of his memoir Gifted Hands for her grandchildren.
Though he raised eyebrows when he announced he would be leaving the campaign trail to sell books, the logic is clear. His celebrity, which stems from his books, catalyzes his political support; that political support only further boosts his celebrity, which in turn sells more books.
If there's anything cynical going on here, Carson isn't showing it. Asked in Springfield about the reception he's garnered on his book tour, Carson, indicating the crowd that bookstore staff had estimated at around 2,000 people, said of his book events, "They're all like this."
"It's quite overwhelming," he said.
A spokesperson for the Carson campaign did not immediately return a request for comment. A spokesperson said the book's publisher, Sentinel, does not comment on Carson's campaign.