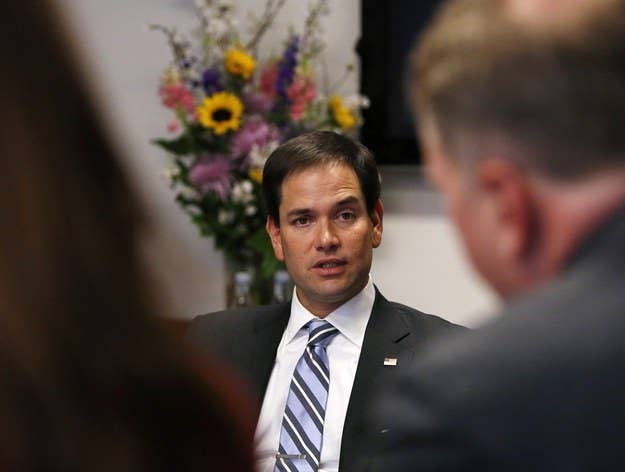 WASHINGTON — Congressional backers of Venezuela sanctions have accused the State Department of actively trying to block a bill that would punish those accused of cracking down on the country's anti-government protesters.
The bill, which would impose visa bans and asset freezes on people accused of human rights abuses against participants and organizers of the anti-government protests that have rocked Venezuela since February, passed the House Foreign Affairs Committee last week.
Florida Republican Rep. Ileana Ros-Lehtinen, the chair of the House Foreign Affairs Subcommittee on Middle East and North Africa and sponsor of the House version of the bill, said State Department officials have been calling Democrats in the House and asking them not to support it.
"I know folks are getting calls by the administration," Ros-Lehtinen said. "They've been calling the Democrats. And the Democrats have told me, 'I'm getting a call and this is what they're saying and they don't want the bill to pass.'"
"It's like the bare minimum," Ros-Lehtinen said. "I just cannot believe we're fighting so hard to get this bare minimum bill through Congress."
A State Department spokesperson did not respond to a request for comment.
Both Ros-Lehtinen, who represents a district in Miami, and Florida Sen. Marco Rubio said they have many Venezuelan-Americans in their constituencies who are pushing for sanctions. A Human Rights Watch report on human rights abuses in Venezuela released last week, which counted instances of torture against detainees, has renewed interest in the crisis and in the push for sanctions. Forty-one people have died in incidents related to the protests since February. United States lawmakers have proposed sanctions as a response to the crisis, though the State Department is arguing that the opposition itself doesn't want them.
Roberta Jacobson, assistant secretary of state for Western Hemisphere Affairs, said that members of Mesa de la Unidad Democrática (MUD), Venezuela's opposition coalition, had asked the administration not to impose sanctions on President Nicólas Maduro's government right now. Members of the opposition are participating in talks with the government over the crisis.
"Members of the MUD who are participating in the dialogue have discussed this with us," Jacobson said at a Senate Foreign Relations hearing last week. "We will speak out, we will make statements, but we will also consider those sanctions ... we will keep considering that and we will use those when we think the time is right."
"There's a timing element when it comes to the response of a particular tactic on human rights violations," Jacobson said.
The MUD later denied having asked Jacobson to hold off against sanctions.
In an interview, Rubio implied that Jacobson hadn't been truthful about what MUD had asked for.
"It's outrageous that last week on Thursday a State Department official said to us that the opposition in Venezuela was asking them not to move forward on sanctions for human rights violators and the opposition said that wasn't true," Rubio, who is sponsoring the Senate version of the sanctions bill, said in an interview with BuzzFeed. "Their sole argument for not moving forward has been removed."
"I hate to speculate on motives other than to say by and large they have tried to avoid instability and don't want to get pulled into another conflict," Rubio said. He said he intends to bring up the matter with Secretary of State John Kerry.
Both Ros-Lehtinen and Rubio rejected the concern, voiced by opposition leader Henrique Capriles earlier this year, that sanctions would give the Maduro government an opportunity to play the victim and further blame the crisis on U.S. meddling.
"[Maduro] is already saying that," Ros-Lehtinen said. "All of them do even when we do nothing — and we are doing nothing."
Rubio said that Capriles must have meant sanctions in the style of the Cuban embargo, which the bill is not.
"We are going to sanction and punish and name and shame individuals responsible for human rights violations," Rubio said.
Ros-Lehtinen declined to discuss which individuals she hopes to see added to a sanctions list. Rubio told BuzzFeed that his intended list would include Maduro government officials and some in the private sector, such as the owners of the television network Globovision, a formerly independent channel which is now owned by a group of businessmen with close ties to the government and has adopted a pro-Maduro line.
In last week's hearing, Rubio also named top government officials he would like to see on the sanctions list, including Public Defender Gabriela Ramirez, Attorney General Luisa Ortega Diaz, and Interior Minister Miguel Rodriguez Torres, as well several state governors, National Guard commanders, and the heads of the National Bolivarian Police and the main intelligence agency.
Ros-Lehtinen said she expects to see her bill put to a vote on the House floor "soon," and Rubio said his bill could be put through the Senate Foreign Relations Committee as early as next week.
"It's a bill that Obama should do automatically already, like he's done with Russia an Ukraine," Ros-Lehtinen said.