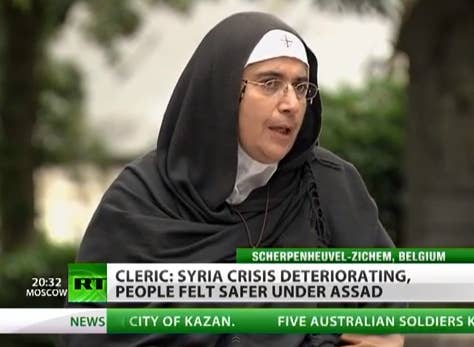 WASHINGTON — A Catholic nun who has served as a kind of unofficial spokesperson for the Assad regime is embarking on a speaking tour of the United States and Canada today and will be in North America until December.
Mother Agnes Mariam, head of a convent in the town of Qara in Syria, is a frequent commentator on Russia Today, and her assertions about the Syrian conflict have been cited by Russian Foreign Minister Sergey Lavrov to boost his argument that the rebels and not the regime carried out the infamous Aug. 21 chemical attack outside Damascus.
Mother Agnes is due to arrive in the United States on Thursday. The trip has been organized by a group calling itself the Syria Solidarity Movement, a 501c3 nonprofit based in California and run by Paul Larudee, an anti-Israel activist involved with the International Solidarity Movement and Free Palestine Movement.
According to Larudee, Mother Agnes will be making stops in Tucson, several cities on the West Coast; Cleveland; Denver; Vancouver, Canada; Lincoln, Neb.; and then New York and Washington after a trip to Rome and the U.K. She will speak mostly in churches but also at a few college campuses, Larudee said.
"This is a total grassroots operation," Larudee said. "We don't have any grants of any kind and it's not coming out of any preexisting budget." The Syria Solidarity Movement grew out of an online Listserv opposed to military action in Syria and has no financial connection to the Syrian government, Larudee said.
Larudee met Mother Agnes through Mairead Maguire, an activist from Northern Ireland who won the Nobel Peace Prize in 1976 for her activism surrounding the Troubles. Maguire led a trip to Syria in May attended by Larudee and sponsored by the Musalaha ("reconciliation") movement, a "fairly substantial popular movement in Syria which considers itself nonpolitical," Larudee said. The group of 15 or so Western activists met in Lebanon with the leader of the Free Patriotic Movement, a Hezbollah-aligned Lebanese political party, and in Syria were introduced to members of the Assad government as well as people presented to them as former rebel fighters who had switched sides. Some of their expenses were covered by "a private business donation," Larudee said.
Maguire knew Mother Agnes, who the New York Times reported is seen by opposition activists as a government-supported "unofficial ambassador" and who has helped foreign journalists obtain visas, suggesting government connections.
"We wanted to bring Mother Agnes Mariam to the U.S. to present a point of view that we feel hasn't been presented too much in North America," Larudee said.