Anti-Trump Efforts Holding Their Fire In New York
New York is expensive and Trump has a huge lead. The outside groups and the candidates working against Trump are being more targeted in their approach, or holding fire.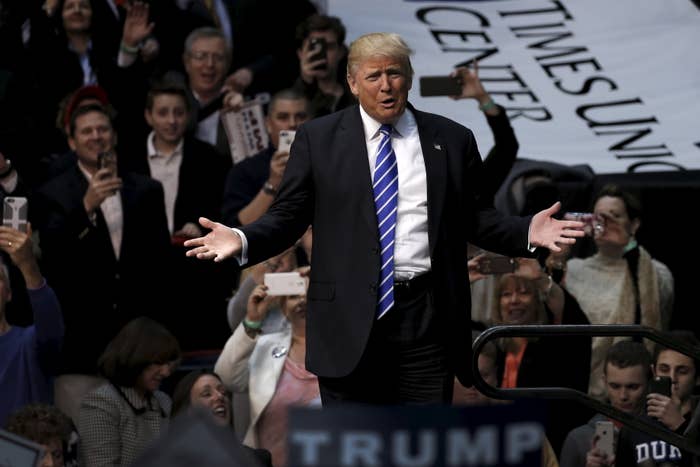 Anti-Donald Trump forces in the Republican Party have recently made significant gains in their quest to deny Trump the nomination. But don't expect a big effort in New York.
Instead, campaigns and outside groups are largely holding their fire, ruling out a major campaign as a poor use of resources when Trump is likely to dominate his delegate-rich home state.
"We have to maximize where we get the biggest impact per delegate and New York isn't it," said Tim Miller, communications director of Our Principles PAC, a super PAC launched in 2016 to oppose Trump's candidacy. (Miller said on Thursday he meant biggest impact per dollar.)
"We assumed his ability to get the delegates out of New York as part of the strategy for preventing him to get to 1,237," Miller said.
Miller said the group has no plans to make large TV buys in New York's expensive media markets, but that if they identify congressional districts that could be swayed by targeted digital buys, mail, and phone calls, they may do that.
Other outside groups, like Liz Mair's Make America Awesome PAC, have made small buys, but also don't have plans to mount large-scale opposition to Trump in New York.
"New York is tricky for a variety of reasons," Mair said. "It's demographically a very complex state, it's very diverse, it's big, it's expensive, it's his home state."
"We don't have 15 million to spend, first of all," Mair said. "Our attitude has always been that our job is to prevent Donald Trump from amassing every single delegate that he can conceivably be deprived of."
The relative inactivity comes on the heels of a successful showing in Wisconsin, where Ted Cruz won by 13 points and where outside groups were very active. Our Principles PAC, for example, spent $2 million on broadcast and cable TV advertising there. And the Trump campaign has showed itself to be woefully underprepared for the delegate fights taking place at state conventions around the country — last weekend, he won zero delegates in Colorado.
That kind of money, though, doesn't go as far in New York. A major GOP donor who gives to several groups with New York connections also said that many anti-Trump donors see taking on the real estate mogul in his home state as a waste of their money. "These are not stupid people. The only compelling reason would be to keep that narrative going that Trump's campaign is in mess right now. But given how far ahead Trump is in New York, why would you spend there?"
"If you look overall at the New York map, Donald Trump is clearly in a good position on his home turf," said Rory Cooper, senior adviser to the #NeverTrump PAC, which is currently running a digital ad in New York City attacking Trump for his use of post-9/11 recovery money. "Factor that in with the resources it takes to run a broad campaign in New York and look at opportunities down the road" in Maryland, Delaware and other states, Cooper said, and "It makes sense to prioritize that" over New York. Cooper said the #NeverTrump PAC was likely to do advertising focusing on strategic voting in districts where the PAC believes Cruz or Kasich could hold Trump under the threshhold.
"Anything short of a sweep [for Trump] is moving us in the right direction," Cooper said.
The pro-Kasich super PAC New Day for America is airing two controversial ads targeting Cruz and Trump in New York, but both are part of seven-figure buy that includes Pennsylvania. Cruz is running a radio ad attacking New York City mayor Bill de Blasio, and the pro-Cruz Trusted Leadership PAC is running an anti-Kasich ad upstate.
Kellyanne Conway, who runs Keep the Promise 1, one of the pro-Cruz super PACs associated with Trusted Leadership, said her group was spending $500,000 in New York and emphasized their anti-Kasich activities. "Kasich has been living in NY and should be doing better in NY and simply is not," Conway said. "So we see vulnerability and opportunity there."
"Looking ahead, we plan to be continuously active in the upcoming contests, slicing and dicing states like MD that award proportionally, and going deep into PA, NE, WV, IN and CA. Our dual track has us fighting for delegates now - in primaries, caucuses and conventions, through radio, TV and digital ads and ground game, and preparing for a contested convention in Cleveland," Conway said.
Trump's lead in the state is overwhelming enough (polls have him up by as much as 35 points) that none of his competitors are aiming to win the state. Instead, Cruz and John Kasich are trying to identify and target enough likely Republican primary voters to snatch delegates away from Trump where they can.
New York's primary does hold some potential when every delegate matters: The state assigns three delegates for each congressional district; if a candidate does not win 50% of a district's vote, then the delegates are split. In parts of state — like New York City, where there are few registered Republicans — small numbers of voters could help push Cruz or Kasich to win one or two delegates here and there. In a state where Cruz and Kasich are polling equally, though, it may be tougher for anti-Trump voters to know which candidate they should consolidate around.
"With it being Trump's home state, and right now we're fighting a two front battle with Kasich and Trump, our evaluation has become far more targeted in terms of our approach there," said a senior Cruz aide. "There was never an ambitious plan for New York, it was always Trump's home state."
"Going back to post-Arizona, we did not expect to probably win as many delegates as we have," the aide said. "What's sort of unexpected is we're a little further along" than anticipated.
The aide added that the campaign is "targeting individual districts, maybe some in Long Island, some upstate."
Both Cruz and Kasich spent time, for instance, in the Bronx, where there are only about 46,000 registered Republicans in a borough where 1.4 million people reside.
They've also moved on to campaigning in other states. Cruz, for his part, campaigned in Pennsylvania on Wednesday after two days off the trail.
Days before the New York primary, Kasich spent Wednesday in Maryland, which doesn't hold its primary until April 26. But anti-Trump groups and campaigns believe they have a better shot at getting a portion of the state's 38 delegates and in keeping Trump from getting closer to securing the 1,237 delegates he needs for the nomination, especially given the fact that Maryland's popular Republican governor, Larry Hogan, is a Trump critic. (The latest Monmouth and Marist polls show Trump with a double-digit lead in the state.)
Despite the polling disadvantage in that state too, Kasich told voters "to think about what this Republican Party is offering" and contrast it with his campaign, as he made the case that that they could help him enter a contested convention with a higher delegate count.
"We're going to an open convention," Kasich said at a town hall on Wednesday in Savage, Md. "It's all about accumulating delegates and the fact is they're going … to try to figure who actually can win in the fall."
Even some in the crowd, however, doubted that Maryland could do much to help those against Trump. "We don't have that many delegates, unfortunately," said Michael Kogut, an architect who attended the Kasich event in Savage. "We're not California."
Chris Schrimpf, a spokesman for Kasich, said the campaign had spent two weeks all over New York and was not holding fire like the rest of the anti-Trump groups. "It is inexplicable that the 'Never Trump' movement is apparently ceding the state and over 90 delegates to Trump. That strategy doesn't make any sense. Fortunately we aren't following their strategy."
A spokesperson for the Cruz campaign declined to comment.
But some argue the campaigns and the outside groups don't appear to be trying as hard as they can to reach registered Republicans in New York.
"I should be somebody that is targeted," said Susan Del Percio, a Republican strategist in New York who has worked for Rudy Giuliani and Andrew Cuomo, on Tuesday. "I am a prime Republican voter in Manhattan. I literally just got my first voter contact, from Trump."
Del Percio said it was to be expected that there isn't an extensive air war in New York, considering the expense. But "what we should be hearing a lot more about is direct voter contact from the candidates." It's more surprising that there hasn't been more of that, Del Percio said, than it is that anti-Trump outside groups haven't been more active, given their focus is more on television ad buys.
Ed Cox, the chairman of the state Republican Party, said there is "a lot of campaigning to do in a short period so I'm not surprised there are opportunities [the candidates] haven't taken yet."
"In a short period of time it has really been each of the candidates in his own way out here finding where they can pick up delegates in specific congressional districts," Cox said, adding that a competitive Republican primary in New York is unusual and that the state party had been in contact with all three campaigns to assist them with various aspects of the process.
Cox noted that the Trump campaign has raised expectations for how many delegates they'll gain out of New York — "his people have set a high bar for themselves here."