Ann Romney's Horse To Compete In Olympic Qualifying Event This Weekend
Rafalca will compete in a selection trial in Gladstone, New Jersey with trainer Ebeling.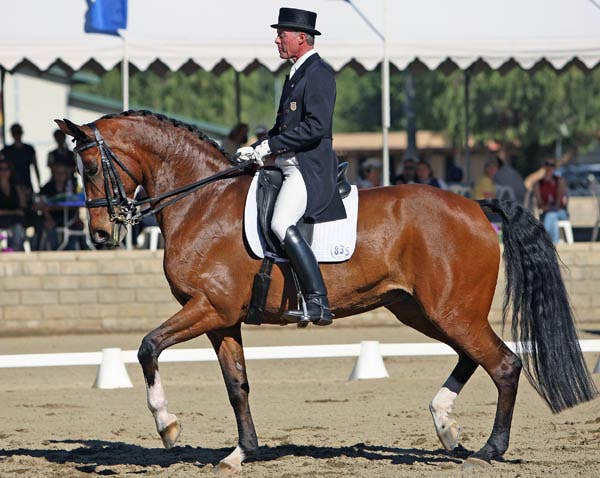 Ann Romney's dressage trainer Jan Ebeling will compete in an Olympics selection trial this weekend in New Jersey, riding the horse that he co-owns with the candidate's wife.
Rafalca is the prized Oldenburg mare that Ebeling, an equestrian and horse farm owner in California, uses to compete in dressage competitions. She also belongs to Ann Romney, who is an avid equestrian herself.
Ebeling wrote a blog post two days ago on the site The Chronicle of the Horse explaining that his next stop after a number of shows in Europe will be Gladstone, New Jersey:
"We're getting ready for Gladstone [N.J., and the USEF Dressage Festival Of Champions and USEF Dressage selection trials for the Olympic Games]," Ebeling writes.
"Competing in Europe, it opens your eyes to how good the others are, and it makes you ride better yourself and try harder," Ebeling writes later in the post. "Besides it being a lot of fun being around that and seeing other riders and learning from them, I find it interesting and challenging. I'm very glad that I have the opportunity to do that, and that I have my friends and family and clients who are very supportive of that."
That support network includes the Romneys, whose close relationship with Ebeling was detailed in a New York Times story last month.
The Times's Trip Gabriel reported that the Romneys floated a $250,000-$500,000 loan to Ebeling for his horse farm, in exchange for sharing ownership of the horse and training with Ebeling.
Mrs. Romney, a breast cancer surviver who suffers from multiple sclerosis, has said horseback riding has provided therapeutic value over the years.
According to a press release by the United States Equestrian Federation, the dressage competition in Gladstone "also serves as the USEF Dressage Selection Trial for the US Dressage Team for the 2012 Olympic Games. These horses and riders will compete this weekend and return to the Brown Arena June 15th and 16th to conclude their competition."
The Romney campaign did not comment on whether or not Mrs. Romney will be there.