American Occupiers Take Their Protest Global
After the fizzling-out of the Occupy Wall Street movement in America, protesters from New York arrive in Tunis and Istanbul. Familiar tent cities, different goals.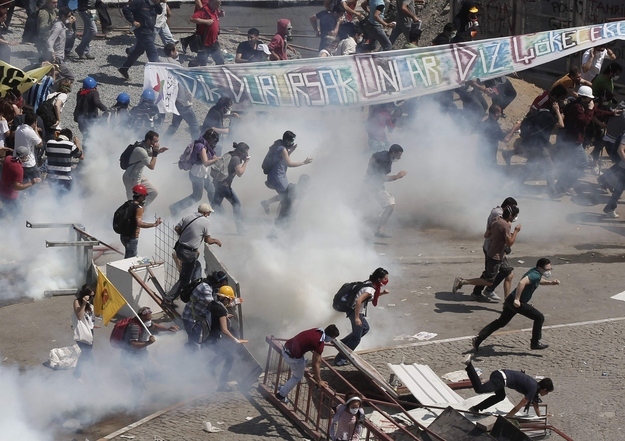 WASHINGTON — Since the dissolution of the original Occupy Wall Street movement in New York and other American cities, some former occupiers have taken their tactics and ideology farther afield: The people who once slept in Zuccotti Park are now joining burgeoning protest movements across the globe, particularly in the Muslim world.
The bitter battle for Istanbul's Taksim Square — with its physical similarity to the seizure of a New York Park — is the highest profile of those battles, and one in which faces familiar from the New York streets have re-emerged. But it's not the only one: American activists got involved in movements in Egypt and Tunisia also this year. And though the goals of those protest movements have little to do with the aims of the American Occupy movement, the tent cities are familiar, and occupiers say they feel the beginnings of a kind of global solidarity.
"Several Occupy media activists have fundraised individually to travel to different Occupy protests around the world," said Justin Wedes, who was one of the principal media coordinators of the original Occupy Wall Street, in an email to BuzzFeed. "Our inter-connectedness and experience with tactical media — livestream, social media, etc. — help budding protests connect into the global Occupy independent media network."
The authorities have also noticed the resemblance. Turkish Prime Minister Recep Tayyip Erdogan specifically cited Occupy when condemning the demonstrations, which began in protest of a planned shopping mall in Istanbul's Gezi Park.
Wedes said activists in Taksim Square have welcomed outsiders warmly.
"There is a huge amount of global solidarity — organizers offer up housing, food, and security if we need it to provide independent media coverage of more dangerous situations," said Wedes, who was also recently in Egypt connecting with young activists there and giving a TED Talk.
"We've been received very positively, and everyone is anxious to support us in getting the word out and breaking the media blackout," Wedes said. "Why should we rely on mainstream media to report these things and hold governments and their police forces accountable? They've proven time and time again that they'll collude with each other to block vital information from us and distort the facts on the ground. So strap on our cameras and livestreams and go!"
The livestreamers include prolific videographer Tim Pool, a common sight at demonstrations in the U.S. Pool is covering the protests for Vice.
Jenna Pope, an activist and photojournalist who normally travels around the U.S. photographing protests, was planning to cover protest activity around the G8 summit when she changed her mind last-minute.
"All the stuff in Turkey happened, and I decided I had to be there," Pope told BuzzFeed in a Skype interview. She arrived in Turkey last Wednesday after making sure she would be able to plug into the activist network on the ground. The internet was instrumental in Pope's finding places to stay and people to meet in Turkey.
"Before I decided to come out here, I did not have a network," Pope said. "I use social media a lot, and I posted that I was considering coming out here. And all of a sudden I had tons of messages coming in from people I knew from New York and elsewhere connecting me with activists in Turkey."
Pope said she thought the Turkish protesters saw their American counterparts as peers, not as advisers or consultants flown into the event.
"I think they see us more as fellow participants," she said. "Obviously we can all learn from each other because we've all had different experiences. There's a lot of discussion and a lot of exchanging ideas."
Pope isn't sure how long she'll remain in Turkey. "I'm kind of just playing it by ear," she said.
Turkey "is becoming quite the destination spot lately," said Shawn Carrié, a New York occupier who was in Tunisia a couple months ago for four weeks with about a dozen other activists. The trip to Tunisia, which was scheduled around the World Social Forum, included about a dozen American activists. Carrié funded his own trip, but most of the others had their travels subsidized by a Brazilian group as part of the Forum.
"Tunisia was incredible; we managed to find really committed activists very much in line with what we do. Horizontalism is very important to them," he said, citing a main tenet of the Occupy organizational structure.
Carrié acknowledged that parachuting into foreign activist networks can have its difficulties.
"The language barrier is hard for most people — I really think you need to speak the language wherever you go, otherwise it's just small talk," Carrié said.
"But now we're able to actually able to call up people in Tunis and ask them if they want to plan a global day of action with us," he said. "Of course it's a very different political landscape there, but they're very much still struggling."
Carrié said the Americans had found kindred spirits in the Tunisians, whose own uprising in 2010 and 2011 was credited with setting off the Arab Spring.
"It's funny, in Tunis they talk about 'the revolution' the same way they talk about OWS here: 'Yeah, that happened, but where is it now?'" he said.