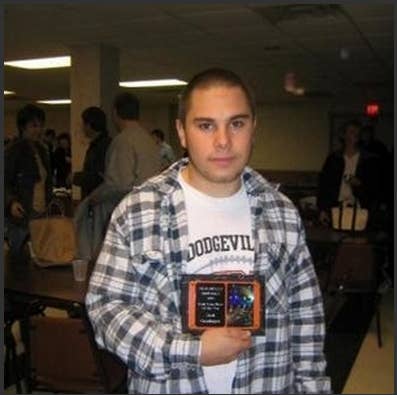 WASHINGTON — A 24-year-old American man was arrested last weekend in Belfast as part of an investigation into an IRA-style pipe-bomb attack and is still being detained by Northern Irish authorities.
Zachary Gevelinger, from Dodgeville, Wisconsin, was arrested on July 6th in Belfast and taken to the town of Antrim for questioning. Police Service of Northern Ireland spokesman Gordon Fyffe confirmed the arrest of a man in his 20s on that day to BuzzFeed. Fyffe declined to confirm Gevelinger's identity but a source familiar with the situation confirmed the name to BuzzFeed, and it has appeared in Northern Irish and local Wisconsin media. Gevelinger was picked up by detectives from Northern Ireland's police service "investigating dissident republican activity," according to Fyffe. The PSNI were granted 96 extra hours to continue to hold Gevelinger on Thursday.
The arrest came just days before July 12th, the date Protestant hardliners in North Ireland celebrate the anniversary of William the Orange's defeat of Catholics in Ireland. For centuries "The Twelfth" has been a point of contention between Catholics and Protestants in Northern Ireland: for decades there have been clashes between Protestant militant groups and Catholics, and protestant organizations have organized marches through Catholic areas as a show of force.
Gevelinger was paying a jailhouse visit to Christine Connor, a 27-year-old woman who has been charged with trying to kill two police officers in a pipe-bomb attack in north Belfast in May. Gevelinger had reportedly corresponded with Connor prior to the visit. According to Irish News, he was arrested immediately after leaving the jail where Connor is incarcerated and his belongings, including a computer, were seized from his hotel room.
Gevelinger appears to have been involved with Socialist Party politics in the United States. A source sent a copy of the minutes of the 2009 Socialist Party USA convention in Newark, New Jersey, in which Gevelinger is listed as being one of the seated delegates from Wisconsin.
Pat Noble, a 19-year-old who made a few headlines earlier this year for becoming a Socialist Party school board member in Red Bank, New jersey, tweeted and Facebooked about knowing Gevelinger.
"Zach is a good comrade that I've known for a couple of years," Noble said on his Facebook page. He also claimed that "The US Embassy is blocking his telephone calls and possibly allowing his medications to be denied." This claim has been repeated on the website Indymedia, which wrote that calls to the US consulate on Gevelinger's behalf were blocked.
Gevelinger has a MySpace profile with the screen name of Zapatista_EZLN, and a profile on the travel site Wayn on which he posted that he's been to Northern Ireland. Gevelinger included a travel tip for Belfast: "I stayed at the Global Village Hostel in South Belfast, Northern Ireland. I highly suggest staying ther [sic]. It is cheap, perfect location, and wonderful staff."
He tweeted last year about searching for a job in Ireland. His Twitter also references an experience observing "colonial officers" on a visit to Belfast.
Gevelinger appears to have attended the University of Wisconsin-Plattesville, where he ran in a student body election in 2009.
A spokeswoman for the State Department would not confirm details of Gevelinger's arrest and detention to BuzzFeed, saying "Due to privacy considerations, we do not have any information to share at this time." Nor would a spokesman for the British Foreign and Commonwealth Office, who would only say that "I'm afraid we don't routinely comment on security matters."
Gevelinger's family in Wisconsin has released a statement to the media in Wisconsin requesting privacy and pointing out that Gevelinger has not been charged with a crime. "We fully expect that Zach will be released very soon," the statement says.