American Bloggers Praised Ukrainian President Before Election
No money changed hands, writers say.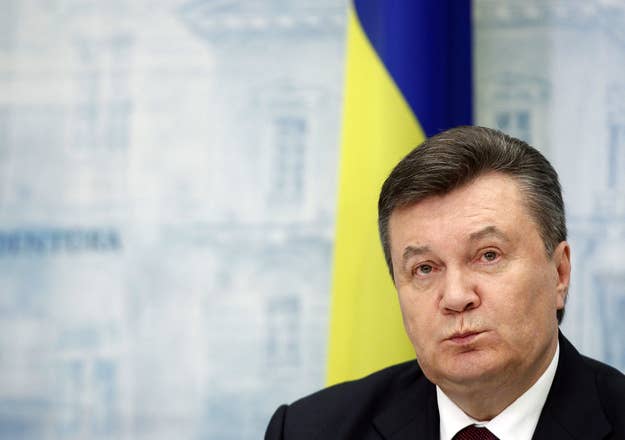 WASHINGTON — Ukrainian President Viktor Yanukovych — the colorless, pro-Russian leader who beat back the country's "Orange Revolution" and later imprisoned a prominent political rival — would appear an unlikely favorite for American political bloggers of any political stripe.
But a spate of blog posts appeared in the American conservative blogosphere in last October defending Ukraine's president and his party in advance of the country's parliamentary elections. The bloggers involved, none of whom regularly cover Eastern European politics, say they were pitched by a public relations firm to write the stories, but that they weren't compensated for them, unlike bloggers who wrote in support of the Malaysian government.
The public relations push appears to be part of a lobbying effort in Washington, D.C. on behalf of the Ukraine through a related organization, not the government itself. The fact that Yanukovych is widely seen as a close ally of Russian president Vladimir Putin's makes his placement in conservative media somewhat puzzling.
At RedState, Breeanne Howe wrote multiple stories in the run-up to and immediately after the October 28 elections. One, "Ukraine Continues to Seek Independence," praised Yanukovych for "working, along with Prime Minister Mykola Azarov, to help the country become energy independent and join the European Union (EU) which would be the final steps to becoming truly independent from their long history with Russia." Another, on the 28th, explained Ukraine's rationale for its new elections system and provided some background on Yanukovych's ruling Party of Regions: "Originally, the party was supported Russian President Vladimir Putin but, to his disappointment, the Party of Regions has turned out to be more pro-Ukraine than pro-Russia." The election was "sure to be a successfully democratic election," Howe wrote. And the day after the election, Howe could report that "Yesterday Ukraine successfully held their most democratic elections in the history of their young independence."
In an email, Howe, whose normal areas of work include mostly domestic social issues, said that she had become interested in the topic after receiving a pitch from a communications firm.
"I agreed with the pitch and found the story to be compelling so I wrote a few posts about it," Howe said. "I've been pitched to write stories (from energy to foreign policy) by others as well. Sometimes this takes me out of my wheelhouse (generally speaking I focus on social issues) and I post a great deal of those stories. However, and I can't speak for anyone else that wrote on the subject, I can assure you that my employment at RedState is an unpaid labor of love and I was absolutely not employed by or on the payroll for the Ukranian gov't (or any other gov't for that matter)."
At Breitbart, Ben Shapiro also dove into Ukrainian matters around the time of the election. On October 22nd, he wrote, "Yanukovych is not the pro-Putin stooge many make him out to be, and Tymoshenko is not the pro-Western ally many make her out to be." And "President Obama's flip-flopping on the Yanukovych administration is accomplishing nothing but driving Yanukovych closer to Moscow. No wonder Ukraine is falling back into the Russian sphere of influence."
Later, he criticized Hillary Clinton for allegedly siding with the Ukrainian opposition despite its forming a coalition with far-right nationalist party Svoboda, and trying to "throw the election from current Prime Minister Viktor Yanukovich to his opposition."
"It's no surprise to see the woman who once hugged Suha Arafat shilling for a Ukrainian opposition that makes governing deals with reported Nazi knockoffs," Shapiro wrote.
"I have never been paid a dime by any political organization to write any piece whatsoever," Shapiro wrote in an email. "I was pitched the stories as I recall, but do not remember the source of the pitches. I found them newsworthy because they involved Hillary, Obama, and/or anti-Semitism." Shapiro later called to specify that he had never received money from any communications firms either, and had only ever been paid by his employers.
At the American Thinker and at Human Events, writer Seton Motley wrote a few pieces as well, criticizing Tymoshenko: "Luckily for Ukraine, they have an election on October 28. They have the opportunity to avert Putin-ian disaster -- and head West," Motley wrote on October 27. Another, on October 15, warned against a gas deal Russia was trying to negotiate with Ukraine, a story that echoed the circumstances under which Tymoshenko was tried and jailed.
In a phone conversation, Motley said that he never took any money to write the stories.
"I'm pretty fortunate that I can write about whatever floats in front of me that I like," Motley said. "I've always been into foreign policy. I'm 41 and a half, so I grew up in the Cold War and I was a virulent anti-communist. And now all those KGB apparatchiks are running Russia."
"Should the mainstream media have to disclose in every story that they're being funded by George Soros?" Motley asked.
The government of Ukraine has no current lobbying contracts filed under the Foreign Agent Registration Act. But an organization called the European Centre for a Modern Ukraine, a group whose founding president was Leonid Kazhara, a MP for the Party of Regions, had two contracts filed under the Lobbying Disclosure Act in 2012, with the Podesta Group and Mercury/Clark and Weinstock.
A spokesperson for The Podesta Group couldn't comment specifically on what services were rendered.
"We did do public affairs for them, lobbying and public relations for them," said Mercury/Clark and Weinstock spokesperson Lucy Claire Saunders. "I can't give you any more details than that."
A spokesperson for the European Centre for a Modern Ukraine didn't immediately respond to a request for comment.
Bruce Jackson, a defense industry executive and longtime booster of post-Communist countries' efforts to extricate themselves from Russia's sphere of influence said he "would think it's safe to assume that both orange and yellow have their lobbying teams on full steam, whatever that means."
"All of the post-Soviet states have far more lobbying and PR support than they should," said Jackson, who is president of the Project On Transitional Democracies, adding that he doubted that anything had been done to buy off American reporters.
"In Kiev it's certainly the case that reporters are given money all the time," he said.
CORRECTION: An earlier version of this item misstated Jackson's profession.