1.
He was voted "Biggest Brown-Noser" in high school.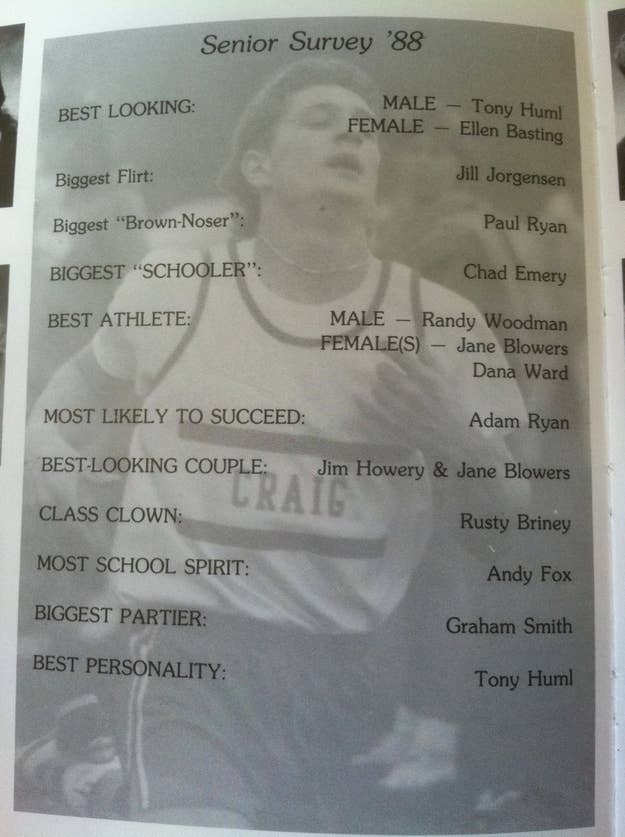 This augurs well for becoming the vice-presidential candidate. Dylan Byers tweeted on Friday night that Ryan's Wikipedia page was scrubbed of any reference to the brown-noser thing.
2.
He is a huge Ayn Rand fan.
Ryan has credited the inspiration for his career to the radical libertarian writer Ayn Rand, whose "Objectivist" theories are beloved by libertarians and some conservatives.
"It's inspired me so much that it's required reading in my office for all my interns and my staff," Ryan said in 2005. "We start with Atlas Shrugged. People tell me I need to start with The Fountainhead then go to Atlas Shrugged [laughter]. There's a big debate about that. We go to Fountainhead, but then we move on, and we require Mises and Hayek as well."
"But the reason I got involved in public service, by and large, if I had to credit one thinker, one person, it would be Ayn Rand," Ryan said at the time.
He later distanced himself from Rand's atheism.
A New York Times profile of Ryan said that one of the congressman's favorite things to do is "noodling" catfish, also known as shoving your fist down their throats.
4.
He could be a risky move because of his influential (and controversial!) budget plan.
Ryan's most well-known achievement to date is authoring "The Path to Prosperity," a detailed alternative budget plan that House Republicans have embraced, and Romney has shown support for. The plan would turn Medicare into a voucher system and change the tax system so there are only two tax brackets, among other things.
The budget has made Ryan into a de facto intellectual leader of the Republican Party, but also could make him controversial to non-conservative voters once the public becomes familiar with the full extent of the plan. Democrats realize this:
5.