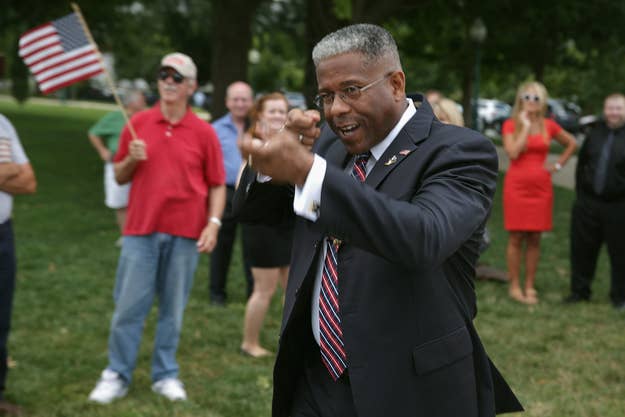 Former Congressman Allen West is leaving his job at Pajamas Media after an altercation with a female staffer in which he allegedly called her a "Jewish American princess," BuzzFeed learned on Thursday.
"In order to focus on political interests, Allen West will transition from his full-time role as director of programming for Next Generation.TV to a twice-a-month contributor of written commentary on PJMedia.com, effective October 1, 2013," PJ Media financier Aubrey Chernick wrote to staff in an email from Sept. 16. "I wanted our staff and consultants to have this information first. However, PJ Media is not announcing this publicly for several weeks, so please do not share this news with anyone outside of the company until you see our public announcement."
In a message to staff, West wrote: "Shortly, I will be giving up my position as director of programming at Next Generation.TV to get back on the front lines to expand the message of constitutional conservatism across our country."
Two sources familiar with what happened told BuzzFeed that West had gotten into an argument with a female employee and called her a "Jewish American princess" while telling her to "shut up."
Reached by phone, West told BuzzFeed he was leaving his job voluntarily, though one source familiar with the situation told BuzzFeed he had been fired. He did not deny that an exchange with the employee had occurred, but said it hadn't led to his leaving the company.
"No, I didn't get fired," West said. "I'm leaving to pursue political aspirations. That's it. There'll be a statement that comes out and it's effective in October."
Asked specifically whether he referred to the employee as a "Jewish American princess," West said simply, "There was an exchange, that's all."
West, a conservative firebrand who served one term in Congress, joined PJ Media's Next Generation TV in January, where he hosted a web show with former Daily Caller reporter Michelle Fields and L.A. radio host John Phillips.
Chernick did not return a request for comment about West's departure.
The full email from Chernick to PJ Media staff:
Dear PJ Media Staff and Consultants:

I have a special, confidential announcement to share with you today.

In order to focus on political interests, Allen West will transition from his full-time role as director of programming for Next Generation.TV to a twice-a-month contributor of written commentary on PJMedia.com, effective October 1, 2013.

I wanted our staff and consultants to have this information first. However, PJ Media is not announcing this publicly for several weeks, so please do not share this news with anyone outside of the company until you see our public announcement.

I thank Allen for all his dedication, hard work and contributions in launching Next Generation.TV and in establishing our Washington, D.C. presence and studio. I speak for all of us when I wish Allen the very best experiences and outcomes in his future endeavors.

My commitment to the Washington, D.C. staff and studio remains as solid as ever. I am proud of this fine studio that so many of you worked diligently to construct, and I am excited to work with our D.C. and Los Angeles contributors and producers on the next generation of NG.TV programming.

Our next phase of programming for Next Generation.TV is our most important so far. We are taking that big step to produce shows for millennials, about millennials and narrated by millennials. This past January when we launched Next Generation.TV, we determined that our initial programming should be geared to the parents and grandparents of millennials since we have been building this older audience for many years. We always had in mind that we'd reach out to the millennials themselves starting in the later part of this year and cover their stories of achievement in business, science, the arts, sports, civic and military service, and leadership.

I am pleased to say that our first wave of this new content will debut on October 17 at Next Generation.TV's first live and Web event entitled "Next Generation Startups – Young Women Building New Businesses." This event will feature seven young female entrepreneurs who detail what it took to build their businesses. They all demonstrate that can-do spirit that made, and will keep, America great.

If you have any questions on these announcements, please feel free to contact Sandra Rozanski or Joan Seavey.

Below, you will find a personal message from Allen West about his time at Next Generation.TV and what he has planned for the future.

Sincerely,

Aubrey Chernick

September 16, 2013
The full message, attached at the bottom of Chernick's email, from West to staff:
Dear PJ Media Staff and Consultants:

At Next Generation.TV, PJ Media has given me a powerful platform from which to address the critical issues facing our nation and its future generations. I am very proud of the work I did at Next Generation.TV, especially the news bureau that we have established in Washington, D.C. It is off to a great start delivering new content for our viewers along with mentoring the next generation of millennial journalists. During the nine months that I have spent at PJ Media, I have learned so much about what it takes to produce credible and informative programming, and I appreciate the help and support that all of you have provided me in that effort.

Shortly, I will be giving up my position as director of programming at Next Generation.TV to get back on the front lines to expand the message of constitutional conservatism across our country. I will also be focused on supporting my Allen West Guardian Fund PAC in promoting the next generation of conservative candidates in the 2014 election cycle. And I'm happy to say that I will be contributing written commentary to PJMedia.com twice a month.

It has been my pleasure to work with all of you, and I look forward to continuing to contribute to PJ Media.

Steadfast and loyal,

Allen B. West