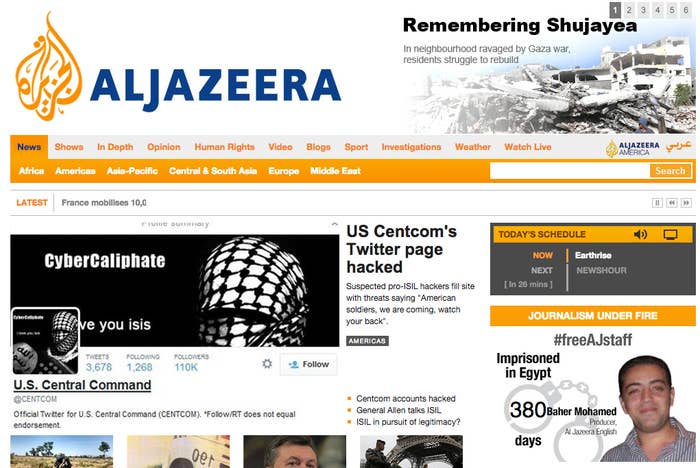 Al Jazeera English aired an interview with French far-right leader Marine Le Pen Tuesday after sources inside the channel accused it of censorship for initially refusing to run it.
A transcript of the interview is on the website.
Al Jazeera English was granted a 15-minute interview on Monday with Le Pen, the leader of the National Front, to discuss the fallout from the attacks in Paris, in which Islamist attackers targeted a French satirical magazine and a Jewish grocery shop, killing 17 people in total.
Two sources inside the channel said editors had objected to Le Pen's criticism of French foreign policy and particularly her calling out of Qatar.
According to a transcript of the interview, Le Pen told the channel: "We have to go into fundamentalist mosques, we have to stop foreign financing of Islamist groups. We have to review our foreign policy and stop rolling out the red carpet for countries we know to be funding fundamentalism; countries like Saudi Arabia and Qatar."
According to the two sources, the mention of Qatar immediately set off a chain reaction within the organization, leading to the entire interview being scrapped.
"This reference to Qatar had everyone freaking out," one source said. The interview became a "political hot potato" that got kicked up the chain to Al Jazeera's head of output, Hani El Konayyesi. Konayyesi told staff members that not only could the quote about Qatar not be aired, but that no part of the interview could air unless an official spokesman from Qatar was invited on air to rebut Le Pen, according to the sources. He said he was conveying a ruling by the head of news, Salah Negm, the sources said. All decisions were conveyed by phone and not on the email system — because of fear over leaked emails that show dissent inside the channel over its coverage of Charlie Hebdo.
"The whole Marine Le Pen interview is completely censored," one of the sources said.
The source said that Al Jazeera "steers clear" of all stories that could cast negative light on Qatar.
"It's mostly self-censorship," the source said. "Journalists and editors on the channel censor themselves. It's basically a no-go area."
"If it's Qatar it's kind of like, holy cow, no pushback, no one goes there."
A spokesperson for Al Jazeera said, "We broadcast stories and comments about Qatar like any we do with any other country." In an email sent Tuesday morning, the spokesperson said: "You've jumped to hasty conclusions. Marine Le Pen made some comments that, given the current news in France, were right to put to air with other voices to provide context. The story went out later with exactly that."
Al Jazeera reporters have also already been told that it is "absolutely out of bounds" to publish images of the cover of Wednesday's edition of Charlie Hebdo, one of the Al Jazeera sources said. The cover, the first since the massacre last week, features a cartoon of the Prophet Muhammad and was revealed to the public on Monday.
An internal debate within Al Jazeera over whether or not to publish the Charlie Hebdo Muhammad cartoons immediately after the attack leaked online this weekend. Some of the emails were highly critical of Charlie Hebdo, with one reporter calling the newspaper's Muhammad images an "abuse of free speech" and saying "I AM NOT CHARLIE."
The questions over free speech inside Al Jazeera come as the channel has mounted a public campaign to raise support for three Al Jazeera journalists who have been in an Egyptian jail for more than a year.