AIPAC Seeks To Reassure Members On Iran Bill
Reports that AIPAC doesn't support the bill are "mischaracterizations," AIPAC president Michael Kassen says weeks before the organization's yearly conference.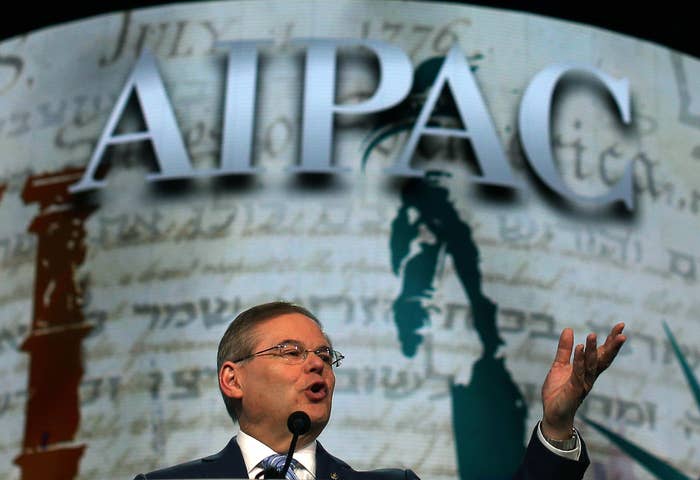 The American Israel Public Affairs Committee is seeking to reassure its members that it has not dropped its support for the Iran sanctions bill that is stalled in the Senate, despite yesterday saying it should not immediately come to a vote.
A letter sent from AIPAC president Michael Kassen to members, forwarded to BuzzFeed by a source, says that the press mischaracterized AIPAC's position on the bill:
I am writing today to correct some mischaracterizations in the press regarding our position on the Senate Iran bill. Some have suggested that by not calling for an immediate vote on the legislation, we have abandoned our support for the bill. Nothing could be further from the truth.

In fact, we remain strongly committed to the passage of the Nuclear Weapon Free Iran Act. This legislation is one important part of a broad strategy that we have pursued over many years to prevent Iran from acquiring a nuclear weapons capability. As negotiations for a final agreement with Iran begin, we must—and will—continue our efforts on every front to ensure that any deal with Iran guarantees the dismantlement of its nuclear infrastructure and blocks its path to a bomb.

Yesterday, Senator Menendez—who along with Senator Kirk is the lead sponsor of the legislation—delivered a forceful speech on the Senate floor, in which he outlined what such a deal must include. In response, we issued a statement applauding Chairman Menendez's leadership. We strongly support his assessment of the threat, his commitment to the critical role Congress must play, and his path to passage of the legislation, which includes building broad bipartisan support.

I want to thank you for your hard work thus far in earning the support of 59 senators for the Menendez-Kirk bill. We still have much work to do over the coming months. It will be a long struggle, but one that we are committed to fighting.

We will continue to work closely with friends on both sides of the aisle, in both the House and Senate, to ensure that everything is done to prevent a nuclear weapons-capable Iran.

Sincerely,

Michael Kassen
AIPAC President
AIPAC announced Thursday that it did not support an immediate vote on the Iran sanctions bill authored by Senators Mark Kirk and Bob Menendez, which looks unlikely to come to a vote. The announcement came the same day that the Republican cosponsors of the bill wrote to Senate Majority Leader Harry Reid demanding a vote. Meanwhile, Menendez himself said that the bill should not become a "partisan issue" in a speech on the Senate floor, saying "I hope that we will not find ourselves in a partisan process trying to force a vote on a national security matter before its appropriate time."
AIPAC's yearly policy conference, where many of its major donors come, will take place in three weeks in Washington.
An AIPAC spokesperson did not immediately return a request for comment.