ADL Leader Supports Congressional Push For New Iran Sanctions But Won't Lobby For It Himself
The White House has pressured Congress to delay heavier sanctions while nuclear talks take place.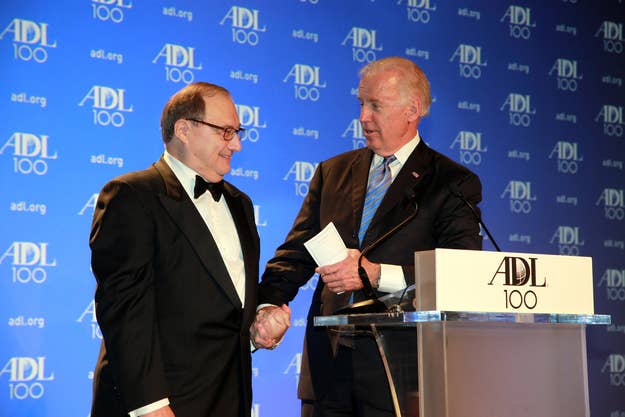 WASHINGTON — Anti-Defamation League chairman Abe Foxman supports a push in Congress for heavier Iran sanctions even though he won't personally lobby for them right now, he told BuzzFeed on Tuesday.
Foxman said that he supports a call for new sanctions by Illinois Senator Mark Kirk, one of the most forceful voices for new Iran sanctions in Congress, even though he has agreed to not publicly lobby for new sanctions for 30 days while the U.S. conducts nuclear talks with Iran.
"We support [Kirk's] effort because we are convinced it was sanctions and tough sanctions that brought the Iranians to the table, and therefore what he's doing is something we agree with," Foxman said. "Having said that, we're not lobbying out there. We're not calling other senators to say they should join him. But if you ask me do we agree with his approach, the answer is yes."
Foxman said he supports a group of senators' letter last month vowing to push a new sanctions bill through Congress despite ongoing talks and that he thinks "Senator Kirk's leadership is very important," but "at the same time, we've said for the next 30 days we're not going to push it or promote it."
Foxman said last week that he and leaders of other major Jewish organizations had agreed to take a "time-out" from campaigning for new Iran sanctions during the talks. Other groups that agreed to the deal were the Conference of Presidents, the American Jewish Committee, and the American Israel Public Affairs Committee, as well as the ADL, according to Haaretz. Spokespeople for AIPAC and the AJC denied the report.
The White House has been pressuring Congress to delay the new sanctions bill, convening a meeting of top Hill staff with members of the National Security Council and sending Secretary of State John Kerry and Secretary of the Treasury Jacob Lew to ask senators to delay the sanctions in recent weeks.
In an interview with BuzzFeed, Foxman reiterated that he had agreed to pause his organization's push for new sanctions but said, "It's a very nuanced position. I still believe that sanctions work and will continue to work and that you should not roll back the sanctions. Whether or not this month we need to go forward, that's a judgment question."
"If nothing happens" in the Geneva talks, Foxman said, "we'll be out there very strong advocating for additional sanctions."