Activist Seeks To Needle Iran By Renaming New York Street After Political Prisoner
Majid Tavakoli Street at the U.N.?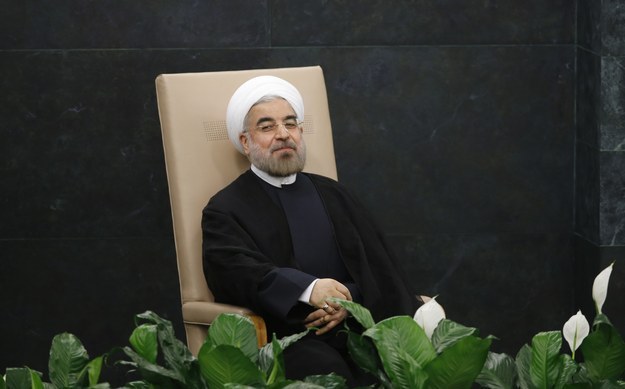 WASHINGTON — The human rights activist who started an attention-grabbing campaign to rename the street outside the Chinese embassy after a jailed dissident is about to do the same thing to Iran.
David Keyes, the executive director of the group Advancing Human Rights, is going to attempt to rename the street outside Iran's mission to the United Nations in New York after Majid Tavakoli, an Iranian student leader and political prisoner. Keyes also wants to have the streets outside Iranian missions and ambassador's residences in Vienna, Geneva, and other European capitals renamed.
The Iran push comes on the heels of Keyes' effort to get the street outside the Chinese embassy in Washington named after political prisoner and Nobel Peace laureate Liu Xiaobo. This week, the House Appropriations Committee approved an amendment to the fiscal year budget that would rename the street as Liu Xiaobo Plaza. The Liu Xiaobo Plaza idea has garnered support from House members in both parties, though it remains to be seen whether it would achieve critical mass in the Senate. China has reacted with outrage; the embassy's spokesman called the amendment "really absurd," and the Foreign Ministry spokeswoman said it was "nothing more than an attempt to smear China."
Keyes, in an op-ed with Russian dissident and chess master Garry Kasparov published in 2013, alluded to the Iran idea, but has decided to try and implement it as the Liu Xiaobo campaign heats up and the West prepares for its final round of nuclear negotiations with Tehran.
"It begins a few months back with my clash with the foreign minister where he denied knowing about Tavakoli," Keyes said in an interview.
Tavakoli is a student leader and activist who was jailed after a 2009 speech at an anti-government protest at Amirkabir University in Tehran and sentenced to eight and a half years in prison. He was briefly released in 2013 following an outcry over Foreign Minister Javad Zarif's denial that he knew him, before being re-jailed.
Keyes has also confronted Iranian Foreign Minister Zarif about his country's ban on Facebook and has sparred with Iran's ambassador to the U.N., who denied knowing about several political prisoners. "I want to make that not possible anymore," Keyes said.
"We're going to try to recreate the success we've had with China, which has gotten into just about every major publication in the free world," Keyes said.
The process of getting a street renamed varies from city to city, Keyes said, and the renaming campaign will partly depend on which politicians are willing to back it in various places. "We're going to reach out to the mayor's office and look at members of Congress," he said.
Tavakoli is the first Iranian political prisoner that Keyes wants to name a street after, but not the last. The strategy starts with Tavakoli because, he argued, international condemnation in the past led to Tavakoli winning his freedom for a while before being imprisoned again when the attention died down.
It's no coincidence that the Tavakoli campaign coincides with the Iran nuclear negotiations, which are under a July 20 deadline. Skeptics of the negotiations have argued that Iran's human rights abuses should become an issue in the talks, which officials have insisted must remain focused on Iran's nuclear program.
"Hopefully it will bring some clarity to the West's approach to Iran," Keyes said.
"It's an absolute scandal that smooth talking Iranian diplomats have convinced the world they're not all that bad," Keyes said in an email. "The thousands of journalists, bloggers, dissidents, lawyers and women's rights activist jailed would beg to differ. So I'm reviving Soviet era tactics to go on offense."
Both the Liu Xiaobo Plaza and Tavakoli campaigns have real-world precedent in the renaming of the street outside the Soviet Embassy in the 1980s after dissident Andrei Sakharov.
"I think of all the opportunities we miss to raise the international price on Iran," Keyes said. "China has issued several furious denunciations of the idea. This proves how much it got under their skin. Literally every major American and British press covered Liu Xiaobo Plaza. We went on offense and the world was talking about how bad China is on human rights. "
"Iran's turn has come," he said.