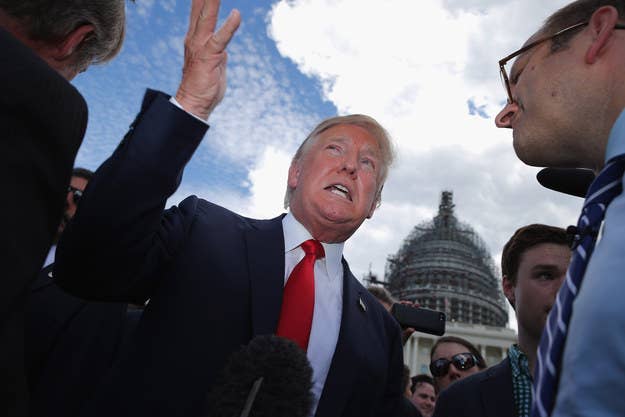 WASHINGTON — First it was Obamacare. Then it was — and largely remains — immigration. Now, the issue inflaming conservative opposition the same way those monumental fights did could be the Iran deal.
Wednesday's rally on the west front lawn of the Capitol showed that far from being insider-based foreign policy issue that animates the foreign policy establishment but doesn't reach voters, the Iran deal is on the minds of the talk radio-listening, Breitbart-reading conservative rank-and-file. Under a blazing September sun, hundreds of people (though not enough to fill the lawn as many retreated to the shade) turned out to see Republican frontrunner Donald Trump, fellow candidate Ted Cruz, talk-radio show hosts Mark Levin and Glenn Beck, and former vice presidential candidate Sarah Palin blast the deal and President Obama for negotiating it. The event resembled the anti-Obamacare rallies of a few years ago, and indicated that the deal's relevance on the right isn't only to the foreign policy-focused establishment. The event was organized by Tea Party Patriots, as well as the Zionist Organization of America and Cruz himself.
"On the one hand, you could say it's a little bit surprising," said longtime conservative activist and former Republican presidential candidate Gary Bauer. "On the other hand, a lot of people, and I would agree with this, believe it's not complex. That you don't make a deal with a nation whose leaders deny the first Holocaust while they promise a second one."
"The fact that the process was turned on its ear confirms peoples' instinctive view that this is a bad idea," Bauer said. "They don't need to know how many centrifuges are on or off or what degree of uranium enrichment is taking place."
Sensing this, Republican candidates have to a man condemned the deal, and Bauer praised Cruz for his leadership on the issue. But as for the frontrunner, "like with so many things, Trump is showing his ability to find a wild horse and claim he was the rider all along," Bauer said.
This was on full display on Wednesday as Trump took questions in a thick scrum of media before taking the stage to enormous applause. Trump speaks very authoritatively about the deal and his negative view of it, but gives few details and appears peeved when he's asked for them. Pressed by CBS News reporter Major Garrett on what he would specifically do to address the deal when in office, Trump said "You watch, you're gonna have to watch. I don't talk. I don't want to say things that the other side is gonna learn everything about me."
Asked for specifics again later in the press availability by a different reporter, Trump was even more blunt: "I absolutely don't want to go into the details. I'm not telling the other side what we're going to do."
Trump's lack of foreign policy knowledge earned him a negative round of headlines recently when he was unable in an interview with talk radio host Hugh Hewitt to differentiate between the Palestinian militant group Hamas and the Lebanese Shiite militant group and political party Hezbollah. Trump also confused the Quds Force, a special forces unit of the IRGC, with the Kurds, a Middle Eastern people.
Asked on Wednesday if he was now able to explain the difference between Hamas and Hezbollah, Trump did not answer and pushed my phone away.
None of this impacts Trump's confidence when talking about this issue (or anything else). "We will have so much winning if I get elected that you may get bored with winning," he proclaimed during his address, after walking onstage to REM's "It's The End Of The World As We Know It.'
They may not satisfy the national media, but Trump's and other candidates' emphatic condemnations of the deal — for his part, Cruz said that "It's worth remembering that if this deal goes through we know to an absolute certainty that people will die" — dovetail well with, and reinforce, the mood of the base voters they're targeting.
Lisa Huntoon, 34, a former truck driver and current horseback-riding instructor, wondered, "How are you going to make a deal and not ask for our citizens back?" Huntoon was holding a sign with the pictures of the four Americans who are currently being held in Iran.
"It seems like [Obama] is looking out for everyone except the U.S," Huntoon said. Asked why, she said, "He wasn't raised in the U.S. — you tend to take the culture of the country where you were raised."
"I'm really against this deal, this is just horrible," said Ruth Boynton, 65, of Fredericksburg, Virginia. "There's nothing good about this deal."
"It doesn't seem like we get anything out of the deal, including our four Americans who are in prison in Iran and they're not being released," said her daughter Sarah, 31, also of Fredericksburg. Each Boynton was wearing a button for a different candidate — one for Cruz, one for Trump.
Paramount to their opposition to the deal is conservative base voters' passionate support for Israel.
"Israel's one of our greatest allies and they've always been a friend to us and we're turning our back on them. They're scared because Iran would target them if they had a nuclear weapon," Sarah Boynton said.
Josh Glickman, 26 and his father Howard Glickman, 51, both of Philadelphia, said they thought Trump was the best on countering the Iran deal because "he's a businessman, he knows how to make deals. He wrote a book called The Art of the Deal," in Howard Glickman's words. The Glickmans said they cared about the Iran deal more than other issues because it has to do with Israel. Josh Glickman said he opposed the deal "100%," but that he really came to the rally to see Trump. He was wearing a "Make America Great Again" hat and Trump t-shirt as well as an Israeli flag wrapped around his shoulders.
Importantly, the messaging on Iran is being reinforced by key figures in the conservative media, including Mark Levin and Glenn Beck, who spoke at the rally. "The Democrat Party will have blood on their hands as a result of this deal for the rest of time," Levin said in his speech. "And let me be clear, this deal sows the seeds of war."
And it's possible that the deal's near-certainty — opponents haven't been able to secure enough votes in the Senate to block a Democratic filibuster or override a presidential veto of a resolution disapproving the deal — could motivate the opposition even more and turn the deal into a years-long ideological battle much like those over Obamacare implementation or immigration.
Miriam Elder contributed reporting.