A Lot Of People At Fargo Santorum Rally Caucused For Him -- In Minnesota
Rick Santorum attracted a big crowd to Fargo tonight for a rally at the Holiday Inn, including many from across state lines. He went after "intellectual snobs."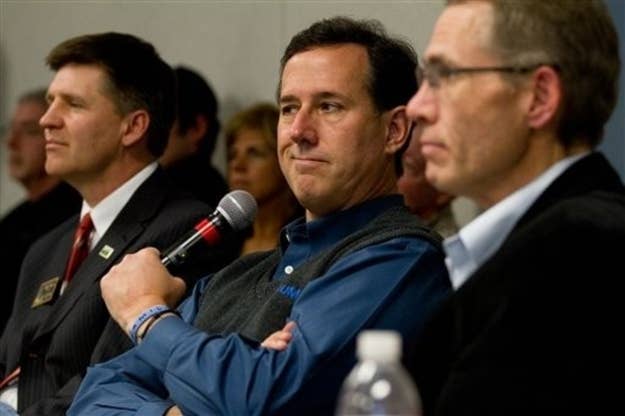 FARGO, N.D. -- Rick Santorum drew throngs of fans to Fargo tonight for the first presidential campaign rally in the state this year. He ramped up the conservative talking points in an effort to reach a conservative base already partial to him, in a crowd that was bigger and more enthusiastic than he could bring in even a month ago. The wrinkle is that many of them were from Minnesota or South Dakota.
Bolstered by the support of a handful of state politicians and party officials, Santorum embraced the opportunity to not have to tone anything down. He attacked "the intellectual snobs in Washington"; he told the audience that "I don't think God will continue to bless America if we continue to kill 1.2 million children every year." He even went on the attack against Joe Biden: "I always tell people if you want to know what position to take on a national security issue, find out what Joe Biden thinks and do the opposite."
Though North Dakotans generally aren't as engaged with the process as their peers in the early primary states, those at the rally were vocal in their excitement about Santorum.
"He seems to be very able to communicate basic values about what America is," said Darrel Lindensmith, a Seventh-Day Adventist pastor from West Fargo. He'll be caucusing for Santorum on March 6th.
Barbara Downes and her son Michael will both caucus for Santorum on primary day, though neither of them has participated in that process before. Barbara lived in Pennsylvania for years.
"He was my Senator," she said. "I voted for him more than once in Pennsylvania."
Some folks would definitely caucus for Santorum -- if they hadn't done so already. Fargo shares a border with Moorhead, a city in Minnesota, and a large percentage of the crowd had taken the five-minute drive to see the candidate, like the Saul family: 18-year-old Danielle, father Jim, mother Ginny. The Sauls are all outspoken Christians and Santorum supporters -- they like his "family values and economic stances," said Danielle -- but they've already done their part in Minnesota.
As did Cindy Ternes, there with her 13-year-old son Sean, who volunteered to sell Santorum buttons.
"I like that he's pro-American, pro-life, pro-family, and pro-Israel," Ternes said. But she can't help him in North Dakota either, since as a Minnesotan she's already caucused for him. It was, she said, her first time, but she felt "very inspired, very excited."