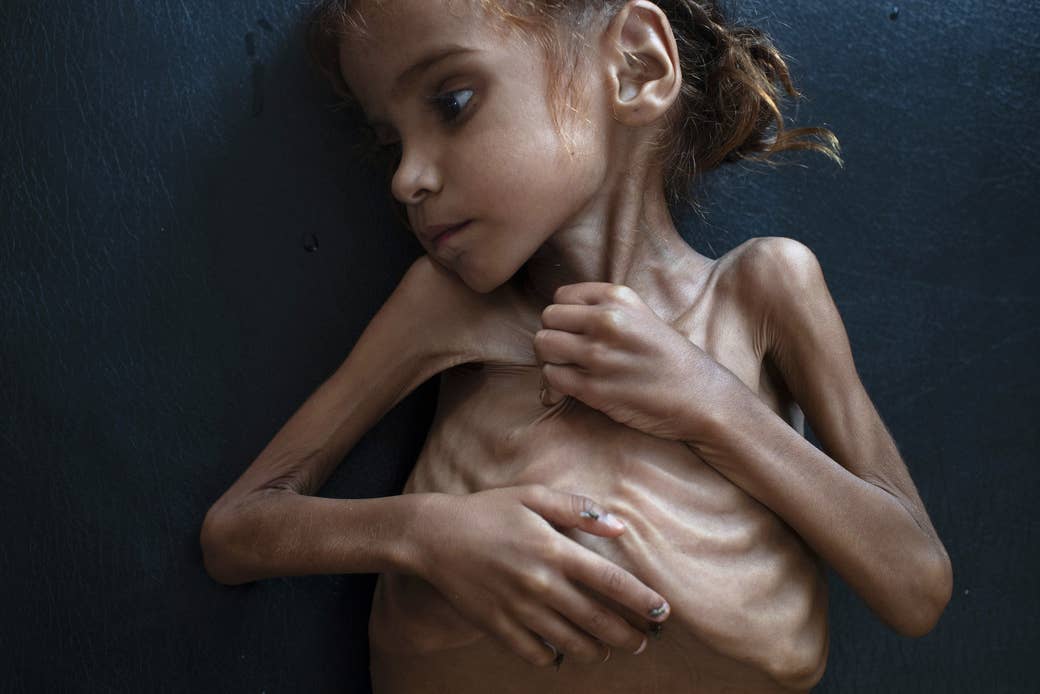 A 7-year-old girl whose harrowing photo came to symbolize the plight of civilians in Yemen's civil war has become the latest victim of the long-running conflict.
The haunting image, taken by the New York Times, of an emaciated Amal Hussain was shared around the world last week, drawing attention to one of the most brutal — and often overlooked — conflicts in the world.
Amal — whose name means "hope" in Arabic — died in a refugee camp, four miles from a hospital, on Oct. 26, her mother told the Times. "My heart is broken," Mariam Ali said.
Yemen's civil war has been thrown back into the media's attention following the murder of Saudi journalist Jamal Khashoggi. Saudi Arabia has repeatedly been accused of killing Yemeni civilians, notably when a missile from forces attached to their loose coalition opposing rebel troops struck a school bus, killing scores of children. But the bigger killer in Yemen is often starvation.

Amal was brought into a medical clinic in Aslam, roughly 90 miles north of the capital Sanaa, when she fell sick a few weeks ago. She was fed every two hours but to no effect, and she died of severe malnutrition after her family were unable to pay for her medical treatment.
"I had no money to take her to the hospital," Ali said, echoing the words of other families whose children need medical care, but in Yemen's broken economy cannot afford to get it. "So I took her home."

Amal was among 1.8 million children suffering from severe malnutrition in the country, following three and a half years of civil war. An estimated 10,000 people have died in the conflict, which has pushed millions of civilians already in dire poverty into starvation.

On top of this, severely malnourished children are far more susceptible to disease, as their bodies are too weak to fight infections. Cholera is one such disease: According to French charity ACTED over 2,400 people have died of it in Yemen since April 2017, and it has been labeled the worst outbreak in modern history.
Juliette Touma, UNICEF's regional chief of communication for North Africa and the Middle East, told BuzzFeed News from Sanaa, "This is one of the biggest humanitarian crises that the world is facing right now. It is definitely one of the worst that I have seen in my 15 years of service as a humanitarian worker."
Touma had just returned from visiting hospitals in Hodeida, a city in western Yemen. "There was one boy we visited who was very, very severely malnourished. His name was Adam. Ten years old, weighs 10 kilos."

Extreme poverty and an economy spiraling out of control means families cannot afford to eat, never mind get medical treatment. "They were very weak. They were very, very sad, helpless. They had this very empty look in their eyes," she said. "We are talking here about sheer survival."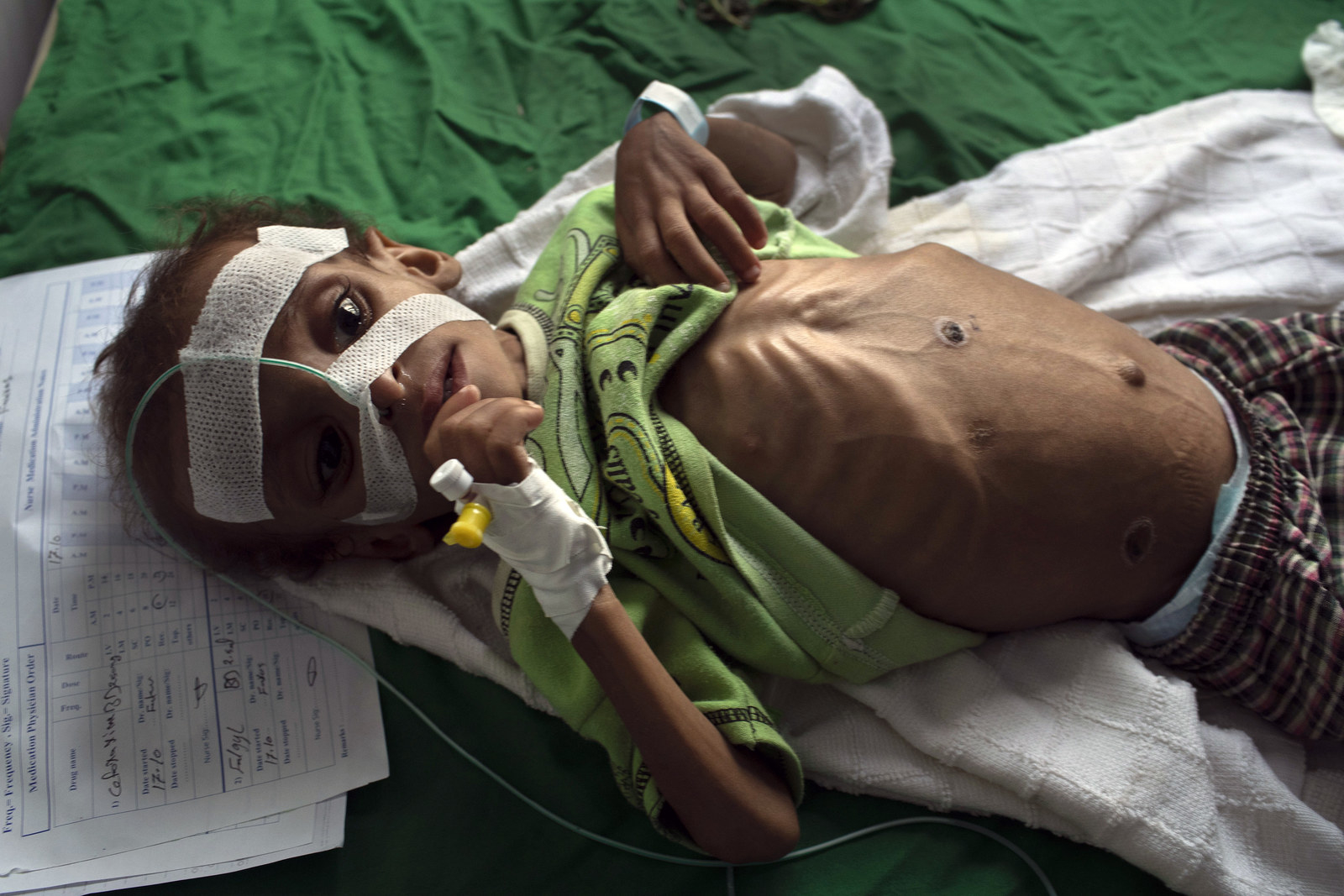 Sukaina Sharafuddin, a spokesperson for Save the Children in Sanaa, told BuzzFeed News, "I am watching the people of my country die every day."
Conditions in Yemen are "deteriorating by the day," she said, as the health system collapses. In 2017, aid agencies claimed that 130 children were dying every day as a result of extreme hunger and disease. Recently, the United Nations warned that 8 million people were at risk of starvation, and currently surviving on emergency aid supplies, which could increase to 14 million people — equivalent to half the population.
Sharafuddin said she had spoken to parents who told her "they had to look at their injured or maimed, or even malnourished children, and yet couldn't do anything about it because they simply didn't have the fuels to take them to the nearest hospital or clinic."
"I meet many parents, and they have told me they just do not know what to do," she said. "Food is available everywhere in markets and stores, but poor families with starving children can not afford it, and therefore go hungry and starving."
Even were they to make it to the hospital, the costs of medical treatment have tripled, she said, with the fuel shortage creating difficulties for the hospitals "to even function in the first place." Despite some medical professionals going unpaid for two years, "they go to hospitals, volunteering to help others, they sell their cars, go on motorbikes, walk in on foot, just to reach those clinics to save lives."
Meanwhile, Sharafuddin said, people continued to ignore the suffering in her country. "They focus on the political side," she said, "and they forget that underneath that there is a country that is dying by the day."
"I want people to know that the true victims of the people are the innocent people," she said. "We cannot believe we are in 2018 and yet such a horrible conflict is happening. Yemen doesn't deserve this."